Ever since the label leaked in the US this past April, the internet has been awash with rumours about a new whisky from Ardbeg. Finally, the details have been announced and we can let you into the secrets of the latest Ardbeg Committee Release – Ardbeg Supernova 2014, aka SN2014.
The third release under the Supernova name, this whisky celebrates the return to earth of The Ardbeg Space Experiment. That's rather an over-the-top name for a project where vials of Ardbeg new make spirit and wood shavings where held on the International Space Station for a couple of years, to see how wood/spirit interaction changes in a microgravity environment. Specifically it's all about terpenes, but as I gave up chemistry after GCSE, I'll stop there.
The samples are now on their way back to earth (or are already here, if they came back on the Soyuz that landed this morning) with Friday 12 September as Ardbeg's big day – the reuniting of the space samples with the control samples that were left on the earth, and the release of Supernova 2014.
The first edition of Supernova appeared during a slightly silly time, when the Islay distilleries were competing to produce the peatiest whisky. While Ardbeg might not have won the war (that accolade goes to Bruichladdich's Octomore whiskies) they certainly came out of it with some credit: Jim Murray crowned Supernova 2009 the Scotch Whisky of the Year and Second Finest Whisky in the World in 2010.
If you're looking for the earlier editions, we do have still have a few bottles, but they're starting to become hard to find: Ardbeg Supernova 2009 and Ardbeg Supernova 2010.
This new edition steps back from the silliness, but still packs a flavoursome punch.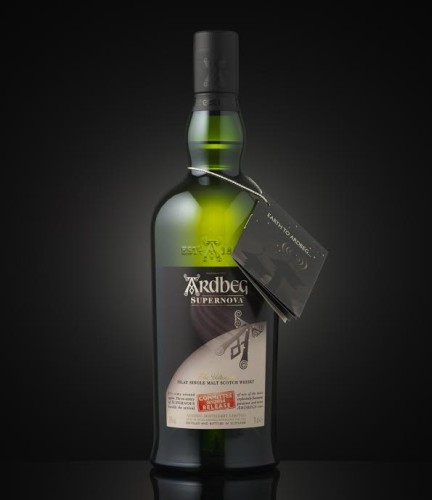 Nose: Big mulchy peat, with sweetness and brine. There are some soured cream notes, with grassiness and a touch of herbal mint. More savoury herbal notes come in, along with coal smoke and burning seaweed. There's also a bit of straw and hay, adding to a decently farmy background.
Palate: Softer than the nose suggests, at least at first. Gentle, sweet orange peel starts, but intensifies with charred peel, mint leaf, damp earth and pungently sweet peat smoke. Liquorice notes sneak in behind, with ferns, TCP and brine. Dark chocolate bitterness is joined by a hint of cherry fruit, with rich loam and wood smoke adding a dryness.
Finish: Sweet smoke – both peat and wood – dark chocolate and ashy touches. Menthol hints linger.
Comment: It may be quite light in colour and relatively fresh on the nose, but it's still a beast. There are darker notes underneath the initial feisty smoke, and a fair whack amount of complexity. It's Ardbeg looking fondly back on the crazy days of the late noughties.
It's an Ardbeg Committee Exclusive release, exclusive to Ardbeg Embassies in the UK, and will be available from Friday 12 September in our London shop. We will start start selling it online on Wednesday 17 September at 1pm – first come, first served.
However, if you'd like to try before you buy, we will have some to taste at The Whisky Exchange Whisky Show in October. The folks at Ardbeg will be bringing along a huge 4.5 litre bottle for their stand, and we will be saving a few bottles to go on sale in the shop during the show. We still have some tickets for the Sunday of the show, so head on over to our tickets page to grab one.