It's almost that time of year again – Ardbeg Day, with events happening all around the world.
Each year the distillery releases a limited-edition whisky to commemorate the day (click here for our post on last year's Ardbog or here for 2012's Ardbeg Day).
This year's bottling, being a World Cup year, is named Auriverdes (the nickname of the Brazilian football team) and I was given the opportunity to speak to the Ardbeg (and Glenmorangie) Director of Distilling, Whisky Creation & Whisky Stocks, Dr Bill Lumsden, about the latest release.
While it is being released just before the start of the World Cup, the original inspiration for the bottling was nothing to do with it. 'I wanted to create a particular flavour,' he told us, 'the target image in my mind was a basket of soft fruits.' The whisky was distilled back in 2002 and is 10-11 years old. Its tweak on the regular Ardbeg 10 year old is that it was matured in second fill ex-bourbon casks, each fitted with a specially toasted head – specially toasted in a secret manner.
It slots quite easily in to the general Ardbeg line-up, being inspired by some of the other whiskies that Dr Bill has created over the years, but it is still its own animal. 'I'm not just doing another Alligator,' he said, 'those barrels were unbelievably charred. Auriverdes is altogether more gentle; it is almost my beloved 1977, almost Airigh Nam Beist. It's a cross between Airigh Nam Beist with a bit of Alligator thrown in.' Switching from a heavy char to a toast really makes a difference.
Despite not starting out as a World Cup tie-in, it has certainly now become one. Ardbeg Day is now celebrated around the world, and this year's they will be focusing on football-related events.
Here in the UK, there's the Ardbeg Peat Football Championship, for which St Andrew's Square in Edinburgh will be turned into a peat-bog football pitch – all the Ardbeg embassies have been invited to take part, and we will have a TWE team up there on the day (hopefully) doing us proud.
One thing we couldn't pass up the chance to ask about was the recent auction sales of the special-edition gold bottles of Auriverdes, sent out to a few lucky writers and retailers. While Dr Bill isn't a big fan of limited editions and single casks, as there are so many loyal fans that won't get the change to taste them, he understands that certain bottlings will always be collectable. His view on the £2,500 auction prices for the gold Auriverdes bottles was clear – '…it was absolutely inevitable that it would happen.' Ardbeg will certainly be thinking twice about doing something similar again in the future.
Stuart and I were then offered a chance to taste the Auriverdes for ourselves: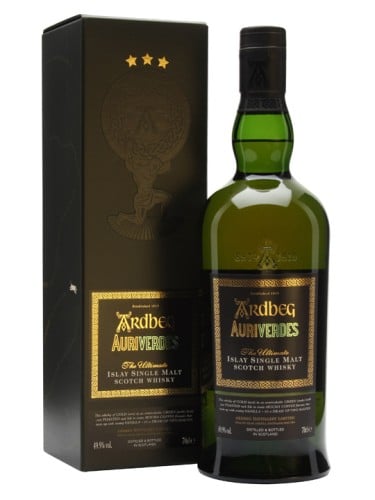 Rocky:
Nose: Notes of dark chocolate, mocha, tar, peat and vanilla.
Palate: A creamy texture, with the mocha notes continuing, being joined by liquorice, tropical hints of pineapple and mango, and a whack of vanilla from the bourbon barrels. The peat is on the lighter side for an Ardbeg and isn't overpowering.
Finish: Pretty long finish with the fruity notes slowly dissipating to leave spicy liquorice and peat smoke.
Comment: The peat is nowhere near as strong as I was expecting, with the toasting balancing it elegantly. This Ardbeg Day release is certainly very different in style to the previous editions, but is just as intriguing.
Stuart:
Nose: Hang on, this is Ardbeg? Much lighter than expected, with the peat fighting for survival against the toasty oak, mocha and peppery notes.
Palate: Creamy coffee to the fore, joined by dark chocolate and mocha, then a refreshing peachy character kicks in alongside peat and black pepper.
Finish: The creamy fruitiness gives way to the trademark (if subdued) Ardbeg peat.
Comment: After some of Ardbeg's recent big-hitting releases, this is an intriguing, pastel-shaded malt.
It will be available in our shop on Saturday 31 May and online the following day. Bottles are available for pre-order on the website.