Continuing the yearly releases as part of the Valhalla Collection, the latest edition has now arrived – Highland Park Freya.
Investing in a series of whiskies that only has one release a year is a bit of a gamble for a company. You can go for the 'no real thematic connection' thing that has made Glenmorangie's approach with the Private Collection so successful – Ealanta is reaping the reward of its Jim Murray Best Whisky in the World nod and Companta, as different a whisky as you can get to its predecessor, has flown off the shelves.
However, with the Valhalla Collection the folks at Highland Park have gone for a more connected series of releases. The whiskies themselves can be as different as they want , but the presentation and marketing are an ongoing project, and working out something that will work in 2012, 2013, 2014 and 2015 is a hard ask.
After the more macho stylings of Thor and Loki, the folks at Highland Park have decided to take a softer approach with Freya. The first goddess in the collection, Highland Park refer to her as 'The Fair One', and look to the aspects of her character focused on love and wisdom.
However, she's still part of the Norse pantheon and in traditional fashion doesn't sit idly at home. She's also a war goddess who rode out to battle to choose half of the warrior dead to join her in the afterlife of Fólkvangr rather than Odin's Valhalla.
The other element of Freya's story that Highland Park have focused on is her feather cloak, said in some texts to be the cause of the Northern Lights, the Aurora Borealis. In normal conflicting Norse myth fashion there are also stories that the Aurora is due to the shining armour of the Valkyries, Odin's emissaries who claim his half of the souls of the battlefield dead.
Either way, Highland Park have continued their rather elaborate samples, sending over the beautifully adorned bottle above, complete with feathers, beads and a twig heart. Just in time for Valentine's day…
Enough Norse mythology and marketing. On to the whisky.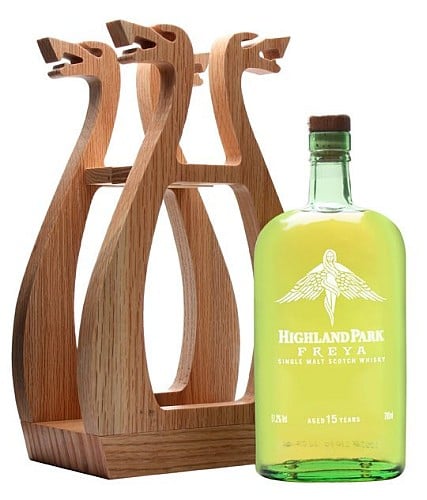 Freya is a departure from the previous releases in the Valhalla Collection spending its 15 years of maturation in first fill bourbon casks:
Rocky
Nose: Fruit-forward nose of green apple, lemon peel and cantaloupe melon backed up by a whack of sweet vanilla and a hint of peat smoke in the background.
Palate: Vanilla and green apple notes that were present on the nose continue and are joined by marmalade, cinnamon spice and a good amount of peat smoke, but not too much as to overpower the rest of the flavours.
Finish: A warming finish with the fruitiness slowly dissipating to leave the cinnamon and peat smoke at the very end.
Comment: A well balanced whisky with the fruit and smoke nicely intertwined.
Billy
Nose: Sweet butter icing, hints of coconut and cream, with something a little sour and slightly pungent hiding underneath – Sauvignon Blanc? Some gentle oaky notes develop in the glass along with lemon curd, nutmeg and apple skin.
Palate: Yellow wine gums, sweet oak, oaky spice and some leafy green notes to start. Lots of woody flavours develop, with some darker notes hiding behind freshly sawn oak, bark and damp twigs. Over the top of all of that is a gentle, savoury wood smoke.
Finish: Gentle spice, chamois leather, coal dust and lingering fruitiness and perfumed oak.
Comment: More smoke than I expect and more weight. It's quite fresh, with good, fruity notes, but also has a solid backbone of oak. I wouldn't have picked it out as a Highland Park, other than the finish, which has the lingering, perfumed oak that they do so well.
Highland Park Freya is available on TheWhiskyExchange.com now for £138.