We all have our favourite styles of whisky, each personal to us. For me, there's nothing better than a whisky that's a little bit different, or one I can sit and think about for hours of an evening.
For that reason, one distillery that's always intrigued me is Bruichladdich. Widely regarded in the industry as being blessed with some of the best spirit anywhere in Scotland, the self-proclaimed 'Progressive Hebridean Distillers' like to experiment wildly with a range of peating levels, finishes and wood types.
Having missed out the distillery on my previous (and first) trip to Islay back in 2012, I insisted that three fellow whisky aficionados accompany me to the distillery as part of my birthday holiday. And yes, I know that for those who don't like inclement weather it's about the worst time to visit Islay…
We arrived only ten minutes late for a Saturday 9am start (I'm told this isn't bad for what the locals call 'Islay Time') to be met by brand academy host Kate Hannett.
So a quick bit of history first. The distillery was established in 1881 with money William Gourlay III had left to his three sons (William IV, Robert and John) and endured around half a dozen changes in ownership, mainly by blending companies, before ending up in the ownership of Whyte & Mackay, who mothballed it in 1998.
In 2000, a group of investors led by Murray McDavid founders Mark Reynier (from a wine merchant background), Gordon Wright (formerly a director at Springbank) and Simon Coughlin, purchased the distillery and maturing stocks at the very reasonable price of £6.5m and with the help of Master Distiller Jim McEwan (formerly Master Distiller at Bowmore) they set about transforming it into something a little bit different and non-conformist. Such was their success that they drew the interest of Rémy Cointreau, who became the new owners in 2012 in return for £58m. Rémy's CEO Jean-Marie Laborde has insisted they will carry on in the same vein, which has allayed some of the fears of the distillery's loyal followers.
Sadly the distillery was not in production at the time of our visit due to the open-topped mash tun being repaired. It's one of a few pieces of production equipment which date from 1881, although it was on the other side of the island, at Bunnahabhain, for most of its life. In keeping with their traditional values, it has been decided to replace it like for like, rather than with a modern system, so will take around two months to complete. To contradict erroneous press reports in some quarters, this is simply due to wear and tear over the last century and a quarter, rather than an explosion in the distillery.
The distillery makes three kinds of single malt:
Unpeated Bruichladdich named after the eponymous distillery (at 0 to 3ppm).
Heavily peated Port Charlotte, taking its name from the closed distillery in the next village, which was purchased as part of the acquisition in 2000 (at 40ppm).
Super heavily peated Octomore, named after James Brown's nearby farm which supplies the distillery with their water (up to 169ppm).
Whilst the ethos remains to try to keep as much of the production as local as possible, the maltings on the island, at Port Ellen, could not guarantee to supply them with local barley, so it's sent over to Baird's in Inverness to be peated and sent back. Kate told us that it is Baird's who do most of the experimenting with the peating levels for Octomore, to see how high they can go, rather than Laddie looking for an exact headline number.
During the tour, we were fortunate enough to have a few distillery breakfast delicacies – namely super heavily peated Octomore barley (it's actually really tasty and I hope they'll have enough to start selling it separately – it could be the new breakfast of champions!), Octomore new make at 70.3% (surprisingly smooth given the youth and peating level) and delicious peated Scottish tablet made with Port Charlotte.
The highlight was a tasting from three casks in one of their eight warehouses on the island:
A 24 year old 1989 Bruichladdich, one of the maturing casks that dates from the days when the distillery was owned by Invergordon Distillers, matured full term in a straightforward Bourbon barrel.  Fresh and fruity, this was our first whisky of the day and a rather delicious 'breakfast dram'.
An 8 year old 2005 Port Charlotte, from a cask that formerly held wine made from the Grenache grape.  I've never been a huge fan of long aged wine cask whiskies, but this one had real character and entertained us for approaching an hour – we found something different in every sip and it was interesting to see it evolve over time in the glass.
An 11 year old 2002 Octomore from a Chateau D'Yquem cask.  The sweetness from the cask balanced the extreme peat rather well, and was interesting to compare it in my mind to the Sauternes cask-finished Comus I tried a couple of years ago. This was made even more interesting by the fact it was part of the first ever filling of Octomore casks, back in February of 2002.
All three glasses made it back with us to the visitor's centre where we were treated to more drams from their extensive range – sadly I was the nominated driver for that day so couldn't partake fully, but I was very generously given a sample of the Laddie Classic to take home (for note and blog post writing purposes of course).
Fully matured in Bourbon casks, Laddie Classic is a no age statement release intended to showcase the distillery's classic floral and elegant style.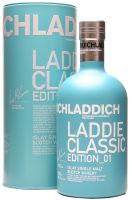 Nose: Fruity nose of conference pear, honeydew melon and red apple, combined with sweet vanilla and the faintest hint of salinity.
Palate: Semi-luscious texture with the fruits from the nose joined by papaya and guava, the vanilla from the oak slightly more noticeable but without being overpowering and a mouth-watering salinity.
Finish: The tropical fruit flavours slowly fade to leave a delicious mixture of salty vanilla.
Comment: The perfect example that Islay whisky doesn't have to be peaty. This does as it says on the bottle, showcasing the house style (as they would say in Champagne) of the distillery.
As well as their wide range of whiskies, they also produce a gin – The Botanist, which was our Spirit of the Year 2013. The gin is made in a Lomond still (sort of a cross between a pot still and a coffey still) that was formerly used at Inverleven distillery, situated in the Dumbarton distillery complex, from the late 1950s until 1991. Bruichladdich acquired the still in 2010, christened her 'Ugly Betty' and began using her to produce The Botanist. Nine base botanicals are macerated and then distilled very slowly (for about 17 hours), the vapours rising through the botanical basket which contain a further 22 botanicals, all of which are native to Islay, resulting in a double infused gin. Betty is so large that one run creates enough spirit for 250,000 bottles and as a result only one run is needed each year, with only 4 distillations having occurred since she arrived.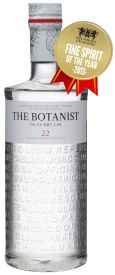 Nose: Complex and overtly floral nose with elderflower and mint being the two botanicals that really start to stand out above the crowd after a few minutes.
Palate: A rich yet silky smooth gin that is a rare beast in that it is pleasant to drink neat. A citrus note from the lemon balm is prominent throughout, balanced by a smorgasbord of floral flavours from the many botanicals used. Sometimes too many ingredients can be a bad thing, but in this case the whole is truly greater than the sum of its parts.
Finish: Long and complex, with the botanicals slowly disappearing, one by one to leave a lovely minty freshness at the very end.
Comment: I can count the number of gins I have enjoyed neat on one hand and this is one of them. However it's versatile too and can stand up to Fentiman's tonic as well as making a deliciously floral martini. Betty's not done badly for an old girl!
I must say a big thanks to Kate for kindly giving up her Saturday morning to accommodate us and being an excellent host. If ever you're heading to Islay, a visit to Laddie is a must. Nowadays when everything appears to be moving towards becoming standardised, it's refreshing to see people and companies who take the risks involved with doing something a little differently.