While some drinks categories fire out new releases every few days (I'm looking at you here Gin), some are more steeped in history and produce fewer new entries. One that sees little in the way innovation is vermouth, with the historical brands often unchanged for centuries and few new challengers appearing. While that's far from a bad thing, with Antica Formula and Punt e Mes being among my favourite drinks, it's nice to see new producers appearing from time to time. Fortunately, with vermouth receiving more attention as part of the worldwide cocktail rennaissance we've had some newbies, and joining more recently appeared names such as Vya, Mancino and London's own Sacred we have La Quintinye Vermouth Royal.
Here's a video from the launch party:
The trio of vermouths – an extra dry, a blanc and a rouge – come from a collaboration between Jean-Sebastien Robicquet, the grape loving distiller behind Ciroc vodka, and EWG, the folks who brought us G'Vine gin. The style of the vermouths very much fits in with that brief, with the botanical heavy approach of G'Vine pairing with the the unique idea that Robicquet brought to the table – using Pineau des Charentes in the mix.
Vermouth is, as with most drinks categories in Europe, quite distinctly defined. The legal definition, as paraphrased by our friends over at Diffordsguide says that vermouths:
Are based on wine made according to EU wine legislation and be present in the finished product in a proportion of not less than 75%.
Are fortified by the addition of alcohol.
Are flavoured with Artemisia spices and substances and/or natural flavouring (including vanillin), aromatic herbs and/or spices and/or flavouring foodstuffs.
Maybe sweetened only be means of caramelised sugar, sucrose, grape must, rectified concentrated grape must and concentrated grape must.
Maybe coloured with caramel.
Have a minimum alcohol strength of 14.5% and a maximum of 22% alc./vol.
In short – mostly wine, flavoured with 'stuff' including Wormwood (artemisia) and fortified by the addition of some other spirit to between 14.5% and 22% ABV. Robicquet's idea was to use Pineau des Charentes as one of the fortifying spirits in the recipe, adding in more flavour as well as raising the strength.
Pineau at first looks to be along the same lines as wine – it's made from grapes and bottled at a high ABV of around 17%. However, its production is quite different, being instead a blend of grape spirit and fresh grape juice.  Robicquet is best known in the spirits industry for his creation of Ciroc, a vodka made using grapes as a base rather than the more common potatoes or grain, so this is right up his street.
They've named the vermouth for Jean-Baptiste de la Quintinie, Louis XIV's gardener. Being the king's gardener involved a bit more than just tidying the borders and he was one of the architects and managers of the building of the Gardens of Versailles, 800 hectares of classically sculpted garden. Part of his responsibility was to provide fruit, veg and herbs for the King's table when he was visiting the palace, and his expertise as a botanist is honoured by the vermouth.
La Quintinye is unfiltered and naturally coloured, unlike many of the other aromatised wines on the market, and is packed with flavour.  As with G'Vine gin, the focus is on interesting flavours and the range is certainly quite a different prospect to other vermouths on the market.
First up, the Blanc: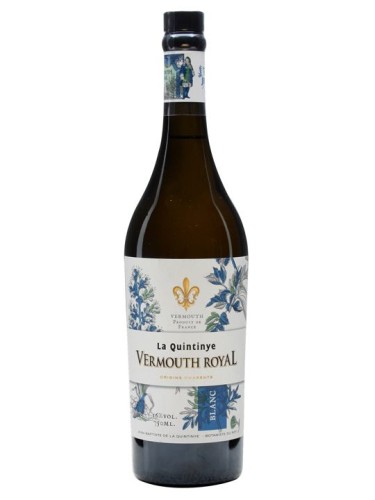 Nose: Sweet up front, with grapefruit, hay, pine and lots of leafy herbs, including lots of sage.
Palate: Sweet with orange and liquorice touches, but with fewer herbs and less complexity than the nose. Wine gums, woody hints and an oily mouthfeel lead to gentle herbal bitterness and a touch of fragrant wood and herb.
Finish: Sweet orange and grapes, brioche, spiced pastry, dried apples and a touch of green leafiness.
Comment: I rather enjoyed this on its own, with the bitterness of the wormwood balanced well by the sweet fruity notes.
Next, the Extra Dry: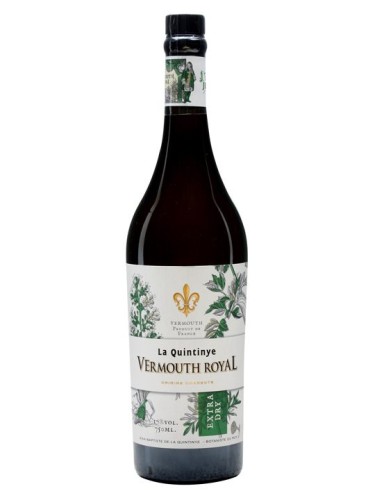 Nose: Very herby, predominantly dried herbs rather than fresh: rosemary, sage and lavender, especially. Some buttery notes and a hint of grape sweetness.
Palate: Lightly soured white wine to begin, with buttered bread and an almost soapy softness in the middle. There was a lot of lavender and towards the end a growing tannic grapeskin note.
Finish: Peppery spice, sage, wormwood bitterness and lingering tannins.
Comment: One for mixing, as you'd expect from a Extra Dry, with the otherwise fairly complex palate quite light and dry in the middle, welcoming other flavours. However, it does work surprisingly well on its own, with the central dryness being a relief from the strength of character in the rest of the palate.
And finally, the Rouge: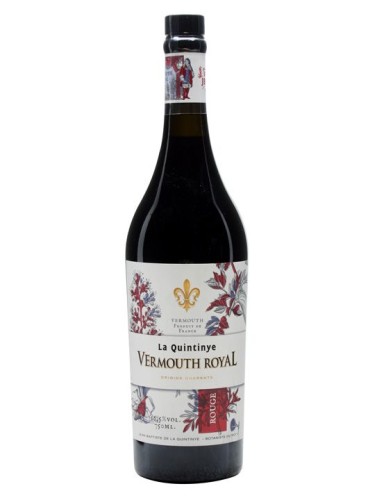 Nose: Syrupy sweetness overridden by bitter wormwood, sage and bay leaf. Spicy black pepper with sandalwood, ground roots (elecampane root?) It's a flavour that I found when investigating absinthe that I can't otherwise describe) and perfumed wood.
Palate: Sweet and rich, with a gentle woody and herbal bitterness behind. Sticky cherries, ground spice, coriander seed and leaf, and a woody dryness.
Finish: Lingering green bitterness and soft, sweet port notes turning to dry, tannic bitteness over time.
Comment: I am a big fan of sweet red vermouth but this was too much to drink on its own. Lengthened with some ice or in a cocktail it should be perfect, although will need to be handled carefully due to its complexity.
All in all a very different and adventurous range of vermouths. They are, as expected, quite different to many already on the market and shouldn't be used willy-nilly. With careful cocktail selection they will add a new herbal twist and I suspect we'll see a few bartenders experimenting over the coming months. At the launch a Negroni using G'Vine Floraison gin (one the natural companion to the range), Quintinye Rouge and Campari, along with a dash of Regan's Orange Bitters went down very well, and I expect that more adventurous twists on classics are around the corner.
The La Quintinye Vermouth Royal range is now available at The Whisky Exchange.