Single Grain Scotch Whisky (as defined by our SWA overlords) has long had an ambiguous existence in the global whisky industry. Produced primarily to supply the overwhelming demand for Blended Scotch Whisky, it rarely sees the light of day bottled as a solo act. In recent years, however, independent blenders and bottlers like Compass Box and Clan Denny have released a tranche of fantastic expressions. The key variable in quality seems to be age, as younger spirit tends to be a touch one-dimensional. After 20 or 30 years in cask though, a rich symphony of exotic fruits, sweet vanilla and creamy butter frequently develops.
Grain Whisky Production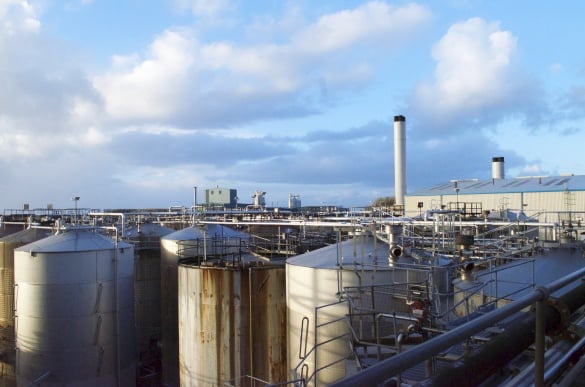 Part of the reason for this somewhat obscure and niche image of grain whisky is down to the way the stuff is actually made. The plethora of single malt distilleries around Scotland, most of which have a modern visitor's centre, are all too eager to show guests every intricate detail of the production process. Grain whisky, on the other hand, is produced in large industrial-looking column stills capable of producing spirit continuously, 24 hours a day, 365 days a year. The distilleries themselves tend to resemble oil refineries; far less romantic than their rustic Victorian cousins who dominate the picturesque Scottish Highlands. For this reason, along with the complex chemistry behind their operation, few grain distilleries actually open their doors to the general public.
The concept of continuous distillation first appeared in Armagnac around the late 18th century. In 1830 Irish Excise Officer Aeneas Coffey then patented an improved version of this, and hence the revolutionary 'Coffey' Still (or Patent Still, as it was sometimes known) was born. With these stills any cereal grain could be used; predominantly corn until around the 1980s. Nowadays distilleries prefer wheat, but it's worth bearing this in mind if you find yourself comparing pre- and post-1980s distilled grain whiskies.
Aside from the type of still used, the main difference to single malt production is that the grain is cooked to convert the starch to sugar. Typically about 10% of something called 'high diastatic-power' malt (which basically means 'full of enzymes') is added to help with conversion. This is then fermented much like at any malt distillery, before being distilled and then aged for a legal minimum of 3 years to be called Scotch whisky.
Girvan Grain Distillery
Built in a mere 9 months by Grant family descendent Charles Gordon, the Girvan Distillery started operation on Christmas Day, 1963. Its purpose was simple – to provide the family with their own supply of grain whisky for blending. Previously such liquid came from other competing distillers, something the industry still relies heavily on today, but after relations turned sour over a television advert (possibly something on the lines of the following advertising masterpiece), Charles decided to build his own distillery.

It's unlikely the not so hidden message of this ad would fly with the ASA nowadays.
As of 2012 Girvan produces a tremendous 103 million litres of grain spirit per annum, with plans to increase this to 111 million in the coming years. Compare this with the largest malt distillery, Ailsa Bay (coincidentally a stone's throw from Girvan and also owned by Grant's) with a maximum 14 million a year, and you have a real David and Goliath relationship. In fact the combined output of Scotland's 10 largest malt distilleries don't even touch Girvan's solitary efforts. On that note, here are a few facts and figures just as food for thought:
 Total staff employed on site: 164
Casks filled per day: 2,500 to 3,000
Water usage: 80,000 litres per day
Number of warehouses: 40 and counting
Despite such huge quantities of grain whisky being produced every year in Scotland, very few distillery-bottled expressions exist. In the UK the only option available is Cameron Brig. There is also a brand (again, coincidentally produced by Grant's) called Black Barrel, which only seems to appear in duty free and export markets. You may well wonder why one earth so few expressions seem to exist. A good question indeed.
The Girvan Patent Still
At The Whisky Show back in October, William Grant & Sons held a masterclass to showcase their soon-to-be-launched Girvan Patent Still Single Grain Scotch whisky. Nothing ground-breaking as such, given that as mentioned earlier various Single Grain whiskies do already exist. However Grant's are the first major player to take the category seriously with a premium offering to appeal to serious whisky aficionados. The new range has launched with a 25 year old expression, and there are No-Age-Statement (NAS) and 30 year old releases planned for early 2014.
So let's see what they're all about, starting with the now available 25 year old: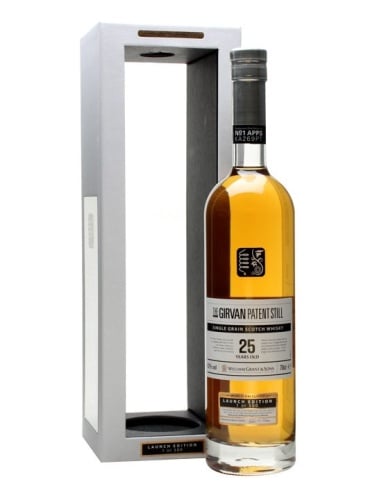 Predominantly American Oak, with some European in the mix:
Nose: Toffee syrup, nutmeg, woodiness with a hint of gunpowder and cereal notes. Very expressive.
Palate: More toffee with some mango and dried apricot, English hops, old bookshelves or church pews, creamy vanilla and apple tarte Tatin.
Overall: Much bolder than the NAS, with a more condensed character and patisserie feel to it. Much fruitier on the palate than the nose would suggest.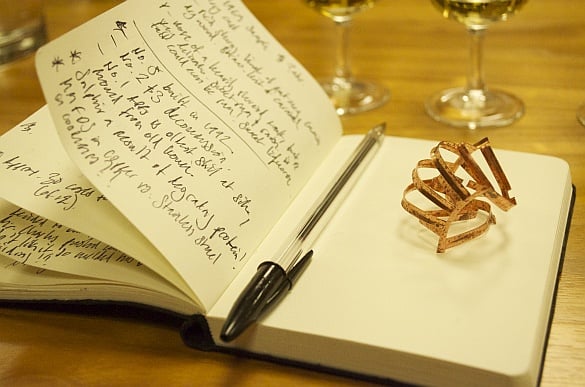 …and the "Coming Soon" selection:
Girvan Patent Still No-Age-Statement, 42%. Estimated RRP: £75
A mix of first fill and refill American Oak.
 Nose: Ripe banana, a subtle sweetness with hints of pear drop and amontillado sherry. Estery with some gristinesss.
Palate: Youthful, vibrant spirit character, exceptionally clean. More floral than the nose suggests, with rose petal, violet and delicate sour apple notes.
Overall: Clearly a high quality spirit, and refreshing delicate. It's certainly begging out to be sloshed into a highball. Although it is NAS, we're told the casks used are up to about 17 or 18 years old.
Girvan Patent Still 30yo, 42%. Estimated RRP: £375
Like the 25yo, this is predominantly American Oak with some European casks in the vatting.
Nose: Waves of vanilla and roasted peached, acacia honey, perfumed and almost briny, with some dry sherried notes.
Palate: Big, rich treacle and tablet. Quite nutty, with hints of cashew and digestive biscuits. Very mouth filling,
Overall: the hint of brine surprised me a little, but then again Girvan is quite close to the coast so perhaps this makes sense. For those who have tried old grain, this is certainly very typical of that style. It will be interesting to see in the coming years if post-1980s wheat-based grain whisky develops in the same way.