A quick heads up for you loyal blog readers: we have a new Karuizawa going on sale tomorrow. There are a few bottles appearing elsewhere, but it's pretty much a TWE exclusive and we're rather pleased to have snagged this cask during Tim and Sukhinder's trip to Japan the other year – the blog write up is almost as epic as the trip: parts 1,2,3,4,5,6,7,8 and 9.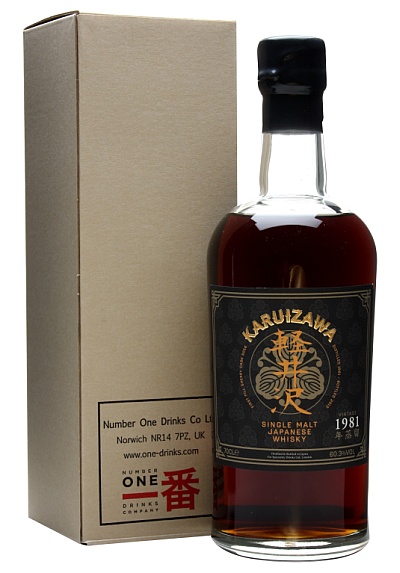 It's a rather special 1981 vintage from a sherry cask, and if you were one of the lucky folks at this year's Whisky Show then you might have got a taste from the secret bottle I had hidden under the show bottlings stand. Unfortunately I didn't, as I was too busy talking rubbish and pouring whisky (as you know if you came to say hello), but Ollie, Whisky Show organiser extraordinaire, did:
Nose: Sweet coffee, liquorice root and background blood orange citrus spring from the glass, but after further inspection soft brown sugar and ginger cake combine to give a warm hug. It's reminiscent of treacle pudding but with Asian spice, star anise and cinnamon, while background notes of mint leaves suggest superb cask integration over time.
Palate: Rich sweet spice with ginger explodes on the palate, softening with juicy dates and dark fruits. Subtle salty notes suggest blue cheese balanced against a note of dry sherry coming together and leading to a sensation of fine cocoa powder. The wood has played its part with perfect tannic structure, while notes of mango and papaya develop over time.
Finish: This whisky lingers with sweet anise and dry dark chocolate notes. Unctuous ripe fruit with tropical hints of blood orange dissipate, leaving soft liquorice and spice.
Comment: The palate feels weighty and full, while the flavours seems to bounce around balancing sweetness, savoury and spice. This creates a journey through to the lingering finish, where it almost seems to start again, lasting through to the next sip. Simply put, this is one of the finest examples of sherry maturation, Japanese spirit and time you will ever find.
In short – it's rather good.
To try and moderate the ridiculous rush that these bottlings invariably create, we're going to put them up on the site in two batches:
Wednesday November 27th at 1pm GMT
Thursday November 28th at 4pm GMT
Click on the picture above to get to the bottle's webpage. Be warned that if you sign up for an alert email they take time to deliver, so your best bet is to go straight to the page at the right time. Don't be late…