After a hectic first day of this year's TWE Whisky Show had ended with a well-behaved single pint at the egregiously smelly (but comprehensively beer-endowed) Rake Bar before an early retirement on account of toothache, I arrived at Vinopolis on Sunday 7th October full of beans, un-hungover and with a general spring in my step.
Why so happy at the prospect of a full day's work on a Sunday? Well, because it was my turn to do the Masterclasses.  And not just any old Masterclasses – the first Masterclass of the day was an event I'd been looking forward to for six months.
Rewind back to early March this year, and myself and Sukhinder were in a slow-moving taxi heading from Bloomsbury, where we had just finished the final judging session at the World Whisky Awards, en route to the west end for a night out.  Our friend and companion was Mario Groteklaes, a former primary school teacher now plying his trade as co-founder of Belgium's famous off-licence The Nectar, home of the famous Nectar of the Daily Dram bottlings and collaborators with The Whisky Agency on some spectacularly well-received whiskies.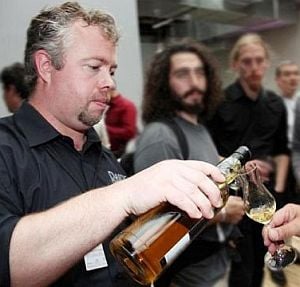 Mario also has a history with the Whisky Show – in 2010, he hosted a superb class called Islay Classics featuring a 12yo indie Port Ellen, Ardbeg 1977, the first release of Lagavulin 12yo cask strength, Laphroaig 30yo and the best Bunnahabhain of all time.  We wanted Mario to do another class and although it seemed like a tall order to top what we'd done before, once we'd hit on the angle – rare and unusual Islays – the line-up was finalised in something less than 60 seconds, with me scribbling in my notebook and Mario and Sukhinder shouting out whiskies and bobbing in their seats with excitement.
You can understand, then, that it was with great anticipation and no little vim and vigour that I rocked up at Vinopolis on Sunday morning.  My day immediately got better when I arrived at the Masterclass room – ready to roll my sleeves up and get down to some serious Masterclass-setting-up action – only to discover that the places had already been set and the glasses laid out, and to be informed by my friend and colleague Billy that due to a change in staffing allocations he had made an executive decision to go ahead and do all the dirty work without me.
He also wanted to do all the clearing up, both for this tasting and for the Diageo Masterclass later that afternoon, leaving me only the arduous task of sitting in on the tastings and drinking the whiskies (and subsequently writing them up for the blog).  You may consider him slightly strange for this.  I graciously and gratefully accepted his conditions and left him to it [It made sense at the time. It makes less sense now. I feel slightly foolish – Billy].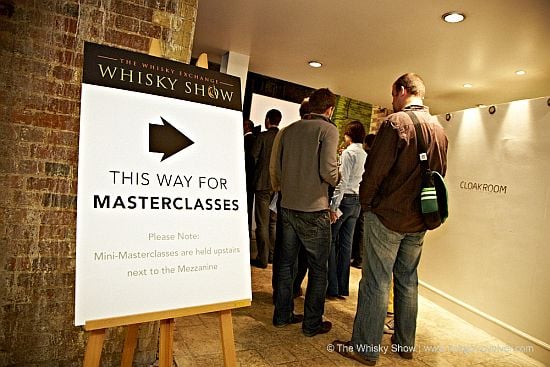 Returning an hour or so later I found myself in a the company of a few dozen extremely excited Islay fans.  The excitement was well-warranted, as Mario rattled through the line-up in his passionate, no-nonsense style, taking no prisoners amongst the audience as he went.  I hope he was kinder to his primary school kiddies of yesteryear, as more than one member of the audience was plainly terrified.  Or maybe it was just me 😉
We began the class with a 1980s Bruichladdich 15yo White Label.  Mario explained that during this era several batches of Bruichladdich of varying ages and strengths were made for different Italian importers & retailers. My notes as follows:
Nose: Hot-buttered white toast with runny honey.  Elegant, soft brininess.  Some pleasing vanilla and dried coconut.
Palate: An intense, amazingly clean, fresh bourbon character allied to a brittle, flinty, minerality.  Little or no smoke in evidence. Definitely tastes stronger than its strength. Mario demanded to know what we thought it tasted like, and agreed with Sukhinder's assessment: "like a Speyside".  Salty mid-palate, with some clove and pepper.
Finish: Clean as a whistle.  Lemony at first, becoming faintly exotic.
Comment: Mario ventured the opinion that the forthcoming unpeated Laddie 16yo & 22yo releases are, stylistically, a return to Bruichladdich's roots.  If they can even approach the class of this dram I'll happily start giving them my money again.
What a blinder!  But there was no let-up in this uber-tasting.  Without further ado, it was straight onto what was for me the most unusual of the class and my most-anticipated dram of the Show:
Port Ellen 10yo Signatory Scottish Wildlife.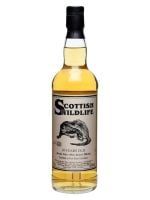 No, it's not a typo – this really is a 10 year old Port Ellen, bottled in the early 1990s by Signatory, who would go on to become one of Scotland's best independent bottlers.  This whisky was very special to me, not only for its historical significance as the joint-youngest known Port Ellen, but also because it was the first PE I ever tried, tasted during an impromptu evening session with Sukhinder and Charles Maclean that took place at TWE's old offices in Hanwell many years ago.  I subsequently paid an extravagant sum for a bottle of it at auction several years later, since which time it has been sitting in my collection, ostensibly for my 40th birthday.  I was just praying that it was as I remembered it, and that my jaded palate (which is notoriously fickle and moody, and has cast out many former favourites from its affections) would still cherish this PE as much as it had before.
Nose: Fresh laundry, very light soot, salt and pepper crisps; a mild bandagey note emerging. Sea shells, briny air.  Mario mentioned vanilla and toffee apples.  In short: perfect young bourbon-cask Islay whisky.
Palate: Very fresh, with oakspice, wet wool, dry smoke; develops fennel & caraway flavours and wet stones.
Finish: As with the Bruichladdich, some very faint tropical notes begin to emerge – peach, apricot.
Comment: A cracking dram – a perfect young Islay whisky, but given extra significance – not to mention heart-breaking pathos – by its museum-worthiness and innocent design awesomeness (I ♥ otters).  A humblingly rare experience and I'm glad I forked out for my bottle, though to be honest now it feels almost too precious to ever open.  Frustratingly, Mario revealed that there are actually two versions of this bottle, but you can only tell them apart by a very slight variation in the colour – so you can only distinguish the difference when you have both together. Sigh.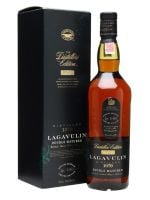 Next up was another very special dram – the first ever Lagavulin Distillers Edition, distilled in 1979.  As most of you will know, Diageo's Distillers Editions are given a secondary maturation in various dessert wine casks to add an extra layer of sweetness and depth of flavour.  What's less well-known is that in the old days this secondary maturation was quite a long period – this 1979 Lagavulin first appeared in 1998, meaning the whisky was two to three years older than the standard 16 year old.  These days, the finishing period is only a matter of weeks or months.
Anyhoo, here's my notes:
Lagavulin 1979 Distillers Edition , bottled 1998
Nose: Strong 'spirit' sulphur ie more struck match than rotten eggs, but fades to smoky bonfire notes.  Burnt gingerbread.  Menthol hints, tiger balm, raisins, turf.
Palate: Old leather, very raisiny – then the bandages.  Becomes orangey and very earthy – dry turf.  Very thick and oily for a 43% dram.  The faint herby notes from the nose are there as well.
Finish:  A huge dose of raisins & leather.
Comments: Very impressive stuff. When I nosed this I was a bit scared because I hate sulphur – but I ended up really enjoying it: the big leathery fruit and turfy smoke notes were much more dominant on the palate than the initial nose suggested.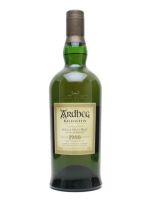 Penultimately, it was time for the Ardbeg Kildalton.  In his discussion of this famously unusual Ardbeg, Mario drew attention to, and took issue with, my description of it on the TWE website for using the word 'experimental' to describe the unpeated and lightly peated whiskies that were used to create Kildalton.
Mario's argument – and it makes a lot of sense – is that after the closure of their own floor-maltings in 1977, Ardbeg was forced to obtain malted barley from commercial maltsters on the Scottish mainland and in Ireland to make up the shortfall.  Malting technology back then wasn't what it is now, however, and the new suppliers simply couldn't produce enough sufficiently peated malt to sustain Ardbeg's high ppm, with the unpeated or lightly peated spirit we now know as Kildalton being the result.
Nose: Very clean barley, white toast, coconut, flapjack, cranachan.  Mario found grapefruit & liquorice as well.  A multi-layered nose, with creamy caramel and a little leafy note too.  I even found a faint trace of soot.
Palate: Very intense, very sweet barley, hints of tinned pears and apriocts alongside the flapjack and cranachan from the nose. Glorious mouthfeel.
Finish: Lingering ,with a hint of briney salt at the death.
Comment: Insanely clear, sweet, fresh barley – so unusual to try an Ardbeg spirit almost entirely unencumbered by peat.  Wonderful.
After this remarkable whisky, it was on to the final dram of the class.  This was a real showstopper – a whisky that had been formally crowned the best of the year on its initial release in 2005, picking up the 'Ne Plus Ultra' gong at the Malt Maniacs Awards.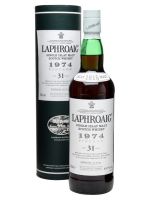 Mario introduced this Laphroaig by talking about the distillery's famous 'Fruity Period' for spirits produced between 1973 and around 1979-80.  Remarkably, the change came about due to Laphroaig suffering exactly the same supply issues as Ardbeg.  There was a slight difference at Laphroaig, though – here the floor maltings had survived (as they do to this day), but the shortage of sufficient heavily-peated malt was caused by a big jump in output capacity after the number of stills increased from four to seven between 1967 and 1972.
The solution was the same, though, with the distillery having to bring in malt from Moray Firth and Irish Masters maltsters, neither of whom could produce malted barley of sufficient ppm.  The result was a significant drop in Laphroaig's peatiness – according to Mario it went from around 40-45ppm to around 25ppm in this period.
For the famed 1974 bottling, Mario told a story of very disappointing cask samples becoming something very, very special when vatted together – and of a missing 15 cases of the final product that disappeared between bottling and delivery.  It was all very cloak and dagger – even the cask type is shrouded in mystery, with no-one either at the distillery or the retailer able to recall whether the liquid for the vatting came from two butts or four hogsheads.  The audience, meanwhile, had become rapt as they nosed this most magisterial of Laphroaigs…
Nose: Grapefruit of almost surreal intensity and richness.  Imagine the darkest, most treacly brown sugar possible being melted onto a slightly burnt cooked grapefruit, then somehow those flavours being concentrated to the power of ten.  It was a bit like that.  There were all sorts of other aromas going on as well, of course – I got lychee, leather, old sweaty socks, autumn leaves, date syrup, cooked figs, guava…
Palate: The word 'stunning' is much overused in relation to whisky, frequently cropping up in blurbs, press releases and tasting notes to denote 'very good indeed' (and no doubt I've been a culprit of this myself in the past, and will be again).  Laphroaig 1974, though, probably qualifies for this epithet.  No, it didn't cause an emotional shock or loss of consciousness – but it was quite breathtakingly good.
Attempting to write tasting notes for whisky like this feels somehow petty and infantile-  when the stuff's in your mouth, you just want to focus every fibre of your consciousness on savouring it.  My notes read: 'Just massive.  Muscovado sugar, grapefruit, mango, fresh orange, Maltesers, passionfruit, raisin syrup'.  After that I gave up trying.
Finish: A glorious cavalcade of sherried tropical fruit.  You just don't want it to end – when it did, I felt bereft.
Comment: Even while Mario was introducing the whisky there had been quiet gasps and low murmurs as people began nosing it – this became something of a hubbub as the full magnificence of the palate sank in.  A career dramming highlight, and the best whisky I'm ever likely to taste from my birth year.  Shame about the £4k pricetag, but you can see why people spend that kind of wedge for quality this rare.
Many thanks to Mario Groteklaes of The Nectar for coming all the way from Belgium to introduce this fabulous class and for sharing his wisdom so generously with the group.  Grateful thanks also to Sukhinder, who supplied the Bruichladdich, the Lagavulin and the Port Ellen from his personal collection especially for the tasting.