I have to admit I wasn't all aboard the whole "craft distilling" boat when I heard that we were bringing the likes of Corsair, Balcones, and Redemption into the UK for the first time, but after two public appearances of these whiskies in the span of a few weeks I am beginning to believe that I need to start taking the craft distilling movement more seriously.
America has always been know for its great wine regions (California, Oregon, New York) and also its craft brewing, where there are over 2,000 micro-breweries spread out over 45 states, but micro-distilling seems to take a back seat for the last decade or so, until now. There are around 300 craft distilleries in the U.S.A at the moment, up from 50 back in 2005, and according to Michael Kinstlick, CEO of Coppersea Distilling, this number could swell to over 1000 in the next decade.
Why is craft distilling so popular all of sudden? You can attribute some of this to the growing popularity of Bourbon and Rye globally, the demand for high quality, hand-crafted spirits from both the consumer and the on-trade, and the fact that the recent relaxing of state laws in America has made it easier for interested parties to set up distilleries. This isn't always necessarily a good thing as there are a number of whiskies that are being released out in the market that are absolutely vile, but we are seeing some amazing spirits being released as well and finally they are getting the chance to grow in markets such as the UK.
Which brings to me to the reason I am writing this in the first place! I recently had the privilege of gathering with some very special guests to unveil the whiskies of Balcones Distillery. I had a little experience with Balcones when pouring them at The Whisky Show this year, and it was well received by a good number of people, but this time I really wanted to dive in and get to know the distillery and the whiskies even more.
Balcones was first brought to life in 2008 by President and Distiller Chip Tate, in Waco, Texas. If anybody is familiar with the state of Texas then they will know the expression "Everything is bigger in Texas", from the sheer size and population to the sports stadiums, but Balcones is bucking that trend with their the still operation that barely produces 1,00o liters of spirit, but what quality spirit it is! This is what true craft distilling is all about as everything at Balcones was hand-crafted from the ground up by Chip and his crew and it has become the first distillery in Texas since prohibition making whiskey legally. It has also claimed another first in that it is the only distillery making whisky from a roasted Blue Corn called Atole, which is used in their Baby Blue and True Blue expressions.
The name Balcones actually comes from the Balcones fault zone that runs from Southwestern Texas through the North Central region, including Waco. This zone has been claimed to contain the Ouachita Mountains that were formed 300 million years ago during a continental collision. Millions of years of erosion have left the remnants of this mountain range buried some 2,000-3,00o feet deep in the earth and as recently as September an earthquake had registered a 3.4 on the Richter scale. The story of Balcones distillery is just one of many being forged in America, where passionate, imaginative, and creative people are crafting some fantastic stuff.
The current Balcones portfolio consists of five expressions: Baby Blue and True Blue made from roasted blue corn; Texas Single Malt made from Golden Promise imported from Aberdeen, Scotland; Brimstone, using Texas Scrub Oak to infuse smoke into the new make spirit; and Rumble, which is an unusual spirit distilled from Texas wildflower honey, mission figs, and turbinado sugar.
Chip and his team are double distilling in copper pot stills, and using a mix of new charred American oak and European oak to mature the spirit in. Their casks range in sizes from 20 liters to 220 liters and are stored in a 60,000 square foot facility that will eventually be Balcones new home, and rumor has it that Chip is building bigger stills to accommodate the growing demand of his whiskies. It looks like the sky is the limit for this little gem from Waco.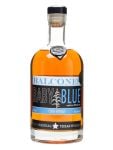 Color: Old Gold with Amber highlights
Nose: Vanilla and caramel sweetness, almond extract, some underlying spice, buttered toast
Palate: Slightly oily entry, caramel, some woody notes, cinnamon and cloves
Finish: Surprisingly long and warming with spices re-surfacing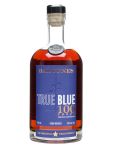 Color: Amber/Rust
Nose: Rich, chocolate ganache, roasted coffee beans, a sawdust note, dried fruits
Palate: Big and bold entry, toffee, allspice, some polished oak notes, drying through the mid-palate
Finish: Again, surprisingly long, a sweet and sour note, and possibly some liquorice?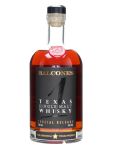 Color: Amber with reddish hues
Nose: Orchard fruits, a smoky note, sugared walnuts
Palate: A nice fruity, sweet entry, ripe pears, but with that classic drying sherry note through the mid-palate, chocolate-covered raisins
Finish: Big spice and oak, lengthy finish. The use of different cask sizes and mixing the types of oak gives this whisky very big complexity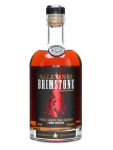 Color: Amber
Nose: Campfires and Smokehouses, a salty twang, a caramel sweetness emerges underneath the smoke
Palate: Sweet smoke, a vegetal note appears, pepper and spice
Finish: Quite lengthy again and somewhat hot and spicy with the sweetness struggling to come through at the end