For those just interested in the titular whisky who don't want to read my random wifflings here's a tl;dr version of this blog post: despite the rumours Ardbeg Galileo is not sold out everywhere and we now have it available on our website; it is also good.
For those who are still here – hello, thank you for staying.
Other than making tasty whisky which sells scarily well, another thing Ardbeg are known for is doing silly things, and when it came to the Galileo press launch it was silly in two ways: 1) It was 4 days after the whisky was released and 2) it was at the National Space Centre. In Leicester.
Now, I have nothing against Leicester (I hear that they have some of the happiest students in the country) but it doesn't strike me as the natural home of space travel in the UK. However, some enterprising folks applied for government funding back at the turn of the millennium and with help from the Space Research department of the University of Leicester they opened up a museum dedicated to the wonders of space and space travel. The UK does in fact have a quietly successful Space Industry, although rather than focusing on the flashy fire and explosion rocketry end of things we're great at producing satellites, as well as clever people who know how to make all that stuff work.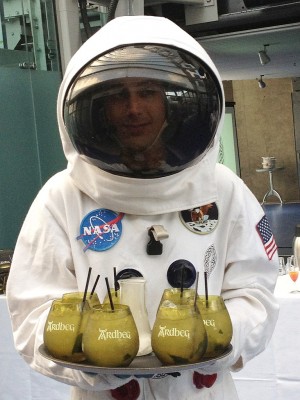 So, we arrived at the NSC, were served cocktails by a 'gentleman of space' and were whisked around the place on a tour of space related nicknacks, toys and exhibitions. Oh yeah, and two bloody great rockets that they had to build the museum around.
A little known fact about me is that I am a colossal space geek. My childhood astronaut fantasies were rekindled a few years back after watching For All Mankind, a montage documentary of the Apollo moon missions, and ever since I have watched rocket launches, followed Mars Rover missions, and listened carefully to presentations about space-dogs and space-chimps. I ran around the NSC with the hand-waving excitement of a small child hopped up on Space Dust, Space Raiders and, errr, Space-Coke.
Right. Ardbeg Galileo. It's a new limited edition Ardbeg (there is quite a lot of it, but Ardbeg doesn't hang around – see the speed at which Alligator, a smaller release as far as we know, disappeared last year) produced in honour of the company's recent foray into the world of space research. Basically, they were approached to supply some samples of new make spirit and shavings of cask that would be sent up to the International Space Station to investigate the effects of zero-gravity on flavour development. While we may have had particularly 'interesting' conversations in the office about whether a space station orbiting directly above Scotland could count as still being 'in Scotland' for reasons of maturation, the liquid in the test vials on the ISS is not whisky – it's only been up there for a few months. To quell any lingering confusion: Galileo doesn't contain space whisky, it is merely a celebration of the experiment.
If you had an excuse to release a space themed whisky would you pass it up? I know I wouldn't. I really like space. Did I mention that before?
The whisky is a 1999 vintage, bottled in 2012, and is a vatting of first fill bourbon cask and Sicilian marsala wine cask matured spirit. The marsala whisky started life as one of Dr Bill Lumsden's wood experiments and while it is rumoured to be a bit sweet on its own, it produces something quite interesting when tempered by the first-fill bourbon: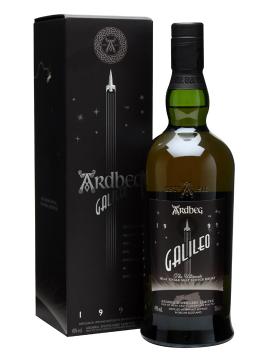 Nose: Soft, sweet peat, sweet spirity notes, tarred ropes, coal dust, barbequed pineapple (à la St Heston of Bray), a touch of dirty sump oil, pine needles, freshly smashed-open coconut, dry breadcrumbs and crushed seashells. A few drops of water calm down the phenols and reveal syrup glazed pineapple upsidedown-cake (one of my specialities) and stewed gooseberries.
Palate: The first thing I noticed was that it wasn't as sweet as the nose might have suggested, at least not in an upfront syrupy way. Instead it had unsweetened tropical fruit and sharp edged Fruit Salad chews, filled out with rich fruitcake sweetness, although this is Ardbeg so it was more a 'smoked fruitcake' hit, along with cold coal stoves, dark wood, a hint of leaf mulch and some sea spray. Water yet again calmed down the peat, revealing a bit more sweetness from the fruit.
Finish: On the swallow there was a burst of tarry phenols, which faded to leave lingering damp wood and leaves.
Comment: At first I though it'd be way too sweet for my currently savoury palate, but instead it was rich and fruity, eschewing syrup for sweet smoke and earthiness. A successful experiment.
Anyway, it's up on the site now but we don't expect it to hang around for too long…