It's that time again: the day when Jim Murray reveals his favourite whiskies in the world. The results of his Whisky Bible 2018 have just been announced, and the winner of the top prize hails from the USA:
Jim's not a man to mince words, with his press release hailing the whiskey's 'sheer undiluted beauty':
'Nothing could match the astonishing beauty of its surprisingly delicate weight and complexity combined. It was though time stood still in the tasting room; I just knew…'
The Colonel EH Taylor Four Grain is the latest in the Buffalo-Trace-made line of small batch releases, drawing inspiration from Colonel Taylor's time as a grain trader during the American Civil war. It's made using a mashbill of corn, rye, wheat and malted barley – the four grains of the name – and has been picking up great reviews since it launched in April 2017.
Producer's Tasting Notes:
Opens with an inviting aroma, with the first sip bringing a lot of character. Caramel notes are touched by sweet vanilla and caramel corn, then underwritten by slightly smoky flavors and oak tannins. It maintains a smooth evenness between the four grains interacting with the charred oak barrel. Overall, a nice balance, and unique.
Jim's second and third favourite whiskies are better known to followers of The Whisky Bible: Redbreast 21 and Glen Grant 18. The Redbreast has been at the top of Jim's Irish Whiskey awards since it arrived on the scene a few years back, and Glen Grant 18 was Jim's second place whisky last year. Both are worthy winners and more readily available than the EH Taylor.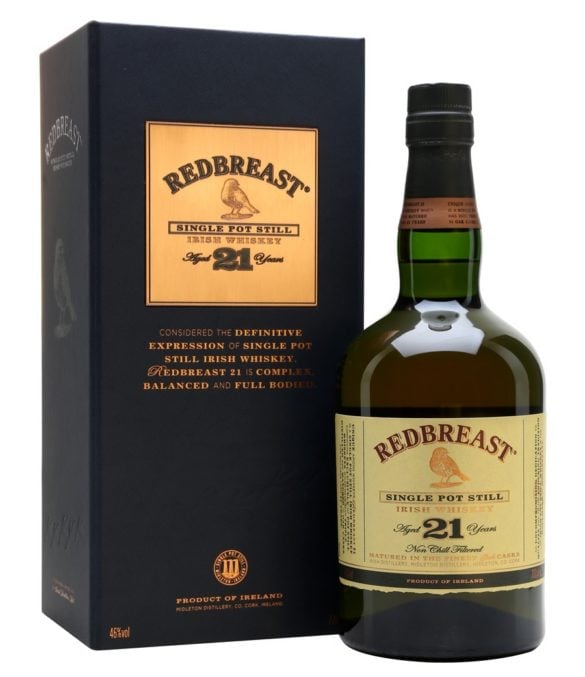 Tasting notes by Stuart Peskett, The Whisky Exchange:

Nose: Rather closed and restrained; takes time to unravel. Tightly knit malt, lots of spiciness lurking underneath.
Palate: Mint and menthol appear from nowhere, along with a big, rich spiciness, and suddenly you realise the complexity you're dealing with: cinnamon and clove, apple, mango, biscuit, oats, white pepper, but all well defined and distinct.
Finish: Very long lasting, with the spices and fruit all lingering. This needs time to contemplate.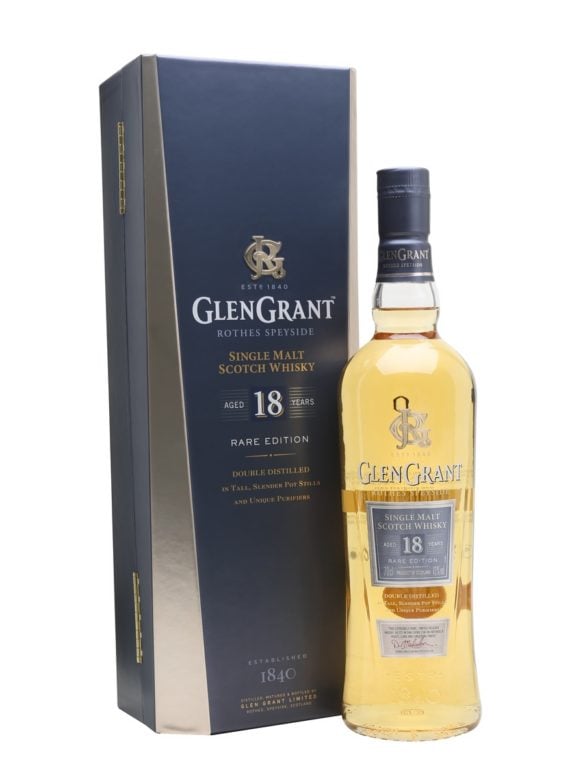 Producer's Tasting Notes:
Nose: Rich and floral with oaky overtones and hints of baking spices
Palate: Malty caramel, delicate, dried raisins and vanilla
Finish: Long, sweet with hints of nuts and spice
You can order Jim Murray's Whisky Bible 2018 and find all the category winners both below and over in our Jim Murray's Whisky Bible 2018 page on The Whisky Exchange website.
The Full Winners List
2018 World Whisky of the Year
Colonel E.H. Taylor 4 Grain Bourbon
Second Finest Whisky in the World
Redbreast Aged 21 Years
Third Finest Whisky in the World
Glen Grant Aged 18 Years
Scotch Whisky
Scotch Whisky of the Year
Glen Grant Aged 18 Years Rare Edition
Single Malt of the Year (Multiple Casks)
Glen Grant Aged 18 Years Rare Edition
Single Malt of the Year (Single Cask)
Cadenhead's Glendullan 20 Year Old
Scotch Blend of the Year
Compass Box The Double Single
Scotch Grain of the Year
Cambus Aged 40 Years
Scotch Vatted Malt of the Year
Compass Box 3 Year Old Deluxe
Single Malt Scotch Whisky
No Age Statement (Multiple Casks)
Ardbeg Corryvreckan
10 Years & Under (Multiple Casks)
Glen Grant Aged 10 Years
10 Years & Under (Single Cask)
Scotch Malt Whisky Society Tomatin Cask 11.32 8 Year Old
11-15 Years (Multiple Casks)
Gordon & MacPhail Ardmore 2002
11-15 Years (Single Cask)
That Boutique-y Co. Clynelish 15 Year Old
16-21 Years (Multiple Casks)
Glen Grant Aged 18 Years Rare Edition
16-21 Years (Single Cask)
The First Editions Ardmore Aged 20 Years
22-27 Years (Multiple Casks)
Sansibar Whisky Glen Moray 25 Years Old
22-27 Years (Single Cask)
Hunter Laing's Old & Rare Auchentoshan 24 Year Old
28-34 Years (Multiple Casks)
Glen Castle Aged 28 Years
28-34 Years (Single Cask)
Old Particular Glenturret 28 Year Old
35-40 Years (Multiple Casks)
Brora Aged 38 Years
35-40 Years (Single Cask)
Xtra Old Particular Caol Ila 36 Year Old
41 Years & Over (Multiple Casks)
Gordon & MacPhail Glen Grant 1957
Blended Scotch
No Age Statement (Standard)
Ballantine's Finest
No Age Statement (Premium)
Compass Box The Double Single
5-12 Years
Grant's Aged 12 Years
13-18 Years
Ballantine's Aged 17 Years
19 – 25 Years
Royal Salute 21 Years Old
26 – 50 Years
The Antiquary Aged 35 Years
Irish Whiskey
Irish Whiskey of the Year
Redbreast Aged 21 Years
Irish Pot Still Whiskey of the Year
Redbreast Aged 21 Years
Irish Single Malt of the Year
Bushmills 16 Year Old
Irish Blend of the Year
Bushmills Black Bush
Irish Single Cask of the Year
Dunville's VR First Edition Aged 15 Years
American Whiskey
Bourbon of the Year
Colonel E.H. Taylor Four Grain
Rye of the Year
Thomas H. Handy Sazerac 126.2 Proof
US Micro Whisky of the Year
Balcone's Texas Blue Corn Batch BCB 16-1
US Micro Whisky of the Year (Runner Up)
291 E Colorado Aged 333 Days Bourbon
No Age Statement (Multiple Barrels)
George T. Stagg 144.1 Proof
9 Years & Under
Buffalo Trace Experimental Collection Organic 6 Grain Whisky
10 Years & Over (Multiple Barrels)
Colonel E.H. Taylor Four Grain
Rye
No Age Statement
Thomas H. Handy Sazerac 126.2 Proof
Up to 10 Years
Pikesville 110 Proof
11 Years & Over
Sazerac 18 Years Old
Wheat
Wheat Whiskey of the Year
Bernheim Original
Canadian Whisky
Canadian Whisky of the Year
Crown Royal Northern Harvest Rye
Japanese Whisky
Japanese Whisky of the Year
Nikka Coffey Malt Whisky
Single Malt of the Year (Multiple Barrels)
Nikka Coffey Malt Whisky
European Whisky
European Whisky of the Year (Multiple)
Penderyn Bryn Terfel (Wales)
European Whisky of the Year (Single)
The Norfolk Parched (England)
World Whisky
Asian Whisky of the Year
Paul John Kanya (India)
Southern Hemisphere Whisky of the Year
Limeburner's Dark Winter (Australia)