'It's all about the 'poof poof' of Cognac' says Patrice Piveteau, and it's a testament to both his storytelling and infectious enthusiasm that this immediately makes perfect sense. He is talking about the sensory fireworks present in any glass of good Cognac, one of the many qualities which make the French spirit so endlessly fascinating – and drinkable.
'I drink no more than a sponge' – Francois Rabelais
Frapin is one of the Cognac houses that is driving the spirit's resurgence and appeal to new audiences, while remaining at heart a traditional brand. A small Cognac house with an excellent location and pedigree – it has been distilling for at least 20 generations and even counts Renaissance writer Francois Rabelais as one of its ancestors, who it honours through its quill motif – Frapin produces consistently enjoyable and characterful spirits.
We spent five minutes with cellar master Patrice Piveteau, learning about how he crafts Frapin's Cognac, and then tried our hand at five of the best cocktails that you can make with their VSOP (disclaimer: it takes a bit longer than five minutes to make them all – but it's time well invested…).
Five minutes with cellar master Patrice Piveteau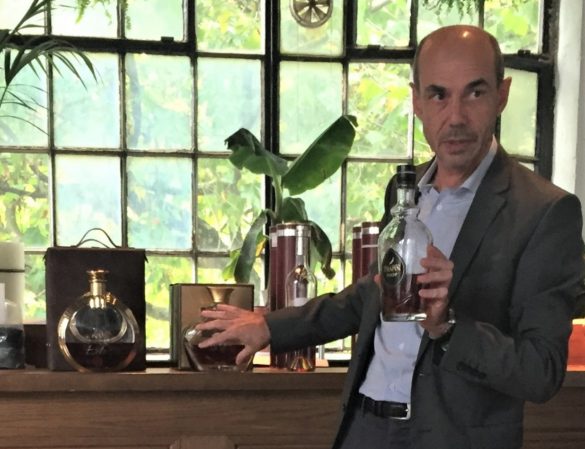 What is your official role at Frapin, and how long have you been with the company?
I'm the cellar master and Deputy Managing Director and I arrived at Frapin in 1991, so 26 years ago. Frapin people have been in Cognac since the 13th century, so this is nothing!
What does your job involve?
Frapin controls everything from the rootstock to the final product, so I need to know everything about the vineyard and the quality of the stock to continue Frapin's quality. But because we control the whole process, it is also possible to take risks: we have, for example, recently planted the new Follignan – this is the new grape, a cross between Ugni Blanc and Folle Blanche. Since 1991, our new philosophy is also sustainable winegrowing, so less [chemical] spraying.
What is the Frapin house style?
Complex, fine Cognac. When it comes to flavours, everyone has their own ideas, everyone can find different fruit, but there is one final aim for us, and that is the pleasure. We have three levels of cask, all made from Limousin wood (<5 years old, 5-15, and more than 15 years old) and different types of cellars (humid and dry), which allows us to diversify the range. Our Cigar Blend, for example, is made to support the intensity of cigars. It spends a year in new casks, and is aged in a humid cellar for around 20 years.
How does a single-vintage Cognac differ from a blend of the same age?
The quality of a single vintage depends on the characteristics of the year and the harvest. It's really a Frapin specificity because of our big vineyard. We have 240 hectares in the heart of Grande Champagne, the first cru of Cognac – the area' s crumbly chalk is key. But we decide to produce the vintage only if the quality brings something different and exceptional compared with the rest of the range.
What is the optimum ageing time for Cognac, and how does the taste vary once it reaches 10/20/30 years?
I can't answer because to know the optimum ageing, I need to taste it first! For me there is no general theory except to follow the ageing by the tasting… But for Frapin, we are lucky to be in the heart of the Grande Champagne and we distil with the lees so we need more ageing than normal to develop our complexity.
What's the best thing about being a Cognac cellar master?
The best thing is to work with my passion… and to share the pleasure of tasting and drinking Frapin with other people. I also like the idea of working for the next generation and doing the best for Frapin…for the future.
What's the favourite bottling of Frapin you have tasted, and why?
Of course, I like them all, it's just depends on the moment of the tasting (aperitif, during diner, digestif…) But today I have a preference for the limited series (Plume, Mulitimillesime, Vintage…) because it's typical of Frapin artisanal expertise and single Family estate.
Five Frapin Cocktails
Patrice is adamant that drinking Cognac is about personal pleasure, and cocktails are one of the many ways you can enjoy this marvellous spirit. We tried these recipies using Frapin's excellent VSOP, which has recently been upgraded to a swankier bottle, but – as so often in life – any good Cognac will do. We also had the benefit of expert (and patient) tutelage from Hawksmoor's wonderful Steve Crozier for the first three – any mistakes below are ours, not his!
The Harvard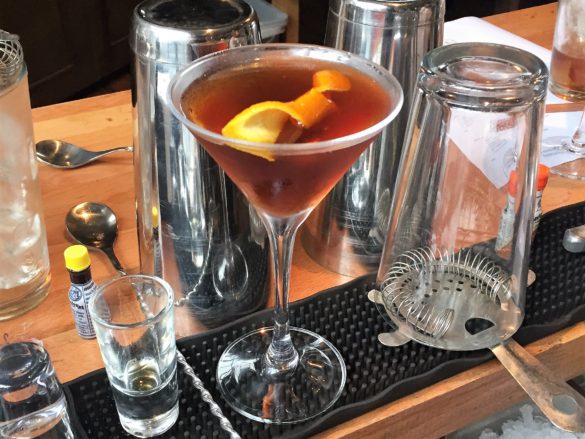 50ml Frapin VSOP
20ml Antica Fomula
1 dash Angostura Orange Bitters
1 dash Angostura Bitters
Orange twist garnish
This is a cocktail from the turn of the last century, with an old-fashioned elegance and simplicity that really lets the flavours of the Cognac shine through. It was apparently named after the American university – I can't imagine what my old university's cocktail would be like, but it'd probably involve Smirnoff Ice…
Method: Add the ingredients (sans garnish) into a large tumbler. Top this with ice and swirl for at least 20 seconds to chill the liquid down. Strain into a chilled martini glass then garnish with the orange – twist it first to release the oils.
Sidecar
45 ml Frapin VSOP
20ml triple sec
20ml lemon juice
5ml sugar syrup
As Steve explained, the Sidecar is typical of the Prohibition era because it includes citrus notes that hide the taste of the (typically rubbish) homemade alcohol of the time.
Method:
Add all the ingredients into a cocktail shaker, top with ice, assume a face that suggests you've done this before and then shake. Grab a chilled Martini glass and wipe an orange segment around half the rim, then dip in sugar. Strain the contents of the shaker into this glass.
Steve's top tip: Always use orange, rather than other citrus, to create a sugar rim as the acid doesn't counteract the sugar.
Mata Hari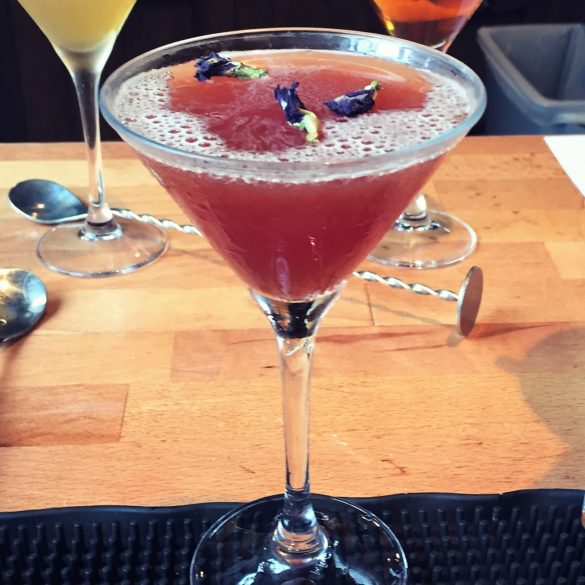 40ml Frapin VSOP
25ml EO chai-infused sweet vermouth
20ml lemon juice
10ml sugar syrup
20ml pomegranate juice
3 dried rosebuds garnish
This is a modern, seductively sweet-sour-spicy cocktail whose secret lies in chai-infused vermouth. It takes a little advance preparation but it's certainly worth it.
Method:
First, you'll need to infuse the vermouth. The simplest way is to put a litre of sweet vermouth in a pan with a couple of chai teabags and heat it for about five minutes without letting it boil. Leave this to cool and then strain.
After that, combine all the ingredients in a cocktail shaker, add ice and shake. Strain into a chilled cocktail glass and garnish with three dried rosebuds.
Land and Sea
30ml Frapin VSOP
20ml Lemon juice
20ml Parsnip Sherry (created by Hawksmoor)
12.5ml of Hazelnut orgeat (created by Hawksmoor)
1 dash of Absinthe.
Garnish with a fresh parsnip wheel
This was created by the Hawksmoor team for London Cocktail Week 2017 and is a modern take on the classic gin-based Army and Navy. It uses their own walnut Orgeat and parsnip-infused sherry, both of which were created to complement the flavours of Frapin's VSOP.
Frapincino
40ml Frapin VSOP
15ml Pedro Ximenez sherry
25ml lemon juice
35ml egg whites (just less than one egg)
5ml gomme syrup
Demerara sugar to garnish
Created for London Cocktail Week by Dav Eames, bar manager at The Gilbert Scott, this is a light and refreshing drink with a tantalising mix of textures. Those who visited the bar during London Cocktail Week were let into the secret of the 'dry-wet-dry' shake method, which creates the distinctive layers.