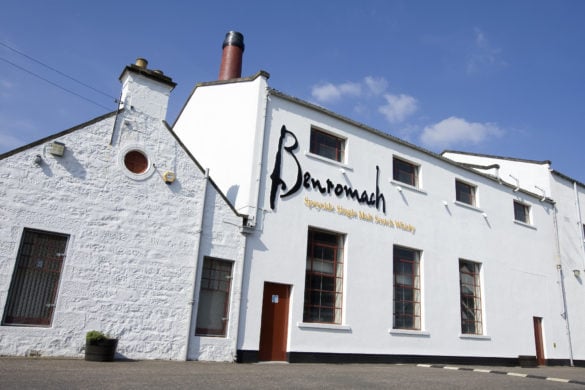 Scotch whisky is very different to a few decades ago. Demand is up and as drinkers' tastes change, distilleries tweak their recipes. The spirit, the casks and the resulting whiskies are all different to how they used to be. Well, most of them anyway. There are a few distillers who still make old-fashioned whiskies – distillers like Benromach. We've got a fantastic bottle of whisky from the distillery to give away, so read on…
Rocky popped up to visit the folks at Benromach a couple of years back and you can read all about his trip here – not much has changed, but the distillery's old-school drams are turning more heads than ever before.
The distillery's style is typified by Benromach 10 Year Old – an oily dram with hints of soft smoke hiding under sweet toffee, fruit and rich maltiness. This is what I thought:
Nose: Runny honey, green leaves, waxed apples, cinnamon, wood smoke and a touch of linseed oil.
Palate: Wood smoke kicks things off, with vanilla toffee, hazelnuts and the linseed from the nose sitting alongside. Darker notes of raisins, brown sugar and spice develop, as well as a touch of sappiness.
Finish: The smokiness hangs around, with apple skin and freshly ground malt slowly fading.
Comment: The waxiness and malt, along with the puff of smoke, remind me of some of the older bottles I've tried. Old-fashioned whisky at its best.
While it's the distillery's new whiskies, produced since it restarted in 1998, that are getting the most praise, owner Gordon & MacPhail occasionally unearths an old gem in its warehouses. The latest release is one of those – an incredible 35-year-old whisky.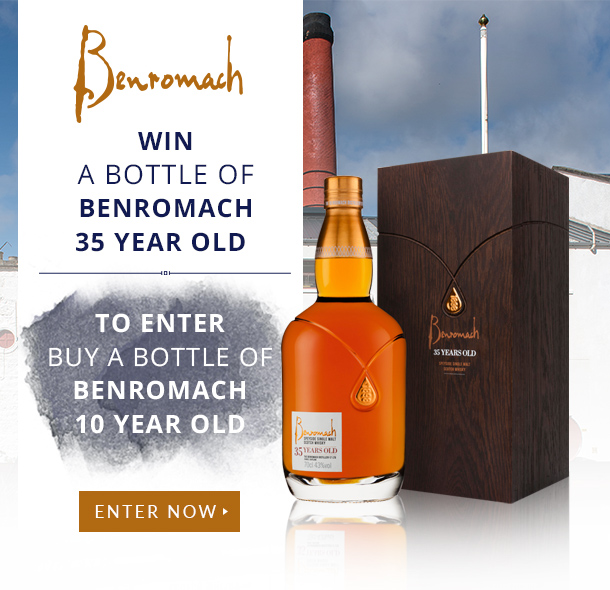 We're celebrating the launch of the new Benromach 35 Year Old with a prize draw – we have a bottle to give away to one lucky customer. All you need to do is buy a bottle of Benromach 10 Year Old before 11.59pm on Tuesday 9 August and we'll enter you into the draw.
You can find full details here – good luck!