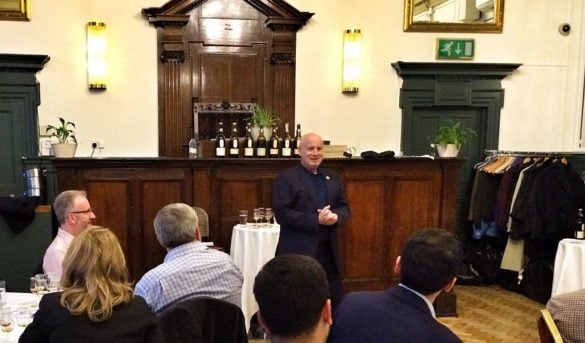 'Islay is the eighth wonder of the world'
Colin Dunn knows how to open a whisky tasting. While invoking wonder-dom for Islay may seem hyperbolic, there are some tasting line-ups that justify such comments – our Lagavulin 200th Anniversary tasting was certainly one of those.
While Lagavulin is hugely popular among whisky aficionados, there are surprisingly few expressions available on the market. The core range consist of just two whiskies – Lagavulin 16 Year Old and Lagavulin Distillers Edition. Add to that the yearly 12-year-old Special Release and you've still only got three whiskies. Our original plan of putting together a line-up of six distillery bottlings is an impressive feat, but on the night we went one better…
We kicked off the evening with the 2015 edition of the Lagavulin 12 Year Old. It's a cask-strength monster of a whisky that you wouldn't normally start proceedings with, but Colin was adamant – 'The best whisky to start with is the one you shouldn't!' It's a punchy dram and woke up the room.
Along with the regular whisky range, the line-up also included three special editions: the 200th Anniversary 8-year-old (you can read Stu's take on it here), the sold-out 2015 Islay Jazz Festival bottling and, the whisky I was most looking forward to, the Lagavulin 1991 21yo Sherry Cask. I was lucky enough to taste it when it was released as part of the 2012 Diageo Special Releases, and have been trying to find an excuse to do so again ever since. My palate's got a lot more sophisticated over the past four years, so here are my updated tasting notes:
Nose: Malt loaf, dates and butter, hints of salty liquorice and wet peat smoke. Spiced, butter-rich shortbread develops, along with singed pineapple and spiced sponge – Heston Blumenthal's tipsy cake with spit-roast fruit – dried apricot and mango, and a touch of coal dust.
Palate: Soft and fruity, with peach, pear and apple backed up by dark, sticky, sweet black liquorice. Sweet and savoury notes of herbal throat lozenges build, with spiced treacle sponge, sultanas and raisins. Minty hints, dark chocolate and soft smoke linger at the back.
Finish: Raspberry jam, coal and wood smoke, earthy peat and lingering apple sauce.
Comment: Fruitier than I remember, especially on the nose, but just as elegant and poised. A classic.
While the 1991 was the billed highlight of the evening, Colin had one more trick up his sleeve – the recently launched and much-spoken-about Lagavulin 18 Year Old, bottled specially for this year's Islay Festival and only available from the distillery. It's almost certainly sold out by now, with only a handful of bottles still available at the distillery at the time of the tasting, and Colin sneaked this bottle off the island so that we could have a taste.
Lagavulin 18 Year Old – Feis Ile 2016
Nose: Waxy, with notes of distant swimming pools. Sweet fruit and grassy savoury notes roll in, with pink Chewits and soft wood smoke joined by ferns, sour peat and freshly cut grass. The smoke stays subdued, with barley sugar, malted milk biscuits and cream filling out the palate.
Palate: Soft and sweet with earthy undertones: mulch, chocolate and liquorice, ashy touches and slowly developing orchard fruit. Salted caramel sauce sits drizzled on top, balanced by aromatically muddy notes of freshly turned sod.
Finish: Bitter liquorice pastilles, apple Jolly Ranchers, hints of marzipan, recently trimmed hedges and a touch of bung cloth.
Comment: A soft and fruity whisky, with well-integrated smoke. It's my favourite style and I'm now even more sad that I didn't make it to Islay this year. Now to make friends with people who did…
For the full rundown on the evening, head to Storify, where you can see all the tweets from the night.