I've left the world of wine marketing to dip my toes into the world of whisky and spirits at The Whisky Exchange. I was raised in America, earned my BA in History in Devon, and been captivated by all things wine in Berkshire and London. And now, with Independence Day on the horizon, I thought it would be interesting to highlight the key events that shaped the wine and spirit world in the US.
Americans have a varied and rich history with alcohol in its many forms, and to celebrate the uniquely American holiday of 4th of July – we've put together some perfect celebratory drinks.
---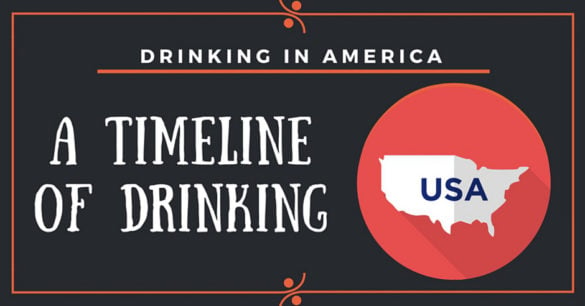 1833: California's first commercial winery established by Jean-Louis Vignes
This signals the start of a rich wine tradition in the state of California with names such as Mondavi, Opus One and Chateau Montelena following in his footsteps.
1862: Tax placed on whiskey
To help pay for the Civil War, the government places a tax on domestic whiskey, causing Americans to switch to lighter (and cheaper) substitutes such as beer. The consumption of whiskey begins to decline.
1920-1933: Prohibition
I doubt that congressmen in Washington DC in 1920 knew exactly how much of a cultural impact the signed 18th Amendment (prohibiting the sale of alcoholic beverages) would have in later years. This single government initiative would welcome and introduce us to of great cultural and historical references of The Great Gatsby, The Roaring Twenties, moonshine runners, Al Capone and speakeasy bars.
1935: Alcoholics Anonymous established
The now international organisation is founded by Bill Wilson and Dr. Bob Wilson in Ohio.
1938: 'Charred New Oak' required to be used for production of bourbon
A very important date for bourbon fans. In order to legally use the word 'bourbon' on the label, the ruling is made that the whiskey must be aged, by law, in 'charred new oak'. And by doing so, this ensures – permanently – the rich, sweet style of this iconic American whiskey.
1940-50s: Four Roses becomes America's top-selling whiskey
The brand is now responsible for ten separate bourbon brands.
1960s: Cinco De Mayo popularised
Cinco De Mayo is one of America's most enjoyable holidays. In the midst of the larger Civil Rights movements of the 1960s, Mexican-American communities increasingly celebrate the anniversary of the 1862 victory of Mexican fighters against the French army on 5 May. Mexican communities see this as a matter of pride and the anniversary (now commonly referred to as Cinco De Mayo) becomes popularised, and Tequila and Mexican beer companies are quick to capitalise on the celebration.
1965: Ringpull on beer cans introduced
Before this, beer drinkers needed to use a churn key in order to pierce two holes into the flattop of the beer can. One for drinking through, one for airflow.
1976: The Judgment of Paris
As an American and a wine fanatic, I treasure this date. Californian wineries are invited to Paris to compete against French wineries. The wines are tasted blind and scored, and Californian wines take first place in both red and white categories. The event is later popularised in the 2008 film Bottle Shock.
2004: The film Sideways is released
The main character's love for Pinot Noir sees sales of this red grape variety enjoy a huge increase across the United States (as well as giving its cousin, Merlot, something of an image problem).
2007: Absinthe becomes legal in the US
After a long history of being banned, Absinthe is allowed to be sold in the USA. It was long distrusted based on fear of its hallucinogenic properties.
2015: The number of registered regional craft breweries in the US hits 5,000
America is now the country with the highest number of craft breweries in the world, and proving that us Americans are true beer geeks – and proud of it.