Happy Glenfarclas 105 Day everyone!
Now, while this may not be the most well-known of whisky-related holidays – those honours go to World Whisky Day and International Whisk(e)y Day – the 105th day of the year (14 April) is an excellent excuse to grab a dram of Glenfarclas's sherry monster.
When it comes to my formative whisky experiences, my first encounter with Glenfarclas 105 is leader of the pack – it is the first whisky that I remember. At the tender age of five years old (almost six – I have been told that I was very concerned with that fact at the time), I visited my first distillery: Glenfarclas. At the end of the tour, my dad tried the 105 and I eagerly asked what he was drinking. He handed me the glass and the intensity of the flavour and smell meant that I couldn't get it closer than a few inches from my face, a youthful problem that I have thankfully since overcome.
Nose: Sweet and spicy, with dark depths hiding behind. Layers of caramel and treacle toffee with a earthy notes, maraschino cherries, cinnamon, cloves and anise in between.
Palate: Intense, thick and mouth filling, with dark chocolate and the spice from the nose taking a back seat to sweet fruit – cherries, sultanas and raisins. Despite the huge sherry-cask influence, Glenfarclas's characterful spirit pokes its head above the parapet, with cinnamon Danish pastries and baked apples developing in the glass.
Finish: Cinnamon-spiced dark chocolate leading to sweet sultanas and raisins.
Comment: A huge whisky, showing off Glenfarclas's characteristic combination of hefty spirit and high-quality sherry casks. A bottle I always have in the cupboard.
To further celebrate 105 Day, we're running a prize draw – buy a 70cl bottle of 105 before midnight on 16 May and we'll put your name in a virtual hat to win a very special bottle of Glenfarclas 105 20 Year Old.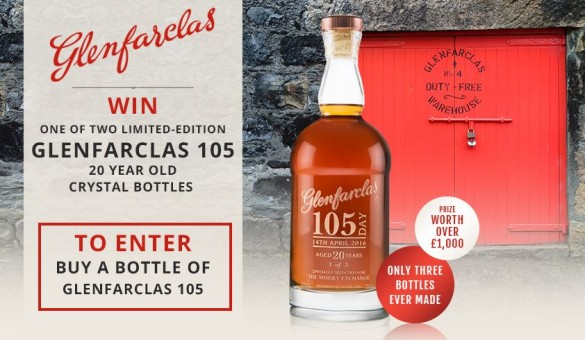 While Glenfarclas 105 20 Year Old is special in its own right – finding 20-year-old whisky that's still 60% ABV is rare – the folks at Glenfarclas have upped the ante for this year's 105 Day. They have commissioned a run of three crystal bottles, each engraved with the date of Glenfarclas Day 2016, and we are giving all three of them away. You can find full details on the prize draw page.
If you were looking for an excuse to stock up with on Glenfarclas 105, now is the perfect time. You can grab a bottle from The Whisky Exchange website.