There aren't many distilleries that have universal appeal. Some people adore rich, sherried whiskies; other people despise them. Some love lean, medicinal styles; others run a mile. But there is one whisky distillery that gets praise from all quarters: Lagavulin.
Part of the big-hitting trio of distilleries on Islay's southern coast, Lagavulin celebrates its 200th anniversary this year, and is about to launch a special limited-edition bottling: Lagavulin 8 Year Old. This new bottling honours the work of whisky writer Alfred Barnard, who visited Lagavulin in the 1880s: 'No prettier or more romantic spot could have been chosen for a distillery,' he said, describing an eight-year-old whisky he tried there as 'exceptionally fine'.
We were lucky enough to try a sneak preview of the whisky before it goes on sale in a few weeks' time – and it didn't disappoint. Lagavulin's distillery manager Georgie Crawford told us: 'I grew up in a pub in Port Ellen, and I was always of the opinion that Lagavulin was the premium single malt. When I started out, I wanted to be able to drink Lagavulin, but I had this perception that it was too powerful and smoky, so I started with Rosebank, then went on to Mortlach and Dailuaine.
'With this new 8 Year Old, we were trying to create something as a tribute to Alfred Barnard, and I think the team has absolutely knocked it out of the park. It doesn't have the big bite of the 12 Year Old; it's more refined. I find it challenging and serene at the same time. It's incredibly smooth for an eight year old, but it has that robust character.'
So, how does it taste? This is what I thought: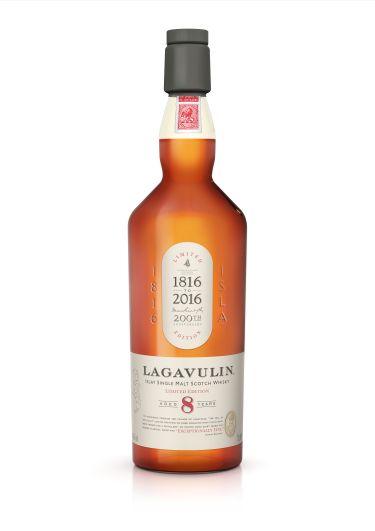 Nose: Cracked black pepper and aromatic woodsmoke at first, then fresh notes of orange and lemon peel. Appealing aromas of bonfires, hot shells and a touch of smoked meat. A little water brings out aromas of peach and green apple.
Palate: More woodsmoke, plus crunchy oatmeal and honeyed fruit. Rich mouthfeel, with notes of tobacco, bonfire embers and a peppery, spicy note.
Finish: The soft peat and characterful woodsmoke lingers for a long time.
Comment: Classy and complex, this has less fruit than the regular 16 Year Old, but adds a delicious extra layer of smoke and bite.
This special bottling of Lagavulin 8 Year Old will be available to buy from The Whisky Exchange in a few weeks' time, and we'll be getting plenty of it, so do not worry.