Compass Box has long been one of my favourite blenders. Founded by whiskymaker John Glaser in 2000, it has gone from strength to strength. The team has been at the forefront of innovation, and is currently campaigning for more transparency in regulations following a recent run-in with the Scotch Whisky Association, which you can find more about on scotchwhisky.com, which broke the story. Five years after his last appearance at Vinopolis, we welcomed John back to host a special 15th anniversary tasting.
In their own words – John Glaser
'We've always told people the ages in our blends, the distilleries in the recipes, the types of casks used; we're completely transparent about our raw materials. People want to know, they have a right'
'We don't know who reported us to the Scotch Whisky Association, or why. We can guess, though!'
'We believe fundamentally that a whisky producer ought to have the freedom to tell people what is in the blend – not necessarily an obligation, but a right'
'The first Spice Tree was banned because the Scotch Whisky Association said the technique we were using [extra wood staves suspended in a cask] wasn't traditional. After many meetings, my final argument was "this is about quality". Their response was "John, to us, quality is irrelevant"!'
'I started in the wine trade and moved to whisky and worked for a small Scotch whisky brand you may have heard of called Johnnie Walker'
'My first office was under a women's hairdresser in Marylebone – we shared a bathroom'
'I decided to begin with something people weren't familiar with, so I started with grain whisky. Grain whisky is much lighter than malt; a purer, cleaner spirit – it doesn't mean one is better than the other, they're just different'
'Stupidly I named my first blended malt Eleuthera after the Bahamian island – you get it? No? Exactly! My father told me it was a ridiculous name…'
'I looked at using Japanese whiskies years ago before it was cool. We've been playing around with bourbon, rye and other spirits – the blend between Mezcal and Scotch didn't work!'
We tasted
The tasting concluded with a pair of experiments: firstly a Caol Ila at two-and-a-half years old and around 57%, which was fiery but very drinkable, followed by Scovados, a blend of Spice Tree and Calvados – definitely a work in progress, but you could see the thinking behind the classic combination of fruity apple and spicy cinnamon.
Best #TWETASTING Tweet
Imyril @Imyril
This is Not a Luxury Whisky – Ceci n'est pas un whisky de luxe. Ceci est un whisky extraordinaire. #twetasting @compassbox
To relive the tasting as it happened on Twitter, you can read our Storify post.
Whisky of the night
It is strange how different whiskies seem to change in taste based on mood, temperature and many other factors. On the night, the whole room was almost unanimous that The Spice Tree showed particularly well. However, Hedonism is always my favourite.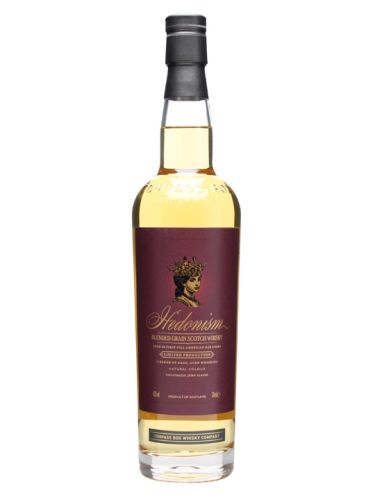 Nose: Intense vanilla and coconut with hints of nutmeg and mango.
Palate: Rich and creamy. Vanilla is dominant, with pineapple, black pepper, cherry and cinnamon in the background.
Finish: Medium to long, creamy vanilla is there at the very end, continuing the theme from the first nosing.
Comment: A superb example of grain whisky. This is light and easy drinking, a great choice for first dram of the day, but with enough complexity to keep me interested whenever I drink it. It is sad that grain whisky is rarely seen and often underappreciated, as while it keeps the prices lower, it offers many hidden gems.
Every whisky showed well on the night, with skilful blending as evident in the Eleuthera as it was in this year's limited editions. If you've yet to try any Compass Box whiskies, we have this excellent 'test-tube' set of five miniatures of the Signature Range for you to explore them – it makes a great gift, too. It has been an eventful few weeks for Compass Box, and it was refreshing to hear John's take on the situation. I'm told Compass Box are preparing a 'revolutionary manifesto' as we speak in an attempt to get the laws changes, so watch this space.