Excitement builds every year about the big winners in Jim Murray's Whisky Bible. Last year, Jim chose Yamazaki Sherry Cask 2013 as his 2015 World Whisky of the Year, which had an astonishing effect on demand for this now-rare bottle – and boosted the fortunes of the entire Japanese whisky category overnight.
So, who is this year's winner? For the first time, it's from Canada: Crown Royal Northern Harvest Rye. Jim scored it 97.5pts/100: 'Rye, that most eloquent of grains, not just turning up to charm and enthral but to also take us through a routine which reaches new heights of beauty and complexity,' he said. 'To say this is a masterpiece is barely doing it justice.'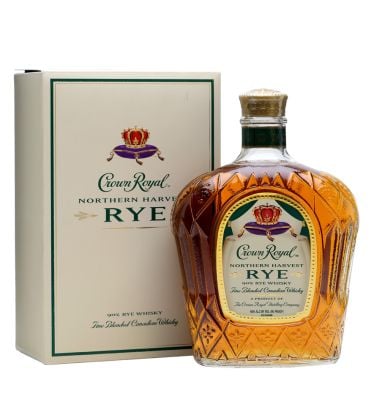 Producer's Tasting Notes:
Nose: Baking spices, cereal, light wood spices.
Palate: Gentle oak note, rich butterscotch, spiced vanilla, develops into soft peppery notes.
Finish: Smooth and creamy.
Jim has increased his World Whiskies of the Year to five, as opposed to his normal three, accompanied by his choice of Single Cask of the Year. Here are the winners:
Jim Murray's 2016 World Whiskies of the Year
1. Crown Royal Northern Harvest Rye
2. Pikesville Straight Rye
4. William Larue Weller Bourbon (Bot.2014)
5. Suntory Yamazaki Mizunara (Bot.2014)
SINGLE CASK OF THE YEAR
Glenfarclas The Family Casks 1957 #2110
This year – just like last year – there are no Scotch whiskies in Jim's list. And Midleton Dair Ghaelach's achievement is the first time that an Irish whiskey has finished in the top three.
Jim said: 'Last year people were shocked when I gave Yamazaki the award – until they tasted it. Then they saw it was not the affront to Scotch they first thought and something truly extraordinary.
'This year, doubtless there will be many more eyebrows raised because rarely is Canada mentioned when it come to the world's top whiskies. But, again, I have no doubt people finding the bottling I tasted will be blown away with this whisky's uncompromising and unique beauty. It certainly puts the rye into Canadian rye.'
You can sign up to be notified when the 2016 edition of The Whisky Bible becomes available here.
The Winners
SCOTCH
Scotch Whisky of the Year
Glenfarclas 1957 Family Casks #2110
Single Malt of the Year (Multiple Casks)
Glen Grant 10yo
Single Malt of the Year (Single Cask)
Glenfarclas 1957 Family Casks #2110
Scotch Blend of the Year
The Last Drop 50yo
Scotch Grain of the Year
Clan Denny Cambus 1987 25yo #9320
Scotch Vatted Malt of the Year
Compass Box The Lost Blend
Single Malt Scotch
No Age Statement (Multiple Casks)
Ardbeg Supernova 2009
No Age Statement (Runner Up)
Laphroaig An Cuan Mor
10 Years & Under (Multiple Casks)
Glen Grant 10yo
10 Years & Under (Single Cask)
Saar Gruwehewwel
11-15 Years (Multiple Casks)
Gordon and MacPhail Connoisseurs Choice Strathmill 2000
11-15 Years (Single Cask)
SMWS 4.199 (Highland Park 1999)
16-21 Years (Multiple Casks)
Old Pulteney 21yo
16-21 Years (Single Cask)
Old Malt Cask Highland Park 1998
22-27 Years (Multiple Casks)
Glen Moray Port Cask Finish
22-27 Years (Single Cask)
Wemyss Kirsch Gateau (Bunnahabhain)
28-34 Years (Multiple Casks)
Tomatin 1988 25yo Batch 2
28-34 Years (Single Cask)
Glenfarclas 1985 Family Casks #2593
35-40 Years (Multiple Casks)
Tomatin 36yo Rare Casks Batch 1
35-40 Years (Single Cask)
BenRiach 1977 Batch 11
41 Years & Over (Multiple Casks)
Ledaig 42 Years Old
41 Years & Over (Single Cask)
Glenfarclas 1957 Family Casks #2110
BLENDED SCOTCH
No Age Statement (Standard)
Ballantine's Finest
No Age Statement (Premium)
Ballantine's Limited
5-12 Years
Johnie Walker Black Label
13-18 Years
Ballantine's 17
19 – 25 Years
Royal Salute 21
26 – 50 Years
The Last Drop 50 Years Old Sherry Wood
IRISH WHISKEY
Irish Whiskey of the Year
Midleton Dair Ghaelach
Irish Pot Still Whiskey of the Year
Midleton Dair Ghaelach
Irish Single Malt of the Year
SMWS 118.3
Irish Blend of the Year
Powers Gold Label
AMERICAN WHISKEY
Bourbon of the Year
William Larue Weller 2014
Rye of the Year
Pikesville Rye 110 Proof
US Micro Whisky of the Year
Notch 12
US Micro Whisky of the Year (Runner Up)
McCarthy's Batch U14-01
BOURBON
No Age Statement (Multiple Barrels)
William Larue Weller 2014
No Age Statement (Single Barrel)
Buffalo Trace Single Oak Project Barrel 20
9 Years & Under
Booker's Bourbon 63.95%
10-17 Years (Multiple Barrels)
Eagle Rare 17yo 2014
RYE
No Age Statement
Thomas H Handy
Up to 10 Years
Pikesville Straight Rye 110 Proof
11 Years & Over
Sazerac 18yo 2014
WHEAT
Wheat Whiskey of the Year
Parker's Heritage 13yo / Release 8
CANADIAN WHISKY
Canadian Whisky of the Year
Crown Royal Northern Harvest Rye
JAPANESE WHISKY
Japanese Whisky of the Year
Yamazaki Mizunara 2014 (Japan only)
Single Malt of the Year (Multiple Barrels)
Yamazaki Mizunara 2014 (Japan only)
Single Malt of the Year (Single Barrel)
SMWS 119.14
EUROPEAN WHISKY
European Whisky of the Year (Multiple)
English Whisky Co. Chapter 16 / Peated Sherry Cask
European Whisky of the Year (Single)
Kornog Taouarc'h Chwec'hved 14 BC
WORLD WHISKIES
Asian Whisky of the Year
Amrut Greedy Angels 10yo
Southern Hemisphere Whisky of the Year
Heartwood The Good Convict