Associate distiller Eddie Russell led a tasting of his Wild Turkey range at our Vinopolis shop earlier this month. As well as taking us through his excellent range of whiskeys, Eddie talked about how his father Jimmy still rules the roost at the age of 80, and what he likes to drink when he's not sipping bourbon…
IN THEIR OWN WORDS – EDDIE RUSSELL
'My dad Jimmy refers to me as "the new guy" – he's been here more than 60 years'
'When I started out, I thought I'd get a nice big office and a good-looking secretary – instead I was stacking casks and rolling barrels! It wasn't very nice but my dad was teaching me the business from the bottom up'
'Elijah Craig was selling bourbon as a medicinal drink. Well, there must have been a lot of sick people around!'
'In the 1960s, people started drinking white spirits and bartenders started making those pretty drinks with umbrellas in them, so a lot of distillers started lowering their proofs and taking the rye out of their mashbill to lighten their whiskey and make it more like vodka'
'We have never revealed our mashbill, and we never will. I've still seen it on the internet a few times, though!'
'What do I think of craft distilleries? "Craft" is basically a marketing word…'
'I heard that Jim Rutledge of Four Roses is retiring – that's BS; he ain't retiring! He'll still be there; he just won't travel!'
'Other than whiskey, I like Tequila, rum, and a good red wine with a good piece of meat, but I try not to tell Jimmy any of that stuff – he just drinks bourbon, iced tea and water'
'Our company held a big party because they thought that Jimmy was going to retire at 65. The first thing he said was "I ain't retiring", and he's going to be 81 this year!'
'There's only us and Maker's Mark who don't make whiskey for other people'
We tasted
Wild Turkey 81 Proof – soft, sweet and spicy; great all-rounder.
Wild Turkey 101 – big-boned bourbon with ramped-up spice. Delicious.
Wild Turkey Rare Breed – the pick of the bunch – great balance, bags of flavour, superb.
Wild Turkey 17yo Master's Keep – Eddie's pet project, fresh and savoury. Keep an eye out for this one; we're hoping to acquire a few bottles…
Wild Turkey Rye – much softer than other ryes. Elegant and refined.
Wild Turkey American Honey – less sweet than expected – a good thing!
Best #TWETASTING Tweet
Alan Jessup-Peacock @BullJet
Wild Turkey 101 next, like a bigger, better version of 81. Spiced toffee apples stand out for me, a warming bourbon easily drunk.
Whisky of the night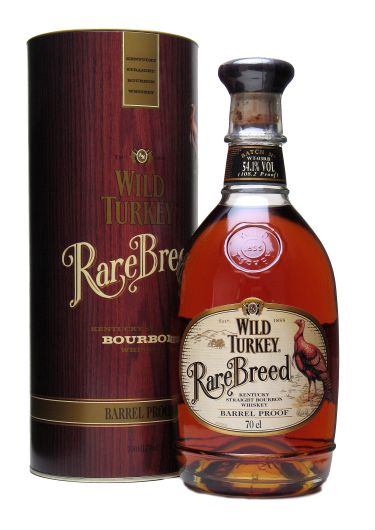 Without a doubt: Wild Turkey Rare Breed. An abundance of sweet and rich fruit, loaded with spices and honey. A big dram, but very drinkable. The pick of the bunch. Here's our tasting note:
Nose: Plenty of plump raisins and sultanas, with heady notes of ground almond and marzipan. There's also the clean fruitiness of green apple to balance things out plus some spice in the form of white pepper to lift the aromas.
Palate: Rich, sweet and spicy – baked apples drenched in honey, dried fruit and cinnamon. Rich texture, mouthcoating and very seductive.
Finish: The rich spiciness and sweetness lingers, with everything in balance.
Comment: A superb bourbon, this overdelivers in terms of the sweet fruit and spice, but it never feels cloying or heavy. Great balance.
As expected, Eddie was a great host, and gave a great insight into the world of bourbon, not just Wild Turkey. The key message he conveyed was that despite the raft of experimental whiskeys out there, his company is about keeping things both simple and traditional – they leave all that new-fangled stuff to others…