Special-edition bottlings are common among spirits producers, but award-winning Belgian sommelier Jurgen Lijcops has gone a stage further by launching Forest Dry Gin, a range of four gins that change with the seasons. We spoke to him to find out more…
How did the idea for Forest Dry Gin come about?
I had 150 gins on my restaurant menu, but I cut this back to 30 and then I thought 'Why can't I just make it myself?' A friend of mine [Patrick De Keersmaeker] who is an industrial engineer – he's a clever guy – bought a farm in Ranst outside Antwerp and cultivated 100% organic fruit and herbs in his garden.
What about the seasonal concept?
Throughout the year, nature brings different aromas and different tastes. Ours is the first gin that works with seasonal ingredients. You don't drink the same wine in winter as you do in summer; it's the same with gin.
And how about the actual process?
We bought a 300-litre pot still from Germany and started to make our own neutral alcohol. We distil it three or four times, which is unusual. We also distil all 24 of our botanicals separately, which is very rare. Then we blend. For our Autumn bottling, we press pears then distil the juice, but without fermentation. You end up with water perfumed with pear, and we use that to bring down the alcohol level of the gin.
What style were you looking for?
We wanted to make a classic gin. Juniper is the dominant character in our gins; it has to be that way. We look for the best that we can find; we use blood oranges from Sicily and rose petals from Kent, for example. We use 10kg of rose petals for every 300 litres of spirit that we make, at €60 a kilogram! But it's worth it – the concentration of colour we get is very high, and if you add tonic to our Spring gin, it turns pink!
Which is your favourite of the gins you make?
You cannot choose between your children.
How do you feel about people's new-found love affair with gin?
I'm very grateful to Hendrick's, Bombay Sapphire and all those guys. They opened up the road for everybody. They were the ice-breakers.
The Summer bottling of Forest Dry Gin has just arrived at TWE. This is what we think: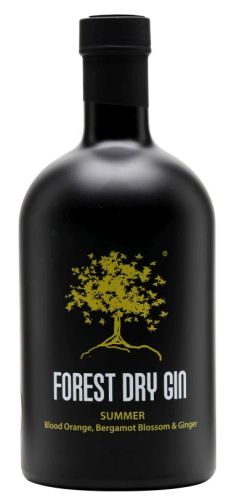 Nose: Big blast of citrus! Lovely fresh, clean notes from the blood orange, while the ginger adds zingy aromatic spiciness. Juniper and coriander seed adds a subtle earthiness, but this is all about the citrus. Clean and precise, with a hint of lemon freshness.
Palate: Zesty orange comes through first, but quickly followed by the ginger, bringing spicy warmth. Great balance between freshness and spiciness.
Finish: Clean, poised and precise, with the ginger leaving a pleasant warmth across the palate.
Comment: What's great about this gin is the purity of flavour. The orange is clean and fresh; the ginger warm and spicy, while the bergamot delivers structure and earthiness – a perfect summer gin. With tonic, the orange comes through just as strongly; a great partnership.
The entire Forest Dry Gin range is available to buy from The Whisky Exchange website.