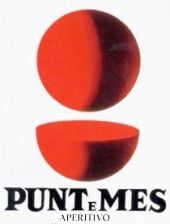 In the office, I'm known as the vermouth fan. It started off innocently, trying different sweet vermouths to see which would make a good Negroni, but soon I was taste-testing them on their own and even branching out into the world of Dubonnet. These days I've reined it in a bit, and have settled on a few go-to bottles. For the times when I want something rich and weighty, I reach for Punt e Mes.
Punt e Mes was first produced in 1870 by the Carpano family, the people behind the first sweet red vermouth and the ever-popular Antica Formula. As with most drinks that have recipes dating back years, there are a number of stories about how it got its name. The one that rings truest to me, is that Punt e Mes – point and a half in Piedmontese Italian – was originally a mixed drink in the Carpano's bar: a measure of sweet vermouth and half measure of intensely bitter china bitters. The drink was popular and, after some development, a new bottle was added to the Carpano range.
The extra bitterness is the key to the Punt e Mes flavour. While vermouth is always bitter, with wormwood adding that character, most don't go too far. However, Punt e Mes's extra whack of bitterness gives it a different character to other sweet vermouths:
Nose: Sweet liquorice and a hint of menthol, with sweet and sour cherries, linseed oil and sweet tobacco. Leafy and dark flavours follow, with some molasses bitterness and restrained green herbs.
Palate: Oily texture, with intense cherry jam and cinnamon touches. Gentle green leafiness builds around the sides of the tongue, along with bitter orange, damp and bitter bark, and cinnamon heat.
Finish: On swallowing, there is an immediate hit of bitterness, with green grass and wood sap. Liquorice root, sweet liquorice and sweet cherry appear, for a bitter and green finish with a little bit of fruity sweetness.
As mentioned on the blog before, I normally cut the intensity of Punt e Mes with a splash of Gancia Rosso, but sometimes you want a big punch of flavour. That's when I break out the ice cube tray, pour a glass of Punt e Mes, brace myself and take a sip.