Whisky has long been a favourite drink in Germany, but it took until 2002 for the first native single malt to be released. At that point there were only three distilleries producing whisky (today there are hundreds), of which one was the Hammerschmiede distillery in the Harz mountains, producer of The Glen Els.
The company was founded in 1985, when the Buchholz family opened a restaurant in a 13th-century blacksmith's workshop (today used for whisky maturation), producing a herbal liqueur. In the late 1990s, Alexander Buchholz was asked by his father, Karl-Theodor, whether he wanted to join the business. He agreed on the condition that he could produce something that would be representative of the region.
While herbal liqueurs had long been produced in the Harz, of the 30 herbs used in Hammerschmiede's Schmiedefeuer, only three are native to the region, and a further two to Germany. With the Hercynian region known for its soft water, clean air and barley growth, he began producing single malt whisky in 2002 – an innovative choice at the time, as there were no German single malts available. The distillery continues to produce eaux-de-vie, liqueurs and their original herbal liqueur. The whisky was named Glen Els after the water source – the River Elsbach.
During my visit, the distillery wasn't operational as major renovations are taking place and new stills are being installed, with production expected to restart in October. Whisky production will move from a 250-litre wash still and 300-litre spirit still, to a pair which can hold 600 litres each. Alexander stressed this was not to double production, but to give the staff more time – the new stills will require only one run per day rather than the current two, thus reducing the required man hours from the present 80 per week.
Everything is done by hand from distillation, including nosing and tasting the spirit to decide when to make the cuts between foreshots, heart and tails, to bottling and labelling. In keeping with the traditions of the region, peated whisky is not produced – even though Alexander himself is a peat lover. Peat is present in the mountains, in the soil under the trees and therefore inaccessible and not used for fuel. Instead, to impart smoky flavours into his whiskies, he dries the malt by smoking local beech and alder wood in his butcher uncle's woodsmoker, giving the whiskies a unique style.
Casks are important at Hammerschmiede. Alexander hand-selects casks (costing €600-€3,500 each), which he sees as an investment rather than a cost: 'If I spend €1,000 on a cask and I use it once to get 300 bottles, that's €3 per bottle. I could buy cheaper casks, but then I take a risk as to whether the whisky at the end will be any good.' A variety of cask types and sizes are used: from bourbon and sherry to Pineau des Charentes, Tokaji and Bordeaux (including the top châteaux of Lafite, Latour, Pétrus and Mouton Rothschild), and from firkins to butts. The Harz climate sees prolonged periods of warmth, resulting in an angel's share of between four and 10% (up to five times that of Scotland), so the optimum maturation at Glen Els is between four and eight years. Each batch carries the year(s) of distillation on the back label, and are uncoloured and non chill-filtered.
Here's what I thought of the core range:
Aged in a combination of six cask types (cream sherry, tawny port, Madeira, Marsala, Malaga and grand-cru Bordeaux) for a minimum of four years, this contains 5% wood-smoked malt.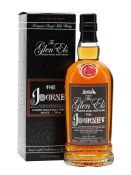 Nose: Fruity nose with orange and lemon joined by vanilla and butterscotch, with a hint of smoke.
Palate: Silky and sweet at first, with Stollen, toffee, butterscotch and vanilla. An ash-like smokiness is present in the background, too.
Finish: The sweet notes slowly disappear leaving a delightful light smokiness.
Comment: This is a great introduction to German whisky. Fruity with a hint of smoke, this is approachable, but also has enough complexity to sip and enjoy after dinner. If you want something stronger, The Wayfare is similar in character, but at a cask strength of 57.9%.
Introduced in 2010 as a single-cask-type expression, it was relaunched in 2013 as an entirely first-fill-sherry-cask-matured whisky, using Pedro Ximénez, cream and oloroso casks. This is aged for up to six years and contains 5% wood-smoked malt.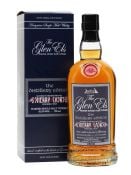 Nose: Typical of a sherry-matured whisky. Rich with notes of dark chocolate orange, sultanas and butterscotch. As with The Journey, the wood-smoking makes its presence felt.
Palate: Warmer and spicier than The Journey. Cinnamon spice intermingles with bitter orange and marzipan, along with some sweeter notes of toffee and a hint of tangy sherbet.
Finish: Medium to long, with the bitter orange the last to dissipate.
Comment: As a lover of sherry-cask whiskies, this is the one I'd drink most often. The classic character is present, but with added spice from the wood-smoked malt that you don't find in Scotland.
A mix of whiskies aged in cream and oloroso sherry, tawny port, Marsala, Malaga and grand-cru Bordeaux casks for a minimum of four years. This differs from The Journey in three ways: the lack of Madeira casks, 40% wood-smoked malt, and the slightly higher abv.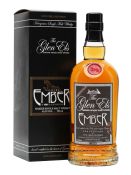 Nose: The higher percentage of wood-smoked malt is immediately evident with a hit of spicy clove, which combines with sultanas, caramel, milk chocolate and juicy plum.
Palate: A whack of cranberry hits first, followed by clove, vanilla and toffee. The texture is creamy and helps to balance the level of spice.
Finish: Very long, with the sweeter notes slowly overtaken by dry clove spice.
Comment: This shows the effect woodsmoking has on a whisky – it's an effective way of adding smoke without the medicinal notes. If you like smoke, but Islay whiskies are too much, then I'd recommend trying this.
If you're willing to be adventurous and venture outside the traditional countries for your whiskies, then I'd recommend trying the Glen Els range. Alexander is a whisky enthusiast and his passion shines through; the whiskies are all well constructed and carefully put together, with not a single off note in any of them. If you don't want to commit to buying a full bottle of something new, they are all available in miniature size, too; the three combined cost little more than £20. It's hard to believe all this has been produced from such small (and non-standard) stills – with the new bespoke traditionally shaped pair on their way, things can surely only get even better.