The Whisky Exchange's Malt of the Month for June is Bruichladdich Scottish Barley (also known as The Classic Laddie but different to Laddie Classic) – we're offering £4 off for the whole of the month.
Sitting on the western shore of Loch Indaal on the island of Islay, Bruichladdich distillery was established in 1881, and having endured some troubled times, was reopened and revitalised by independent bottler Murray McDavid in 2000. Current owners Rémy Cointreau took control in 2012 and today the distillery produces three single malts: super-heavily peated Octomore, smoky Port Charlotte and Bruichladdich itself, which unusually for Islay whisky, is unpeated. The Classic Laddie is made with barley grown in the north-east of Scotland, and is aged in a combination of American and European oak. It is the distillery's signature bottling – an elegant and floral expression of the house style.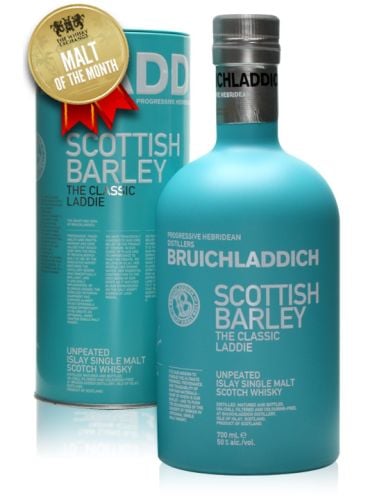 Nose: A hint of sea spray, but rich and plush, with punchy fruit, sweet malt and floral aromas.
Palate: Enticing mix of creaminess and salinity with peaches and cinnamon – rich and refreshing.
Finish: Medium in length, with nice balance between the sprightly fruit and tangy sea-spray elements.
Comment: This is a great everyday Islay whisky. The balance between fruit and salinity is exceptional, with a delightful creamy texture all the way through.
Bruichladdich Scottish Barley (The Classic Laddie) is an easy-drinking whisky that's perfect as we head into summer months. It is available to buy at just £37.75 on The Whisky Exchange website.