To conclude our Islay-themed week, we're delighted to announce that the next batch of bottlings from Speciality Drinks Ltd's Elements of Islay series will be available next month. The spring 2015 releases number five, including a first for the range: an Oc.
For those unfamiliar with Elements, each bottling is named with a code indicating the distillery, with few other clues as to the contents. Every batch is signed by a whisky legend, and this time we have not one but two! The Oc and Pl are signed by former Bruichladdich CEO Mark Reynier and the others by one of the founding fathers of whisky retailing in England, John 'Jack' Milroy.
I was given a sneak preview; here's what I thought: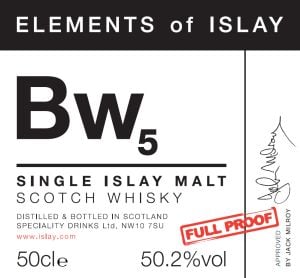 The fifth Bw is a vatting of spirit distilled in 1995 and 1996 at the oldest licensed distillery on the island.
Nose: Combination of smoke and citrus notes, with sour lemon and juicy orange.
Palate: Light at first, then the peat slowly builds. The citrus element from the nose becomes greener and more lime-like.
Finish: Medium to long, the peat slowly dissipates to leave a refreshing dryness at the very end.
Comment: A solid Bw. There's a good, but not overpowering, level of smoke all the way through. Very similar in style to Bw4, but slightly less fruity.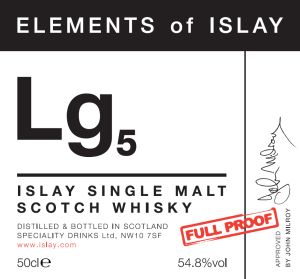 Lg makes a welcome return, 18 months after the fourth batch. The distillery is known for its meaty style, so let's see how this one fares:
Nose: An unexpected flinty minerality, backed up by smoke, ash and tar.
Palate: Creamy in texture and warming in nature. Poached pear manages to fight its way through the ash and tar.
Finish: Drying yet with a refreshing sensation reminiscent of menthol left at the roof of the mouth.
Comment: This has an earthier style that I normally associate with Ireland. It's intense in its smokiness, but with elegance that will appeal to both Islay fans and those who want an introduction to the island.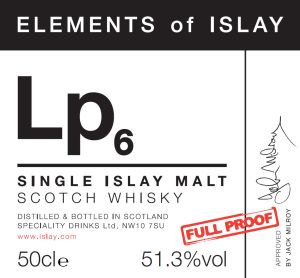 The marmite of Scotch whisky, Lps are known for being big and bold in their medicinal notes. This has been aged in first-fill bourbon barrels.
Nose: Surprisingly restrained for an Lp at first and needs some time for the notes of iodine, brine and black pepper to come to the fore.
Palate: As with the nose, there's an elegance to this sixth release. The peaty character is very much in evidence, but there's a hint of vanilla in the background. Water brings this out, as well as pineapple and mango.
Finish: Long and dry, with underlying vanilla spice.
Comment: A versatile dram – if you're after a big savoury whisky, this is the one for you. On the other hand, if you like more fruit to balance the smoke, then adding water does the trick. Depending on my mood (and the British weather), I'd be happy with either!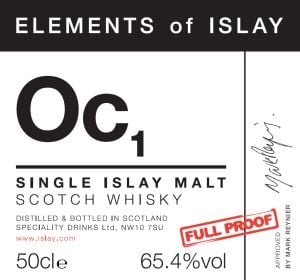 With only eight distilleries on Islay, it's rare to have a first for the range, but here it is, the inaugural Oc. This is as peaty as whisky gets anywhere in the world, and true to form, this one's been aged in non-standard casks: French oak which formerly held Guigal's world-renowned Côte-Rôtie La Mouline.
Nose: Surprisingly restrained at first, with the peat only fighting its way through after a few seconds. Iodine and brine are joined by notes of cereal and nectarine.
Palate: In contrast to the nose, the peat comes through first in the mouth. It offers a large amount of salinity, combined with an herbaceousness (eucalyptus) and a smack of malt (grist).
Finish: Long, rich and tongue tingling. The warmth diminishes, but the peat smoke continues right to the very end.
Comment: A classic Oc, this is, on paper, incredibly peaty, yet the superb balance between the smoky and herbal notes means it's not overly noticeable on the palate and has an unexpected elegance. If you've never tried anything this smoky before, then treat yourself.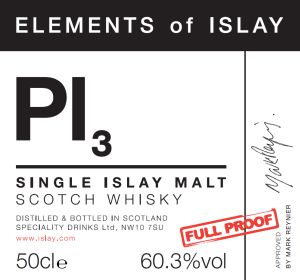 One of the most popular releases, Pl bottlings have a cult status and sell very quickly. This has been aged in French oak that once held the famous sweet wine from Sauternes, Château Climens, so I'm expecting it to be along the lines of Pl2, rather than the sherry monster that was Pl1.
Nose: Pronounced smokiness on the nose delicately balanced by notes of sweeter notes of toffee apples and milk chocolate orange.
Palate: Huge. The creamy texture is immediately apparent, then the flavours take over and explode in the mouth. A whack of vanilla spice, lime sourness and sweet orange combine with the peat smoke – everything's in harmony here. Adding water turns it into a quaffing rather than a sipping dram, but loses some of its charm.
Finish: Long, with less warmth than expected and the smoke slowly fading to leave sweet vanilla spice and dryness from the tannins.
Comment: Wow! Despite the high abv, this doesn't need water. The peating level may be high, but everything is so well integrated that it doesn't hit you in the face. Peated whisky at its best.
As we've come to expect, another solid set of Elements releases. There's something for everyone, from the light Bw5 to the rich Pl3 and intense Oc1. Click on any of the photos or names to be taken through to the product pages where you can sign up to be the first to know when they're available to buy.