Now, stick with me – this is going to sound a bit weird: I like Jack Daniel's Honey. That's not the sort of admission you'd expect a whisky geek to make, but after extensive sampling of whisk(e)y liqueurs, it's my favourite.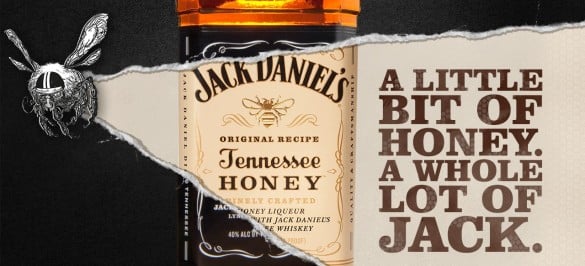 One of the perks of working for a website selling lots of great spirits is that sometimes you need to try them. Not quite as often as people assume, but we do need to check that we know what things taste like, especially if they sell as well as JD Honey does. So, one afternoon we sat down and did a blind tasting of liqueurs – whisky and whiskey based – giving them each a score. We had people from across the company, from spirits specialists to pickers and packers from our warehouse, with wildly differing knowledge of the drinks that we sell, but in the end the dram with the highest score was almost unanimous: Jack Daniel's Honey.
Unlike many whisk(e)y liqueurs that claim to have honey in, it actually tastes like it contains real honey, and despite being sweet, it's restrained, with lots of honey flavour rather than just a whack of syrupiness.


Nose: Pungent honey right off the bat – a freshly opened jar of crystallised honey, with a touch of earthiness to it – fudge, biscuits (British ones), floral hints and some allspice.
Palate: Thick and oily texture, with dark caramel (both runny and solid shards), nutmeg and allspice. The flavours remain rich and dark, with sweet milky coffee, dark chocolate and demerara sugar lightened by some candied lemon hints. There's also, as you might expect, a rich and sweet honey undertone beneath it all – lightly pungent and floral, with a real honey flavour.
Finish: Spicy and sweet, with cinnamon heat, runny honey and vanilla fudge.
Comment: Not as sweet or sharp as most honey whiskey liqueurs, with real honey flavour, rich sweetness and gentle spice.
So, that's my guilty secret. Despite drinks geek credentials, I also like JD Honey. Don't judge me…