Every country has its national spirit. Some are better known: the Caribbean has rum, England has gin, and Poland and Russia have vodka; others are lesser known: Unicum in Hungary and soju in Korea. China's is baijiu.
The world's bestselling spirit, with more than seven billion bottles sold in 2013 (but almost all consumed in China), baijiu has been produced for more than 1,000 years. Recently it has become more widely available in the west (partly due to new rules on corporate gifting causing a sales slump in the domestic market), with Diageo purchasing Shui Jing Fang in 2013. It is made by distilling grains, the most common of which are sorghum, glutinous rice, wheat and barley. Traditionally drunk at either room temperature or slightly warmed, with food from shot glasses, it is similar in strength and texture to vodka, but with a different taste.
The latest arrival on the UK market is HKB. It is a 'sipping strong aroma' baijiu, the most common category, indicating a spicy and fruity style, and that the grains have been fermented in earth pits, which help give the unique taste and aroma. Made using five grains (sorghum, rice, sticky rice, corn and wheat). These are combined with water and qu (mashed grains stored in a warm, damp room for one month to collect yeast), aiding the resulting fermentation in large underground mud pits. The resulting wash is then distilled and sent to a grappa producer in north-west Italy for another distillation and ageing. A genuine collaboration between the eastern and western worlds. Here are my thoughts: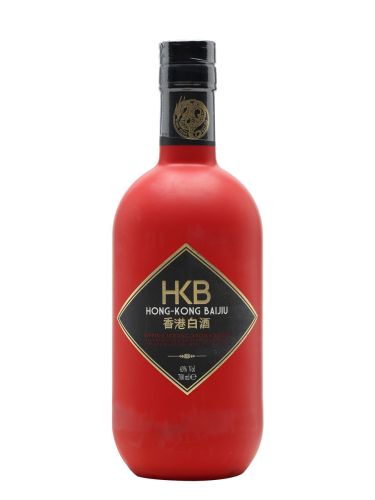 Nose: Not what I was expecting – overtly fruity with notes of Fruit Salad sweets, red pear drops, sweet cherry, Chinese allspice and a faint hint of grass.
Palate: Unlike anything I've tasted before. There's a sherbet-like tingle on the tongue along with the Fruit Salad note from the nose. Sweet cinnamon spice appears on the mid-palate.
Finish: Medium length, with a silky texture and lingering cinnamon at the end.
Comment: A refined baijiu, there is no overpowering sense of alcohol after you've swallowed and the fruit and spice are very well integrated. I substituted HKB for the vodka in a Bloody Mary and the sweetness balanced the umami of tomato juice and the spice of the Tabasco sauce.
Baijiu availability and consumption is growing in Europe and America, but will it become the next big thing? I'm not sure. It has a unique flavour profile which even the producer themselves admit may be 'unpleasant to westerners', but I think with time (and education), sales will continue to grow. The main problem, as with anything new to the market, is knowing what to do with it. I see this more as an accompaniment to food (its native Chinese cuisine) or as a cocktail ingredient, rather than as a stand-alone sipper. HKB is an accessible baijiu – it's rare to find one for under £100 – so at less than half that, this is a great introduction to a spirit that's long been a closely guarded Chinese secret.