Knockdhu is a strangely anachronistic distillery. Founded in 1894, at the time it was a thoroughly modern facility, with a steam engine, railway sidings, and all mod cons. However, not much has changed since then, with a single pair of stills producing spirit in an old-fashioned way.
When I visited a few years back, the first thing I noticed was the clash between the approach at the distillery and the more modern way in which it was packaged. From the whisky's name – anCnoc rather than the more traditional sounding Knockdhu – to its almost monochromatic packaging, it's a thoroughly modern product, even though it is made at a distillery with little automation. It's what you might expect from a distillery whose motto is 'Modern Tradition'.
Their two most recent releases show off the dual nature of the distillery – the modern and the traditional.
First up, is anCnoc 18 Year Old. It starts with 16 years of maturation in ex-bourbon casks, before a two-year finish in first-fill European oak, ex-oloroso casks.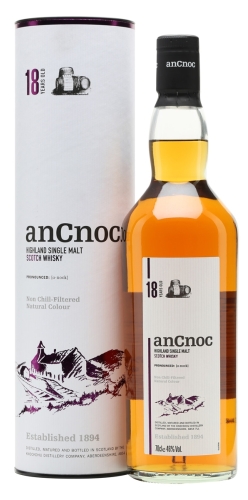 Nose: Fresh apple – both sweet and gently sour – grainy vanilla fudge, freshly crushed malt, cooked sweetcorn and a touch of plasticine. Light fruity notes burst out of the glass when freshly poured, with darker flavours developing over time: candied lemon, pineapple, mango cream and dried tropical fruit trail mix slowly turn into flamed orange peel and raisins. Butterscotch sits behind, with spice and nuttiness growing over time, especially after adding a splash of water.
Palate: Sherbert-filled Refresher chews and lemon-zest sharpness to start, softening to toffee and spiced sponge cake. Dry cinnamon bark and ground cinnamon heat are joined by cracked black pepper and orange zest, with a background of stewed fruit.
Finish: Lemon, toffee and gentle spice. Cream and mango develop, making way for nutmeg, cinnamon and a gently dry lingering spice.
Comment: A whisky that does wonders with some time in the glass. Starting with the fruity anCnoc character that is shown mostly in the younger expressions, the two years in oloroso casks make themselves known after a few moments, with darker, richer and spicier flavours building but not overpowering.
Finishes are a relatively new thing in whisky, at least when it comes to telling people about them, and this combination of sweet and fruity spirit, with a richly sweet backbone, is to me a very modern style of dram.
Secondly is something special: anCnoc 1975, bottled at 39 years old in November 2014. It's a vatting of three American and European oak butts, seasoned before filling with sherry. I've talked about sherry casks on the blog before (parts one, two and three), and while the sherry is important, the influence of the type of oak used shouldn't be underestimated.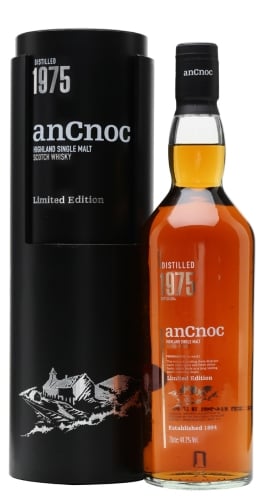 Nose: Chocolate-covered cherries and toasted orange peel, with tobacco leaves and fruit, tropical and orchard, creeping out from behind: pineapple, apple, pear, orange and sharp mango. There's wax polish, dry leaves and soft spice – nutmeg and hint of cardamom – as well as some vanilla, sappy touches and a bit of Jaffa Cake jelly.
Palate: Barrel char and layers of spice dominate at first, with an old spirit rancio character developing behind. Damp leaves, forests after a rainstorm and leafy ponds sit on top of more traditional anCnoc fruitiness, with apples, sour cherries and lemon slowly making their way forward. The richer notes balance things out, with sweetened espresso (maybe a macchiato), toffee and chocolate Rice Krispie cakes joined by a hint of mint.
Finish: Lingering sandalwood and incense, thickly peeled apple skin, apple boiled sweets, green leaves and damp earth. It calms to a gently earthy note, with candied sweetness and lingering hint of Polo mint.
Comment: This whisky tastes old, but with the damp and dark flavours from old oak providing a solid base. However, the anCnoc spirit will not be kept down, and fruitier notes poke their head above the parapet to provide a counterpoint and occasional flash of freshness.
This for me is an old-fashioned dram. Heavy, old-fashioned spirit, produced over a decade before the current owners took over the distillery, matured for a long time in large casks. This combines the influence of the oak with that of time, using casks that will allow the spirit to mature on its own, as well as through interaction with wood. An impressive and weighty dram, thoroughly different to the 18 Year Old, but still containing something that's unmistakeably anCnoc.