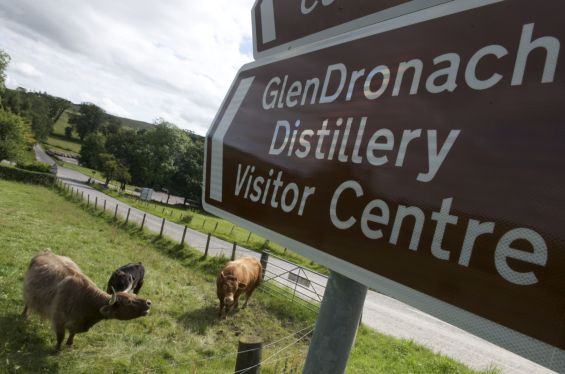 Glendronach's no-age-statement Cask Strength series has reached its fourth bottling, again aged in sherry casks, a combination of oloroso and sweet, sticky Pedro Ximénez. Glendronach has traditionally used sherry casks to age its whisky, and after a  brief period in the 2000s when bourbon became the preferred option, Glendronach is back in all their sherried glory.
Glendronach do sherry-cask whisky rather well – they must do, seeing as they won The Whisky Exchange's Whisky of the Year award for their 15 Year Old Revival – so it's always interesting to try a new bottling.
This new expression has plenty of rich fruit and spice; Glendronach themselves describe it as a 'creamy sherry bomb' – here's what we thought:
Nose: Very rich, with cinnamon, stewed fruit, raisins and freshly baked bread, freshened up with some clean green-herb notes. Some zingy ginger in there, along with boozy cherries, raspberries and roasted almonds. There's a lot of berry fruit and a perfumed note of rose petals, too.
Palate: Sweet pastry dough, cinnamon biscuits and sultanas at first, then ground ginger and black pepper slowly build, ramping up the spice levels. The addition of water sweetens things up a little, but rather unbalances the whisky – I prefer it neat.
Finish: The ginger lingers, tempering the influence of the sweet and sticky Pedro Ximénez cask, while the soft fruitiness persists, too.
Comment: Obvious sherry influence, but it hasn't swamped the spirit – the fruitiness shines through the spice, leading to a well-balanced whisky, albeit one that sherry-cask fans will enjoy more than bourbon heads.
Glendronach Cask Strength Batch 4 is now available from The Whisky Exchange website. If you like sherry-cask whisky, give it a try!