Such has been the success of their A'Bunadh bottlings, you could be forgiven for thinking that all Aberlour whiskies are big and sherried. While the distillery's spirit is on the heavier side for Speyside, there are bottlings which are fresh and fruity – May's Malt of the Month is one example of this: The Single Malts of Scotland's Aberlour 1990, 22 Year Old.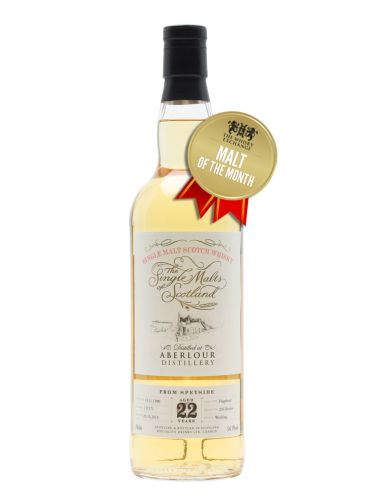 Nose: Light and fresh with notes of grass, hay and eucalyptus. There is also a fruitiness in the form of yellow apple and a hint of lemon zest.
Palate: Tasted neat, it's gently warming with sweet cinnamon and marzipan. The yellow apple is still there, too. Adding a few drops of water tones down the heat and allows the flavours to shine. Citrus zest and yellow apple are delicately balanced with nutmeg and a hint of menthol.
Finish: Light and long, with the apple notes turning from yellow to juicy red at the very end.
Comment: With water, this is a perfect summer whisky. If the weather's a little colder, then leave the water out and enjoy a light and fresh aperitif. Proof that Aberlour's spirit is of such high quality that it doesn't need to be hidden by big and bold sherry-cask maturation.
I'm a big believer that there's a whisky for all occasions and this is one for the warmer months. Spicy at full strength, it benefits from a little water and allows the character to come together in perfect harmony. Aged in a cask that hasn't imparted bold flavours, this is Aberlour in its birthday suit. Limited to just 250 bottles, it's more than 25% off for the month of May at just £64.95 on The Whisky Exchange website.