South American cuisine and drinks are enjoying something of a heyday at the moment. We've fallen for the delights of ceviche, empanadas and Caipirinhas as quickly as we once did for enchiladas, tacos and Margaritas. Arriving with this plethora of undiscovered flavours from South America came pisco.
Labelled as a New World spirit, pisco isn't as avant-garde as it might sound and deserves its place in the history books alongside Scotch and Cognac. Made from grapes, it's a brandy in as much the same way as Cognac or Armagnac is, that is to say it's made from fermented grape juice into a spirit. The major difference to the French brandies, apart from location, is that pisco is usually unaged. As such, rather than a rich chestnut colour and woody flavour from barrels, pisco is clear to a gentle amber hue and has fresh, vegetal notes.
Both Chile and Peru produce pisco and fight bitterly over its origin, as well as their right to call it a national spirit. With two countries laying claim to it, the history is somewhat complex but it's clear that Spanish settlers started to evolve their winemaking during the 1500s to create a spirit we might recognise today.
At this time Chile and Peru were both part of the Viceroyalty of Peru, which complicates matters further. Eventually by 1879, the War of the Pacific kicked off and the animosity only deepened. Nowadays, pisco production continues on both sides of the border, but not satisfied with a gentle squabble over whose is best, the two nations actively snub each other's product, to the point where they refuse to call it pisco. Although not worlds apart, the two spirits certainly have their differences and asking how it's made really depends on what country's pisco you're talking about.
Peru has strict laws on what constitutes as pisco and they demand the starting wine be distilled to 40% abv and above with absolutely no additives. What you get in the bottle comes directly off the stills without any watering down. Peru uses mostly Quebranta and Muscat grapes, although allow eight varieties and are incredibly proud of their puro – single-variety pisco. Some pisco in Peru is distilled while the wine is very young and the fermentation hasn't yet converted all the sugars. This is called mosto verde and is considered to be at the luxurious end of the pisco price spectrum.
South of the border, Chilean pisco can be as low as 30% abv, can be diluted and is often gently aged in barrels. Chilean farmers have stuck to three grapes – Muscat, Torontel and Pedro Jiménez –and often create blends, something Peruvians frown upon. As Peru and the US insist that pisco be over 40%, much of Chile's spirit isn't high enough to export. A harsh reality for growers looking to cash in on the new-found love for pisco stateside.
There was talk of the two countries trying to work together to promote pisco to the world, but as one Peruvian minster found out, saying so in public is a recipe for disaster. Mercedes Aráoz, minister for external commerce and tourism, was forced to say publicly: 'I am a huge defender of pisco. Pisco is genuinely Peruvian. Sharing the title is not our goal,' after she had suggested a collaboration.
Whether you support Chile or Peru, or aren't overly fussed so long as it's tasty, there are several ways to enjoy pisco. Peruvians are quite emphatic that their puro style should be enjoyed neat, and it's well worth sampling some to see if it's to your palate. If straight spirit is a little too much, pisco pairs well with sparkling citrus drinks such as grapefruit or bitter lemon, and served over ice is enjoyably refreshing.
Where the spirit really shines, however, is in cocktails.The Pisco Sour is perhaps more famous than its base spirit and is yet another minefield between Chile and Peru. It is, however, an exceptional drink with national days devoted to it in both countries. Made with pisco, lime juice, sugar, egg white and Angostura bitters, it's silky yet fresh.
As a single drink or shared around the punchbowl with friends, the Pisco Punch is another concoction not to be missed. Combing pisco, lemon juice, pineapple and sugar, it's served long and is idyllic on warmer days.
For something more delicate try the Episcopalian, invented by London bartender Chris Dennis which calls for 35ml pisco, 35ml Aperol, 12ml Briottet Apricot liqueur and three dashes of peach bitters all stirred over ice and strained into a chilled coupette.
What PISCO to buy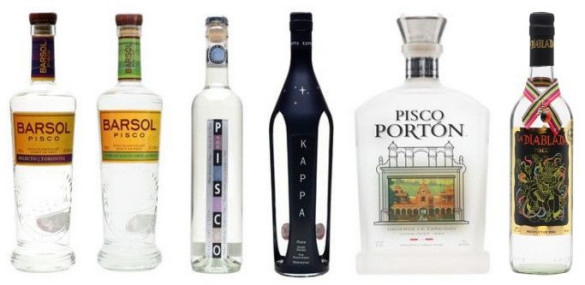 Any of the Barsol pisco range is a great starting point; they're all extremely well made and show a decent range of styles. If the Peruvian fruity mosto verde appeals as opposed to the drier varieties, opt for the Barsol Supremo Mosto Verde Quebranta Pisco as it's excellent neat.
Pisco Porton is another perfect example from Peru. The liquid is rested at great length giving a rounder, smoother mouthfeel than other brands.
Kappa Pisco is a breakaway Chilean spirit whose Muscat grapes shine through. At 42.5%, this is a super-premium product for Chile and as such is mostly drunk outside the country, which is a shame.
ABA is perhaps the most ubiquitous brand, found in many bars and is great for cocktail making, it's flavour is subtle but holds wells against other ingredients.
However the pisco which is perhaps the best on the market right now is La Diablada. Not very readily available it is genuinely delicious and well worth sampling neat. It's a blend of grapes from Peru, so not a puro and yet its mouthfeel is fresh, with an almost grassy aroma and vibrant taste showing the wonders a good blender can achieve.