Whisky drinkers are well versed in the effect the choice of cask has on the spirit. American oak (usually ex-bourbon) adds notes of vanilla and toffee, while Spanish sherry casks deliver rich, nutty, fruit and spice flavours. But if I mentioned Irish oak, would you know what to expect? No, me neither, so when an invite came in to find out about a secret project across the Irish Sea, I was intrigued.
After many trials and experiments, Irish Distillers have decided to finish a pot still whiskey in virgin Irish oak for 10 months following a long spell in ex-bourbon barrels. The result is Midleton Dair Ghaelach (pronounced 'dar gayloch', meaning, quite simply, 'Irish oak'). To get a better understanding of the whiskey, it was on with the wellies and hard hat as our group headed to Ballykilcavan Forest in Stradbally, about 50 miles south-west of Dublin, where we met forest owner David Walsh-Kemmis and forester Paddy Purser.
The forestry situation in Ireland has been in a bad way for some time, and has only improved through wide-reaching schemes to restore the level of forest cover throughout the country. Despite its 40 shades of green, Ireland had the lowest percentage of forest cover in Europe in the 1970s and 1980s, at just 4%; it now stands at 11%, and oak-tree plantings were up by 15% between 2007 and 2012.
Paddy says: 'Thirty per cent of the oak in Ireland is under 20 years of age. Forest management is about being sustainable; we're trying to follow nature as best we can. Trees have an economic lifespan; they also have a natural lifespan. It's a compromise. It's a question of selecting the trees now and taking out competitors, so the best-value quality stems have the best chance – in 100 years' time…'
We watch as a 150-year-old oak comes crashing down (see video), and immediately a team from the Maderbar sawmills in Spain pounce, inspecting the tree and identifying straightaway the sections that are good enough to be made in whiskey casks, and those that are sub-standard, destined for furniture shops and garden centres.
Once felled, the trees are:
sent to Galicia in north-west Spain
cut into metre-long staves
sent to Jerez in southern Spain
dried for 15-18 months to reduce the moisture content
made into barrels and given a medium toast.
Each tree yields between four and five hogshead barrels with a capacity of 240 litres. 'It's great to see these trees coming down and put to good use; it's the right time to fell them,' says forest owner David.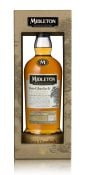 The Irish oak used to finish the first batch of Dair Ghaelach was tree No.9 from Grinsell's Wood, part of the Ballaghtobin Estate in County Kilkenny, about an hour's drive south of Stradbally. Irish Distillers removed 10 trees from Grinsell's, and planted 10 for each one they took out. Each bottle of Dair Ghaelach will display the batch number and tree number, for total traceability.
But why do this in the first place? Kevin O'Gorman, master of maturation, explains: 'The project started seven years ago. We started doing a bit of work with one-gallon (4.5-litre) casks, and we really liked what we were getting. The objective of this from the start was to produce great whiskey and source oak from a sustainable supply.
'We knew that Irish oak would give pronounced vanilla, caramel and toffee notes, and we also know that Irish oak grows faster than American oak, as well as being less dense and therefore more porous. American oak has a much tighter grain structure, with a density of 0.78-0.8g/ml; with Irish oak, that figure is 0.7-0.72g/ml.'
This first batch of Dair Ghaelach will run to 12,000 bottles, at a strength of 58.2%, and other estates have already been lined up for new batches – the tree we watched crashing to earth will form part of batch four.
The whiskey will be arriving at TWE in a couple of months' time, and we'll cover it in more detail then. In the meantime, though, you probably want to know what it tastes like. The nose had plenty going on – Caramac bars, fruit cake, crème brûlée and more mature notes of tobacco and leather – while the palate had that classic Irish pot-still note of green apple, sweet spice and pineapple, with a little black pepper and cinnamon on the finish.
It was refreshing to see the effort that has gone into this project. It didn't come across as a one-off gimmick, and the Irish Distillers team conveyed no small amount of pride, partly because of the end product, and partly because of the way that people outside the company have come on board and embraced its ethos – with national pride playing a deserved part, too.