Christmas is now officially over, the New Year is here, and for me, it's time to give my body time to regroup. Every January, various charities promote an alcohol-free month; among them this year are Alcohol Concern (Dry January), the British Liver Trust (Love Your Liver) and Cancer Research (Dryathlon). So there's no better time to highlight our range of non-alcoholic drinks to see you through the month.
There is a wide range of products in that often-overlooked part of any drinks cupboard: syrups and mixers. While many have been created to complement spirits in cocktails or long drinks, they also make great accompaniments to mocktails or non-alcoholic pick-me-ups. One of my favourites is Claytons Kola Tonic, made with extract of the West African kola nut, known for its stimulant properties. Incredibly versatile, it's great as a standalone drink (think concentrated still cola), but mixing with two parts Fever Tree Ginger Ale makes it come alive. For a delicious mocktail, blend together 25ml with a banana, the juice of half a lime, and a tablespoon of simple syrup (you can make your own or for a luxurious touch, use Trois Rivières Sirop de Sucre de Canne) with ice.
January shouldn't mean saying goodbye to indulgence completely, so why not try one of our more unusual drinks – Taj-Mahal Saffron Syrup – made with the world's most expensive spice. Safinter has been growing (and selling) saffron since 1912 from its base in Albacete, Castilla-La Mancha, and produce this sugar-sweetened syrup to an ancient Indian recipe. One of its many uses is a spicy cardamom and saffron coffee: just add four teaspoons and half a teaspoon of ground cardamom to a mug of black coffee, and you have a perfect winter beverage. If you'd rather use the spice's unique semi-sweet and bitter character in food, then it can be used to poach pears, or simply as an ice-cream sauce.
With the winter frost starting to bite, one way to keep warm is with the Munich-based Becks range of organic hot drink powders – cacao powder for a rich hot chocolate, and a brace of spiced chais: classic masala ('Om', flavoured with spices including cardamom, ginger, cinnamon and cloves) and vanilla ('Enchantment', with anise and grated orange peel).
I am participating in Dry January – but having been recently diagnosed with diabetes, this is 'dry' in terms of sweetness rather than going alcohol-free. It is a balancing act, as a lower sugar level generally means a higher alcohol content (as sugar = alcohol + carbon dioxide), so the risks of hypoglycemia (low blood sugar) and hyperglycemia (high blood sugar) are both present when drinking. An easy place to start to drink healthier is with mixers – use Naturally Light Tonic Water rather than the full-fat version, or even better, carb-free Spring Soda Water.
New to our offering is the Belvoir range of fruit-based cordials and pressés. While fruit juices contain a high level of (natural) sugars, 'drier' cordials such as ginger and lime and lemongrass can be used in small quantities if you like the occasional indulgence – the pressés are higher in sugars though.
Beer can be trickier as bottles rarely (if ever) give sugar figures. Lager and stout are the two styles with lowest carb levels, so of the Harviestoun range, Schiehallion (available in 33cl and 50cl) and Bitter & Twisted are the safe bets (unlike the Ola Dubh range, there is no need to worry whether naturally occurring sugars from the wood-ageing process are present in the bottle). Cider, sadly, contains high sugar levels – for many brands, a pint is almost equal to an adult's daily recommended allowance. But if it's your tipple, then a higher-strength, drier style such as the oak-aged Dupont's Cidre Reserve 2012 would be the best choice. From the renowned Calvados producer, this is a cider for sharing; split between two, there is enough for a generous glass each.
Spirits are easier to deal with, and fit, generally speaking, into three categories:
those which are distilled, or flavoured during the distillation process, are carbohydrate free – plain vodkas, white rums, London Dry gins and blanco Tequilas
spirits aged in wood, or with small amounts of flavour after distillation may contain some sugars (either natural ones from the wood or those from the flavourings) – other gins, whiskies, Armagnacs, Cognacs, golden and dark rums, reposado, añejo and extra añejo Tequilas
spirits that are either flavoured, or have sugar added, after distillation are the highest in carbohydrates – examples include liqueurs, flavoured vodkas, spiced and flavoured rums and aquavit
As with many aspects of a diabetic diet, moderation is the key, so even a single measure of a sugar-heavy liqueur can be enjoyed as an occasional treat (and to keep my very sweet tooth happy).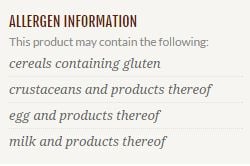 Another new addition to our website is the addition of allergen information to the product pages, covering a total of 14 allergens (celery, crustaceans, egg, fish, gluten, lupins, milk, molluscs, mustard, nuts, peanuts, sesame seeds, soybeans and sulphur). If a product contains (or may contain) any of these, a message similar to the example on the right is displayed (as can be seen for Caymanas Chocolate Caribbean Rum Cake).
If you're staying alcohol-free for January for charity, personal reasons or both – good luck!
Posted in

Armagnac, Cognac, Gin & Jenever, Other Cocktails, Other News, Other Spirits, Rum / Rhum, SPIRITS & LIQUEURS, Tequila, Vodka
Tagged

becks, belvoir, claytons, dupont, taj-mahal, Trois Rivieres