Starting traditions is easy. Firstly, you declare that something is a tradition, and then you do it more than once. Bingo: tradition. On that note, here's the (now) traditional TWE Blog Review of the Year!
Tastings at TWE Vinopolis
While we at TWE HQ hide away in west London, occasionally glancing out of the window at Wembley Stadium, it seems that the folks in our London Bridge shop do real work. Throughout 2014, they hosted the usual cracking range of tastings, covering the whole world of spirits. We kicked off the year with the much-anticipated Diageo Special Releases tasting, with Colin Dunn, Diageo's brand ambassador and part-time Johnnie Walker impersonator. From there we jumped around the world, including stops in Japan for the launch of the Suntory Distiller's Editions, the Netherlands to try the Zuidam range, France for some Delamain Cognac and Scotland for some treats from Springbank. Shop stalwart Duncan Ross ran us through his whisky heroes in his Magnificent Seven tasting and we even hosted the launch of what would become Whisky Advocate Magazine's Japanese Whisky of the Year – Hanyu Joker. And to top it all, we ended the year with the selection and crowning of our Spirit and Whisky of the Year 2014-15. On that note…
Spirit and Whisky of the Year 2014-15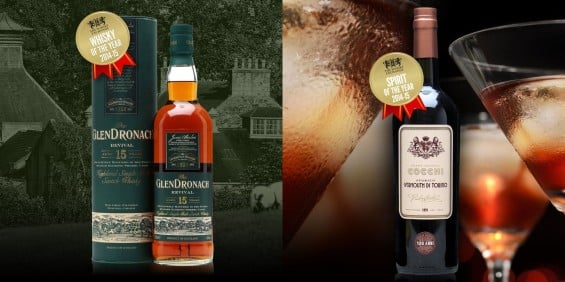 Coming out on top were Cocchi Vermouth di Torino (yes, we know it's not a spirit) and Glendronach Revival 15 Year Old, two very deserving winners. You can find out more about them on our Spirit of the Year and Whisky of the Year pages.
On the blog
We've been prolific here on the blog, with new editor Stu kicking Rocky and me into shape. From our most successful April Fool's Day post yet (both in number of hits and number of people who emailed us panic stricken having believed it), to distillery profiles from Rocky (our resident traveller) of Bruichladdich, Benromach, Glen Moray, Mackmyra and Hven, and a series on 'sherry' casks from me, we've covered a wide range of topics.
On the way Rocky has been accused of being a tool of the Kummel marketing board, Stu got to combine football with drinks and I got be geeky about grain whisky. All in all, a productive year, even if our Christmas post revealed too much about the inner workings of our minds.
Events
The whisky year is chock full of happenings, and we got involved throughout the year. Despite running the shops at Whisky Live London and around the country with The Whisky Lounge's shows, we also had a little bit of time in October to throw a little shindig of our own: The Whisky Show 2014.
Our biggest show yet, with 2,500 people through the doors over the weekend, we had great whisky, great food, and lots of fantastic people on both sides of the counter. Our headline masterclasses this year were the best yet, and you can read all about them here on the blog: Glenfiddich, Gordon & MacPhail, I Did It My Way, and Aurora Brorealis.
New website
The biggest thing of the year for us was the launch of our new website. Many months in development, it finally broke free of the testing server in mid-October and has been presenting a much prettier Whisky Exchange to everyone who visits. As ever, comments and suggestions are gratefully received – just drop us a line through the site.
Releases
Some great whiskies have appeared this year. The expected new Glenmorangie Private Collection entry, Companta, shot off the shelf thanks to the reputation of 2013's Ealanta, Jim Murray's World Whisky of the Year 2013 (97.5pts), despite bearing little resemblance to its predecessor – Jim gave Companta a 74 in this year's Whisky Bible. Ardbeg continued their run of popular special releases with both the World-Cup-alluding Auriverdes and the revived Supernova 2014. Kininvie's single malt finally hit the general market to a burst of apathy from the whisky geeks and a flurry of activity that meant it sold out immediately; Bowmore Devil's Casks 2 broke the impressive sales records of the first edition; and Bruichladdich produced Octomore 6.3 and Port Charlotte 2008, both using locally grown barley and in the case of the former, peated to the highest levels yet seen.
Our sister company Speciality Drinks relaunched the Single Malts of Scotland range, with a new look and a raft of new whiskies, as well as a pair of Elements of Islay releases, including four bottles approved by a certain bearded whisky blogger (me).
As usual, Diageo picked up a lot of the new whisky limelight thanks to three launches: the Special Releases, the revamped Mortlach range and Haig Club. All three caused much chatter on the internet, with the Beckham-backed Haig Club getting both endorsement from new whisky drinkers and abuse from the connoisseurs.
TWE exclusives
We have a whole page of exclusives over on the main site, but we've had a few standouts through the year. We kicked off 2014 with a pair of Gordon & MacPhail exclusives that were previewed at The Whisky Show 2013: A Glentauchers and a Ledaig. They sold out quickly, but we now have an excellent G&M Caol Ila instead.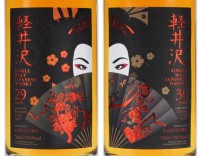 The Whisky Show was greeted by the usual flurry of special show bottlings, with a heavily sherried Clynelish garnering most praise – it looked amazing and tasted even better. We also had a pair of Karuizawas up for grabs, with show guests queuing from early in the morning to be in with a chance of getting one. If you didn't get one, don't fret – there are still more Karuizawas to come. Watch this space…
2014 also marked our 15th anniversary, with thewhiskyexchange.com coming online at the end of 1999. So far we have released three special editions: a heavily sherried Balblair 2000, a heavily sherried Arran 1996 and a heavily sherried Glen Garioch 1973. You may notice a theme…
What next?
There are a few things on the horizon that I can mention and even more that I can't. In January we should see details of The Whisky Show 2015 appearing and some special Japanese whiskies. Our Shop tastings start again shortly and more wisdom will be presented here on the blog throughout the year. Here's to 2015 and whatever it brings.