With around 100 active whisky distilleries in Scotland, it's inevitable that some get overlooked. One underrated distillery is Glen Moray. The distillery's range is prominent in supermarkets, but has managed to stay under the radar of the average whisky drinker. I admit that I have been equally guilty, and have only tried Glen Moray on a handful of occasions at whisky shows. So, to rectify that, on a recent trip to Speyside, booking a distillery visit was my top priority.
Glen Moray has had just a handful of owners in its 117 years of operation – founded in 1897 on the site of the West Brewery, it was purchased by Macdonald & Muir (later to become Glenmorangie plc) in 1920, remaining in the same ownership until 2008 when French spirits group La Martiniquaise  took the reins.
The distillery has shown its innovative nature over the past decade. Glenmorangie gained the plaudits for its range of whiskies finished in different types of wood, but not many know that Glen Moray was the spirit used for the trials a decade or so ago. Glen Moray's Chardonnay-cask-aged expression is still available (although originally released as a No Age Statement, it's now their 10 Year Old offering). Some of these casks are still kept in the warehouses, having been joined by casks filled after the distillery was taken over by La Martiniquaise in 2008, and include a seven-year-old rum cask and a four-year-old fully matured port cask.
The cask experimentation is continuing – last year, the distillery filled 95% of production into bourbon casks, but with the increase in costs – Iain Allan (who showed me round) says bourbon barrels are rapidly approaching half the cost of a sherry butt (gone are the days when they were a tenth of the price). Experiments have recently begun with brandy casks being filled with spirit.
More innovation can be seen in the production area; four new washbacks were installed in 2012, with one of the older ones decommissioned and converted into a heated water well. The wash passes through this after fermentation, thus increasing its temperature and reducing the amount of energy needed to heat the stills – lowering costs and improving efficiency.
The distillery has more freedom than it did under Glenmorangie ownership and the team are experimenting with how to get the best out of the entire production process, not just with cask ageing. The distillery's output is primarily unpeated, with peated spirit produced just one month a year – partly to be used for an upcoming peated release, currently available as a 2 year old in the distillery shop, and also to be used in the company's Label 5 range of blended whiskies.
With the demand for Scotch growing, Glen Moray is increasing production. Having produced 2.2 million litres of spirit in 2012 and 3m in 2013, they are aiming for 9m in 2015. To achieve this, the building which used to house the on-site maltings (dormant since the late 1970s) has been demolished. In its place, a new production building (which will house an 11-ton mash tun, 12 new stills and around 10 washbacks) is being constructed. This is effectively building a new distillery on site, as it will be larger than the current Glen Moray, which only has six stills and nine washbacks.
We were delighted that Glen Moray were among the first exhibitors to be announced as returning to October's TWE Whisky Show. If you are attending, I'd recommend visiting the stand and seeing Iain and Emma (who also run the distillery's visitor centre), especially if you've never tried Glen Moray before.
I couldn't leave without trying a few whiskies from the range:
Aged for an average of seven years entirely in ex-bourbon casks, of which a high percentage are first fill, this is the distillery's entry-level offering.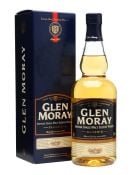 Nose: Rather closed, with just the malted sweetness coming through.
Palate: Light, grassy and sweet with notes of green apple and lemon.
Finish: Medium-length and slightly drying, with the lemon notes remaining through to the end.
Comment: It's not a whisky to set the world alight, but that's not what it's meant to do. An easy-to-drink, entry-level single malt that's a bargain at just a little over £20.
Unusually for a Scotch single malt, this has been aged full-term in white-wine casks. This is a whisky that has always intrigued me, so let's see if it was worth the wait.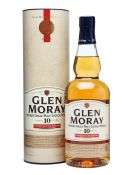 Nose: Sweet, with notes of orange and a hint of butteriness in the background.
Palate: Sweet marmalade and butter (in keeping with the nose). The fruit intensity, sweetness and alcohol are very well integrated.
Finish: Medium to long, rich and fruity, with plenty of that marmalade that is a recurrent theme throughout.
Comment: Whiskies aged full-term in wine casks are pretty rare and those aged in white-wine casks even more so. The butteriness comes from these casks, and while it is an unusual trait in whisky, integrates well with the rest of the flavours. At just a smidgen over £25, it's another excellent-value whisky.
Not yet legally whisky, this will be added to the core range in the next year or so (when it reaches the legal minimum of three years old). We managed to find some stock of this in the past and it flew off the shelves, so I was eager to give it a go.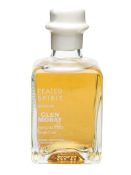 Nose: A whack of peat – iodine more than TCP.
Palate: Warming, with the youthful peat balanced by sweetness and orange notes.
Finish: The fruitiness slowly dissipating to leave warming iodine notes.
Comment: Rather rough around the edges, but it is very young, so this can be overlooked. A real insight into what the distillery is capable of producing in terms of peated whisky, and shows excellent potential.
Glen Moray is a distillery I'll be keeping an even closer eye on in the future, with some interesting releases planned – watch this space!