Distilleries come in all shapes and sizes and I recently took a trip to one of Scotland's smallest: Benromach.
Located in the town of Forres in the north of Speyside, the distillery dates to 1898. One of the victims of the distillery closures of 1983 (which saw eight distilleries including Port Ellen and St Magdalene cease production due to lack of demand), it lay dormant for 10 years before being rescued by independent bottler Gordon & MacPhail in 1993, with production recommencing five years later.
My visit coincided with the Benromach 10k run, so the distillery grounds were busier than usual, but my group was marshalled around by retired aircraft engineer Jim.
The distillery produced just 140,000 litres of alcohol in 2013, but by employing just one extra person (with no other expansion in the production process), they plan to increase capacity by about 80%, with the aim of making 240,000 litres this year. To put their size into context, it took them eight years to produce their first million litres (this was reached on March 27 2006) – Glenfiddich take just a month to do the same.
One rare, but welcome, aspect of the distillery tour is that there is an on-site 'museum', where they have various pieces of equipment on display that you can take pictures of.  Although some of the equipment on display is of a different style than those used in the production process at Benromach, it's useful to be able to see and take photographs of them.
The distillery has an old Boby mill (rather than the Porteus example in the museum), which dates to 1913 and is by far the smallest I've seen. They ran it for 90 minutes a day last year, but have now doubled that in their quest to increase production.
The small size of the distillery is highlighted by the fact that the entire production from mashing to distilling takes place in a single room. This includes four washbacks, made from larch, resized from the pre-1983 examples, in which a 90 hour fermentation occurs. There are two stills – a 7,500-litre wash still and a 4,500-litre spirit still. Both have almost exactly horizontal lyne arms, producing a medium-to-robust spirit.
All spirit is filled into casks on site, at the industry-standard 63.5% abv, and matured there too. Around 60% is filled in sherry casks, with the remainder into ex-bourbon (save for a bit of experimentation and small amounts of other woods, such as port pipes) – the distillery's weekly production equates to approximately 18 sherry butts, 35 hogsheads or 44 bourbon barrels worth of spirit. Currently there are 7,500 casks maturing on site and, with the increase in production, two new warehouses are under construction. When the angels have had their share, the casks are sent to Gordon & MacPhail's bottling plant in Elgin, 13 miles east of the distillery.
After the tour it was back to the small (but perfectly formed) visitor's centre for a couple of drams:
Newly repackaged with the box resembling the surface of the distillery's stills, this is a combination of whiskies initially aged for nine years – 20% in sherry casks and 80% in bourbon casks. These whiskies are then married for a final year in sherry wood. Gordon & MacPhail wanted to produce a traditional style of Speyside whisky at Benromach, and the 10 Year Old is peated to around 11ppm as a result.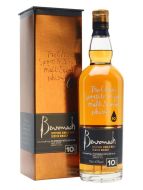 Nose: Toffee and butterscotch with hints of liquorice and green apple.
Palate: The liquorice and green apple continue from the nose, joined by a maltiness, smoke and spicy cardamom and white pepper.
Finish: Warming, with the fruit and spice slowly dissipating to leave a delightful malty smokiness.
Comment: Benromach have succeeded in their aim of going back to the classic Speyside style of the 1960s, and the whisky has a very traditional feel about it.
Bottled in 2013 at around 10 years of age, this was fully matured in port pipes and is peated to 8ppm – I'm a big fan of port-wood-aged whisky, but this is my first experience of a smoky example.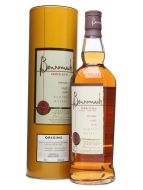 Nose: Red-fruit-heavy nose, with blackberry and black cherry present.
Palate: Sweet cherry, liquorice, spicy black pepper and a hint of orange zest coming through on the mid-palate.
Finish: Warming finish, with the smokiness increasing and a spicy aftertaste.
Comment: It's rare to have a smoky, fully-matured port-wood whisky, but I don't know why it's not done more often – the sweetness and the peat balance each other very nicely.
A big thanks to Jim for taking me round and to Susan for organising – who knows, I may be back next year for the 10k!