The Elements of Islay range of whiskies is one that's very close to my heart. While it's bottled by our sister company, Speciality Drinks Ltd, the TWE Blog team often help out when putting together a new release. The first whisky I helped select after starting work in the drinks industry was Kh1, a surprisingly hard choice between three excellent cask samples, and the Elements have stuck with me ever since. From Kh1 onwards, I've at least had a taste of the new releases before they've hit the shelves, and have offered up my palate to help choose casks and decide which whiskies to vat together for the various releases. However, the latest batch are a bit more special to me than the previous ones – these have my name on the bottle.
The Elements are a range of whiskies whose labels tell you very little about what's in the bottle. There's no age statement, no cask number(s) and, most importantly, no distillery name. There is a code, which is fairly easy to work out, but the whiskies are put together to show off some great flavours without the preconceptions you might otherwise get from the label.
Annoyingly for Speciality Drinks, buying Islay whisky has become increasingly difficult over the years, with many distilleries stopping sales back in the early 2000s. Fortunately, they started stocking up before then, and there's still at least a few years' worth of releases to come.
Each time a batch of Elements of Islay bottlings is put together, Speciality Drinks approaches someone associated with the world of whisky to taste and approve the whisky in the bottles, and have their name on the label. They started with Charlie Maclean, the current king of whisky writers, and have since had luminaries from across the industry: writers Dom Roskrow and Ingvar Ronde, Islay super-fan Gordon Homer, collector Hideo Yamaoka and, for the last release, my colleague Ollie Chilton, who now looks after the Elements range.
I helped out with the selection of the whiskies this time – a hard task that involved accepting glasses pushed into my hand by Ollie, and offering up opinions on the liquid therein. Afternoons were spent blending various casks to find a mix that was better than the sum of its parts; single casks were compared and contrasted; judgements were made as to whether whiskies would get better with more time in the cask. At the end of the process, with four whiskies selected and ready to go, I was asked if I'd be the one to approve the drams this time and have my signature on the label.
I obviously said yes.
This latest release definitely tends towards the heavier and smokier end of the Islay spectrum. There's nothing light and grassy or even delicately peaty this time, although there is a spot of Br4 and some Bw1 left if you're looking for something along those lines. This release is about powerful flavours and the more traditional distillery characters.
One thing to note, before I drop in some tasting notes: I can't give out much information on these whiskies other than what's on the bottle. There are two reasons behind this:
1. It's part of the ideology of the range. We have selected single casks and small vattings of whiskies to show off what we consider to be the best that the distillery can produce. That can be along the same lines as official releases, or something totally different, but in the end we just focus on flavour and character.
2. I don't know much about them other than what they taste like – the focus when creating the whiskies was the flavour and character, and that's what I had to hand about each whisky when tasting them.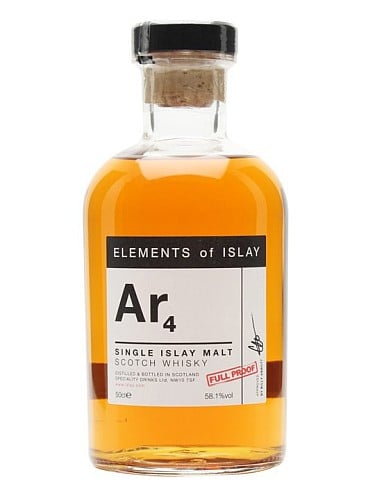 There's not much whisky from Ar floating around, other than the casks hidden in their warehouses, and it's been hard to get hold of for a while. Fortunately, Speciality Drinks have some squirreled away and we had a few samples to choose between for this release. After Ar3's sherry-heavy approach, to the point of being a bit much for me (despite my love of the combination of peat and sherry), this one goes for a much cleaner and more traditional take on the distillery's character:
Nose: Earthy and sweet – peat fires and barley sugar. Behind that is spiced vanilla sauce and brioche, with leafy notes and touches of smoky bacon.
Palate: Softer than expected from the nose at first, but still solidly smoky. However, intensity builds, with lemon zest and vanilla accompanied by growing medicinal peat and charcoal. Remains quite sweet, with barley sugar notes balancing the bitter char, and touches of aniseed and cinnamon developing.
Finish: Long and sweet, with anise, liquorice and menthol, although lighter than that might sound and quite sharp. Some darker notes develop as it fades.
Comment: A great example of whisky from the distillery as well as being a bit different. Powerfully flavoured but easy drinking and with a great finish.

Again, this one is a departure from previous releases from Bn, and looks very much towards the distillery's usual style. Rather than big peat and bourbon casks, as several of the previous releases in the range have veered towards, this is all about sherry and spirit character.
Nose: Dark dried fruit to start – sweet and spicy. Some more tropical touches develop: dried mango, papaya and pineapple kubes. Spiced fruit loaf (lightly toasted), orange zest and a hint of cocoa appear later on. Surprisingly light and zesty, although with a solid sherried weight behind.
Palate: Sweet and buttery to start: Eccles cakes, Victoria sponge with raisins. Cadbury's Fruit and Nut, liquorice touches and some developing leafy notes.
Finish: Lingering spice and damp oak, with burnt raisins, a touch of apple and some dark liquorice as it fades.
Comment: Well-balanced sherry influence gives some intense and dark flavours, while allowing some of the fruity nature of the spirit to shine through.

The folks at Speciality Drinks really like whisky from Cl, and over the years we have spent a lot of time blending and tasting whisky from the distillery. A few years ago, we helped put together a release for a different range of whiskies in the Speciality Drinks portfolio, and in the process of doing so came across a few excellent casks that we put to one side for later use – Cl6 is from one of those special ones. There's not much of it, as the cask wasn't particularly full, but it's probably my favourite of this release.
Nose: White toast, apple jam and freshly cut ferns. Pine needles and subdued pine smoke sit underneath with barley sugar and rich-but-thin caramel. Some minerality develops – granite and flint – along with mulchy leaves. It's quite fragrant, with the darker notes propping up the lighter elements.
Palate: Powerful. There is some heat from the high ABV, but above that floats delicate flavours: white chocolate, honeysuckle, sweet apple and white grapes. Underneath there are darker notes, with dark chocolate, charcoal, liquorice and burned-meat umami. Water simplifies things, helping the flavours to integrate, although at the cost of the more subtle notes.
Finish: Soft and very long: green plum, green wood, cinnamon, hot chocolate and chocolate cookies, with a hint of cherry menthol.
Comment: Subtle, despite its high ABV, and as long as you can get past the strength, it's very rewarding. Fortunately, it also takes water well, becoming much more approachable for those times when you don't want to think too hard.

Again, a return to distillery form for this one. It's not sherried, unlike previous batches, and it doesn't go towards a far-out flavour profile – it's a classic, sweet and fruity example of whisky from the distillery. It's from a small batch of casks, bottled after being selected in a blind tasting.
Nose: Sweet smoke and classic medicinal touches: fresh bandages, sea spray and ozone. Aniseed balls sit up front, with richer flavours behind – Victoria sponge and digestive biscuits.
Palate: Big mineral hit to start, with cracked granite and seaside rock pools. Sharp peat smoke comes in, with sweet earth and touches of sweet-cure bacon. It's quite intense, with developing aniseed, darker grainy notes and touches of Fisherman's Friends. Water dims the spiciness and dials up the sweetness, while maintaining the smoke and sharp edges.
Finish: Salty liquorice, damp earth and mouth-drying smoke.
Comment: Classic, focused and intense. One for lovers of old-school medicinal peat.
Work is already in progress to select the next whiskies to bottle in the range. A few promising cask samples have appeared and more are on the way down from Scotland as I type. Even though it'll be someone else's name on the bottle next time, I'll still keep a watchful eye on the process. Watch this space.