The 2014 World Cup is finally ready (even if the stadiums aren't), so with this fantastic feast of football to look forward to, here are the teams to watch. And if you can't decide who to follow, then why not go for the team that matches your taste in whisky?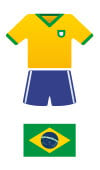 Brazil
Everyone's second-favourite team, Brazil are strongly tipped to add to their tally of five World Cups, thanks to Neymar (one of the hottest talents around at the moment), although the pressure on them from the home crowd will be immense.
Whisky match: The Macallan Gold. Sexy and stylish; a real crowd-pleaser.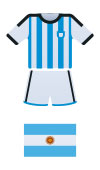 Argentina
The albiceleste have kept a rather low profile so far, compared to their green-and-gold neighbours, but they have an incredibly talented squad, including Messi, di María and Agüero. Full of flair and very easy on the eye, Argentina will be one to watch.
Whisky match: Compass Box The Spice Tree. Not afraid to bend the rules now and again.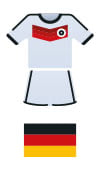 Germany
We know all the adjectives. Efficient. Unglamorous. Machine-like. OK, they're all kind of true, but you have to hand it to die Mannschaft, they know how to win World Cups. And would you back anyone else in a penalty shootout?
Whisky match: Glenfiddich 12 Year Old. Whisky snobs love to stick the boot in, but how about some love for a change, eh?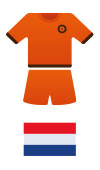 Holland
Inventors of 'total' football, whereby all players on the pitch can swap roles at a moment's notice, it's hard not to fall in love with Holland and their silky style. They've never won the World Cup, but for such a consistently impressive team, it must surely be only a matter of time.
Whisky match: Glenfarclas 15 Year Old. Sherried and shexy!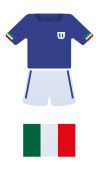 Italy
Not particuarly pretty, but the Italians know how to get the job done. They'll take a solid 1-0 over a 4-3 thrillfest any day of the week, and with four World Cups in the bag, other teams would do well to copy their dogged, defensive style.
Whisky match: Glen Grant 16 Year Old. Much loved in Italy, this old stalwart is utterly dependable.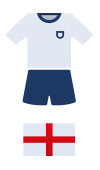 England
Ah, good old England. Every four years, a nation holds its breath and waits for… an ignominious exit on penalties. Your average England fan knows that World Cup glory in Brazil is unlikely, but you never know…
Whisky match: Tomatin 12 Year Old. Enjoyed huge success in the 1960s, and its young spirit is now starting to make heads turn again.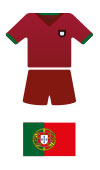 Portugal
They probably won't win the World Cup, but would you want to play them? Dangerous, hot-headed and unpredictable, Portugal are capable of beating anyone. Their brutal red-card fest against Holland was the nadir of the 2006 tournament (or the highlight, if that's your bag), but Portugal can also dish out the slick, skilful stuff when it matters.
Whisky match: Bruichladdich 10 Year Old/The Laddie Ten. Cheeky and irreverent, but endearing.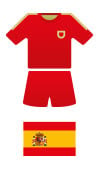 Spain
The current World Cup holders and European champions had to endure decades of stick for underachieving time after time, despite having world-class squads. But finally, they got it right, and have swept all before them.
Whisky match: Glendronach 15 Year Old Revival/Sherry Cask. Under master distiller Billy Walker's management, and with a little help from some Spanish sherry casks, Glendronach is back in a big way.
The teams are ready, the whiskies are ready – time to sit back, pour a dram, and enjoy the footy.