Ears certainly pricked up at TWE HQ when news came in of a new release from The Balvenie. There will be those still mourning the loss of the bourbon-matured 15 Year Old Single Barrel (officially discontinued, but we still have a few bottles left). Well, cheer up, because we have good news: it's been replaced by The Single Barrel Sherry Cask 15 Year Old.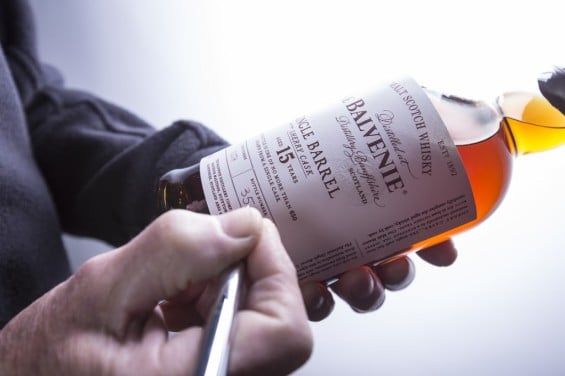 This new Balvenie follows on from last year's Single Barrel First Fill 12 Year Old, which we rather liked. David Stewart (we're still impressed by the coolness of his job title, 'Malt Master') and his team drew 650 bottles from each oloroso sherry butt. Our sample was from butt number 4440 – obviously, each cask is different, so flavours will vary, but note that this is an ongoing release, not a limited edition.
So, how does this new sherrified 15YO compare to its younger brother? Well, as expected, it doesn't pussyfoot around. There's much more depth and richness compared to the lightly honeyed, floral notes of the 12YO First Fill. It feels more grown up, like that buzz you get when you're get in to see a 15-certificate film for the first time, leaving the 12s behind – from Spiderman to Final Destination, if you will.
The dried-fruit elements are more pronounced on the nose, with more obvious oak influence, too. On the palate, real swathe of sherry influence, with rich dried fruits and nuts, burnt sugar and a hint of milk chocolate, finishing with a creamy flourish.

Nose: Rich aromas of candied fruit and mixed peel, slight creaminess, with notes of almonds, Christmas cake and Toffifee, countered with some soft fruits – green apple and pear.
Flavour: Obvious sherry influence: concentrated dried fruits, toasty oak, milk chocolate and burnt sugar, with some biscuit in there.
Finish: The creaminess mingles with the rich fruit. Very precise.
In all, a good crowd-pleaser, and Balvenie fans will not be disappointed. And towards the end of the year – hey, just in time for Christmas – The Balvenie will be releasing its third Single Barrel release: a 25 Year Old drawn from refill American oak.
The Balvenie 15 Year Old Single Barrel Sherry Cask is now available on the TWE website for £77.95.