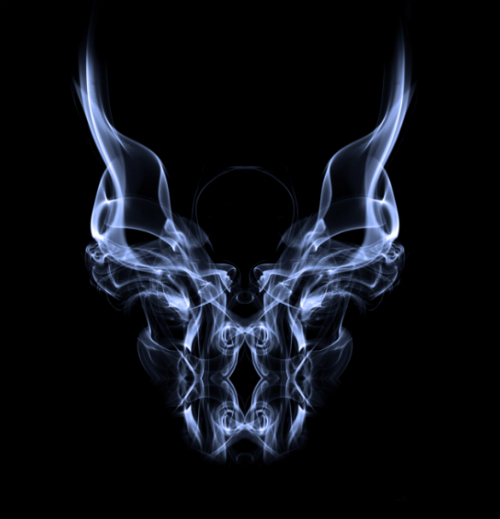 Tomatin has crept under the radar recently to become something of the hipster-namecheck distillery of the moment.  This unexpected turn of events is probably down to a number of factors which include the revamp of the range in 2010 (with one of the more well-judged contemporary packaging facelifts of recent times); and the introduction of some truly excellent aged official bottlings, particularly the magnificent 30 year old; the recent appearance of a string of outstanding independent bottlings from vintages in the 1970s.
When you combine the above factors with the general mood of disaffection among whisky opinion-formers with the showy, style-over-substance, money-grabbing antics of some established brands (naming no names, as we all know who they are), it's no surprise that the aficionados are now exploring the delights of previously overlooked distilleries.
Many of these – and certainly Tomatin – have been underrated for a long time, but now represent far better value than some of their more shouty neighbours. In fact, the recent history of Tomatin is a rather heartwarming salutary lesson: Do the basics simply but well, stick to your principles and eventually you will get your rewards. If more distilleries followed their example the whisky world would be a happier place.
Tomatin was particularly well-placed to ride this wave. The distillery is over 100 years old, so the all-important provenance is certainly there.  Tomatin has some interesting historical trivia about it as well: at one time in the mid-1970s it was the largest distillery in Scotland with 23 stills and a theoretical production capacity of over 30 million litres – comfortably more than twice as large as modern-day behemoth Roseisle.
Tomatin (pronounced Tom-AH-tin, in case you were wondering) was also the first Scottish distillery to come under Japanese ownership, being picked up by a consortium including present owners Takara Shuzo in 1986 after falling on hard times and briefly closing a few years earlier in 1984.
Nowadays 11 of the 23 stills are gone and only ten of the remaining 12 are in use.  This equates to a distillery capacity of around five million litres, but Tomatin is currently running some way below that, meaning that they have plenty of capacity to expand production if present commercial successes prove long-term.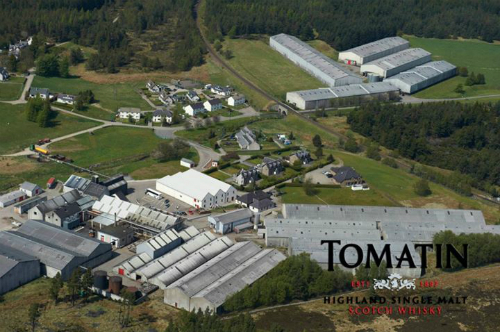 Certainly, the recent figures are impressive, with Ingvar Ronde's Malt Whisky Yearbook quoting 2011's sales as up by 36%. In the same year, Tomatin Decades was released: a celebration of former distillery manager Douglas Campbell's 50 years at the distillery, an amazing feat which strongly suggests that the distillery's owners are sensitive to the heritage of their brand. Indeed, the great man himself visited TWE Vinopolis at the end of 2011 to give a memorable tasting launching the Decades bottling, which you can read all about here.
If you've never tried Tomatin before and are wondering what all the fuss is about, the best places to start are, in this reviewer's opinion, the 18 year old and the 30 year old, both of which are terrific value compared to certain other Highland or Speyside distilleries' official bottlings of equivalent age. The 12 year old is less complex than these two, but is a great gateway whisky and extremely easy to drink.
So with Tomatin being one of the cooler distilleries (somehow that phrase just doesn't sit right – will whisky distilleries ever be truly cool?), it was only a matter of time before a peated version appeared.  Indeed, I'm once again indebted to Ingvar Ronde for the info that a peated Tomatin first appeared as early as 2010 – an experimental 4yo for the Japanese market apparently.  No doubt the hipsters have already tried that one before it was cool.
What we're concerned with here, though, is Tomatin's Cù Bòcan, a lightly peated edition which sparked a modest Twitter froth a week or two ago, thanks to some mysterious pre-release samples sent to the usual suspects in velvet baggies adorned with a tag featuring the rather Donnie Darko-esque smoke beast featured at the top of this post.  You wait forever for a Halloween whisky, and then two come at once, eh?
Those readers who have encountered Cu Dubh may be shuddering at the name.  But fear not: Cù Bòcan is, like Tomatin's other releases, bottled at its natural colour (and without chill-filtration, Hoxtonites!).  I asked about the name, as none of the online Gaelic translators I could find knew what it meant.  According to Cù Bòcan's Facebook page, the translation is vague (I already knew this), but Bòcan is intended to mean ghostly,sprite etc and is supposed to convey the idea that the titular dog is haunting them. So, it kind of means Ghost Dog.  Which is a particularly great film, incidentally.
The distillery apparently makes peated spirit for only one week of the year, producing 60,000 litres.  For this first batch of Cù Bòcan, the spirit is 15ppm, has been matured in a mix of virgin oak, bourbon and sherry casks, and is bottled at 46%.  During the Twitter launch the distillery's official account revealed, with admirable candour, that this batch is of 18,000 bottles and that the peated element is aged 8 years (though no age statement is on the bottle).
So what's it like?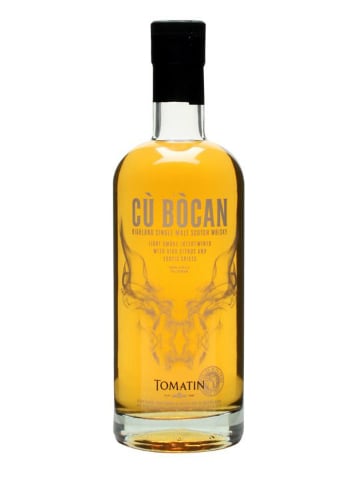 Nose: Quite sharp citrus, plus strong gingery oak and custard. Quite green, leafy and sappy. The phenols are subdued, showing as lint and swimming pools and faintly woodsmoked laundry. Develops greenhouse and grassy aromas. Water brings out a very nice sweet heathery aroma.
Palate:  Now the smoke's there – begins on bonfires and burning paper, shows the new oak again then gets quite nutty and biscuity.  A sappy interlude mid-palate, then the smoke returns as burnt popcorn. Water lifts an extinguished bonfire, ashy character.
Finish:  Burnt grains and a drying, slightly salty leafiness.
Comments: Not super-complex, and showing its youth a little, but well-made and future batches are supposedly going to include older whisky. Pleasing and easy to drink, but for similar money if I had the choice I'd probably go with the excellent 15 year old. Definitely one to watch, though and full marks for the packaging.
If you want to find out more about Cu Bocan, it has its own website here, featuring a few scary tales and a video of an earnest Scottish man talking in hushed tones.  When will people stop doing that.