[Tim and Sukhinder's sojourn in Japan continues at Chichibu with an epic tasting of dozens of full-strength single cask Karuizawas… you can read about their earlier adventures on the trip here and here.]
After our fascinating tour of Chichibu we repaired to the distillery-office-cum-visitor-centre where tables had been set up with lines of glasses and boxes of Karuizawa sample bottles.  We each received a printed sheet in tiny type giving details of the 40-odd casks we were going to try: vintage, cask number, volume, cask type.  Each agent had a different set of samples and automatic first dibs on any of the casks on our own sheets that we approved of.
Before cracking into all this massed Karuizawa, though, it was only fitting that we try something from our hosts – and what a something it was: the soon-to-be-released second 'proper' (ie more than 3yo) Chichibu single malt entitled 'The Floor Malted'.  It was distilled in 2009 from barley floor-malted to Akuto-san's specifications during one of his trips to England to learn the craft of malting for himself.  The stock is mostly from ex-bourbon casks, with some 'chibidaru' quarter casks and has been bottled at 50.5% in a relatively large batch of 8800 bottles.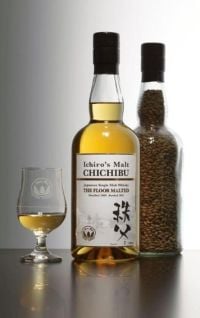 Chichibu 2009 The Floor Malted
Nose: Very clean and sweet, with some fresh barley notes and lots of vanilla.  Appetising.
Palate: Rich, sweet oak & fresh resin.  Intensely spicy from mid-palate.  Toasted barley with vanilla again and some dried fruit notes.
Finish: Short and sweet.  Water mellows the intensity of the sweetness but really lifts the spices, becoming very peppery and cinnamon-y.
Delicious stuff, and a nice way to kick off a monumental tasting session.  From the newest, (and youngest) Japanese whisky I'd ever tasted, it was straight on to some of the oldest.  There are only a tiny handful of Karuizawa casks from the 1960s remaining and, understandably, most of them are being retained by Number One for forthcoming ultra-premium releases.  We had a few 1970s and a bunch of 1980s to try.
We set to work on our samples.  Broom-san was flitting between the tables as the afternoon went on, trying everything and scribbling in his moleskin.  Swirl, sniff, swig, spit, scribble – Damn, that man is fast!  What a pro.
As we tasted our way chronologically through our samples I found, to my own surprise, that with one or two exceptions I preferred the casks from the early 1980s – particularly those from 1982-84. The '84s were probably my favourite drams of the day – almost to a man they were rich, sweet and raisiny and all the ones we tried have a hint of smoke as well.  We said yes to all of those ones – look out for some great bottlings of that vintage at TWE at some point in the future.
I must stress that all the above is not to cast aspersions on the 1970s casks, many of which were fascinating and some superb, but on a day where almost everything we tried ranked somewhere between very good and sensational I found myself being wowed more and more frequently as the tasting went on ie as we hit the turn of the 1970s into the early to mid-1980s.
This was obviously a concern as even with experienced, battle-hardened palates and a strict 'spit-everything' policy, tastebuds can become dulled and judgements affected by large amounts of cask strength whisky.   My strategy was to be hyper-critical and super-selective to ensure we identified the very best of the casks on offer, so to find myself at one point thinking that each cask was better than the last was slightly disconcerting, albeit in a good way.  Don't worry, we've taken the precaution of ordering samples of everything we approved so that we can check them all again before bottling. In most cases those samples will just be to confirm what we knew already, though – these are unforgettable drams that roar across the tastebuds.
Believe me, though, it was a long, arduous session, necessitating several breaks to let our tastebuds recover.  Despite the great age of many of these casks, the natural strengths were huge in most cases, with the majority of casks being over 58% – even the ones going back to the 1970s.  This meant that lots of water was required and, later in the session as the breaks became more frequent, some palate-freshening beer.
It was, therefore, a rather merry group that eventually, and with regret, said our farewells to Akuto-san and his staff that evening as night fell. We boarded the bus and departed for our accommodation for the night, a traditional Japanese 'ryokan' called Aramoku Kosen.
A ryokan is an inn, often associated with 'onsen' – natural hot springs and baths – kind of like a remote spa.  These havens have existed in Japan offering solace to weary travellers for centuries.  Most ryokan have separate baths for each gender, and historically many had resident geisha girls who plied their trade for wealthy travellers.
As a result, the ryokan has a special place in Japanese culture and is a stock location for Japanese folk stories and literature.  One of my favourite Japanese novels, Snow Country by the Nobel-winning Yasunari Kawabata, is mostly set at a mountain ryokan where the protagonist, a married businessman, has a doomed affair with an onsen geisha.
Despite unobtrusive mod-cons and comfortable facilities, it is impossible not to immerse oneself in Japanese tradition on entering a ryokan.  It's a perplexing mix of history, modernity and timelessness.  On arrival, we swapped our shoes for slippers and after a brief kip and the first of many, many cups of green tea in our tatami-matted, slidey-doored chambers, we changed into traditional robes (yukata) and proceeded to the communal dining room.
Here, despite the long day and many drams, we all did ample justice to a remarkable cornucopia of (very) traditional Japanese delicacies, the highlight of which for me was chunks of marbled beef that we cooked ourselves in little burners placed by our plates.  Akuto-san joined us for dinner, which was accompanied by beer and some wonderful sake.
Towards the end of the meal David made a short speech welcoming us and toasting the future success of our Karuizawa adventure and we were each presented with an exclusive Karuizawa 1984 called Partners Reserve, bottled specially for our trip, with a beautiful natural paper label decorated with traditional Japanese kanji.
More whisky appeared, this time a Hanyu bottled for the Ichiro's Malt 'Card' series.  I have a photo of it that tells me it was the Eight of Clubs, a 1988 vintage single cask #7100 bottled in 2011 at 57.5% after finishing in an American oak puncheon.  It was pretty late, so I wasn't taking notes, but I do remember that it was fantastic.  By the second or third glass one or two of the party (myself included) were somewhat tired and emotional.  Eventually it was time for bed, although I believe some of our fellow guests took advantage of the facilities and went for a long soak in the onsen.  [Don't worry lads, what happens on tour stays on tour.]
I collapsed onto one of the futons in our shared room, apologised in advance to Sukhinder and our Taiwanese chums for any cornered-warthog sounds they might be about to hear and drifted off immediately into peaceful slumber.  What a day, a truly unforgettable experience.