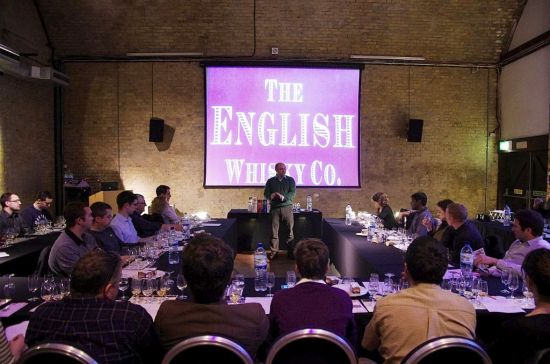 While we're busy running around at HQ finishing up some SEKRIT PROJECTS (of which more will be heard shortly…) the folks down at our Vinopolis shop have been continuing running their series of rather excellent tastings, celebrating St George's Day the other week with a visit from The English Whisky Company  (EWC). I was let out for the evening and went down to see what was going on…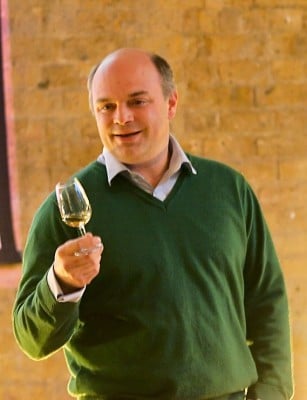 We had distillery owner Andrew Nelstrop on hand to give us the lowdown on the company's history and, through the wonders of technology, had distiller David Fitt chipping in his thoughts via the Twitter stream (which you can see up on Storify).
EWC's St. George's distillery was opened in November 2006 by the Nelstrops, a family who have been in the farming business for centuries. When James Nelstrop, Andrew's dad, hit 60 he decided to try something a bit different and looked into the world of distilling. The original plan, according to Andrew, was to set up a micro-distillery in a shed somewhere and then let James keep out of trouble playing with it. However, the wonders of Customs and Excise got involved and the law at the time forbade stills of less than 1800 litres (although since then there have been a few exceptions made) so they were 'forced' to go the whole hog and build a big distillery.
They are currently still the only whisky distillery in England, but with upcoming projects to challenge their title they're in the process of looking towards a new tagline – The Oldest Operational Whisky Distillery in England, with a grand total of 5.5 years under their collective belt. To start with they had Iain Henderson, the semi-retired ex-master distiller at Laphroaig, on hand to help out with the distillation and lend his decades of experience to the team. However, Iain was just putting in a few more years before properly retiring and eventually his role was taken over by his protegé David Fitt – formerly a brewer at Greene King –  who leads the production team today.
Andrew had pulled together an interesting set of whiskies for the tasting, complementing  their pair of regular releases with a selection of rare and unseen gems as well as a weird thing, of which more later.
First up we had Chapter 1 – the new make spirit. In order to get some revenue flowing in during their initial three years of operation (during which time their spirit was maturing and couldn't be called whisky) the distillery started putting out regular releases of not-yet-whisky. Every six months a new 'Chapter' would arrive, starting with Chapter 1 (unaged) and progressing up to Chapter 6, their first legal whisky at three years old. They distil to a fairly usual 72% ABV and then dilute to a quite high 68% before putting the spirit into casks – the Chapter 1 is further diluted to 46% to reduce its resemblance to rocket fuel: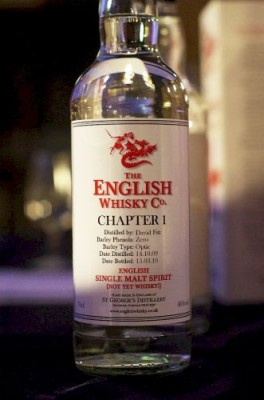 Nose: Copper pennies, sweet lemons and grain
Palate: Sweet grain, sour apple and a hint of menthol.
Finish: Grapes and green copper.
Comment: An alarmingly easy-to-drink new make. Unfortunately they've stopped releasing this as a product on its own now, as they need as much spirit as they can to stick in casks and keep up with demand for their aged whiskies.
Next on the mat was Chapter 6, their standard unpeated single malt whisky. Aged for 3 years in ex-bourbon casks it was the first legal whisky to come out of the distillery and is the entry point into their range.
Nose: Sweet vanilla and lemon, lemon cake icing and creamy grain.
Palate: Sour lemon, sherbert, a tang of young spirit, sponge cake and some woody spice.
Finish: Vanilla cream, apple skins and balanced sour wood.
Comment: Uncomplicated, light and very clean tasting. A well made young whisky.
We then moved on to Chapter 7, one of their early experimental releases – matured in bourbon for a year and half and then further matured up to the three year mark in an ex-rum cask (from either Guyana or Jamaica). Both Andrew and David chipped in at this point to declare this as their favourite, with Andrew admitting a previous habit of wandering around whisky events putting down 'finished' whisky as a concept and having to change his tune when they brought this to market.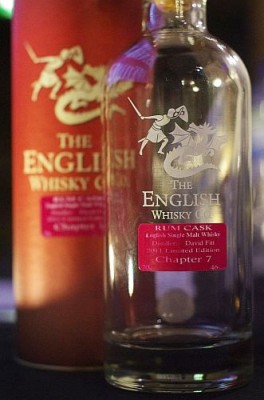 Nose: Rum and raisin ice cream, fudgey sugar, sharp grapes, creamy grain, lemon and some clean high alcohol.
Palate: Full-on rum and raisin fudge, sharp lemon, clove, woody spice and some green wood.
Finish: Apple skin, sour fruit and some bitter dark wood.
Comment: An impressive amount of flavour from the rum cask gives this a load more oomph than the Chapter 6 despite the similar ages. Really sweet, but with the sharper citrus elements of the new make spirit taking the edge off.
Unfortunately it looks like the Chapter 7 is now very much gone (although Andrew reckons that a worryingly high number of their special editions, like the Chapter 7, are sitting undrunk in collections so there's a chance you might be able to find one in the future) but they are continuing to issue limited bottlings. Another example of this is their Diamond Jubilee whisky that they've recently released in commemoration of this year's Queen-related celebrations. They've been trying to get a bottle in front of Her Majesty, but unfortunately security is a bit tight – they had a bit more success getting their Royal Marriage bottling into the hands of Will and Kate last year.
The Jubilee bottling is a mix of a couple of different types of cask, bringing together their traditional bourbon matured spirit with a little bit of peated whisky matured in red wine casks…
Nose: Sweet spongecake with dried fruit, butter, cinnamon, allspice, mace and a hint of sour red grape juice.
Palate: Light, with sour cream, dry wood, spice and foam bananas.
Finish: A burst of fruit followed by more spice, grape skin and dry oak.
Comment: More evidence here that the English Whisky Co know what they're doing with their interesting casks, with the red wine and peat (a combination that I've never found to work on its own) adding an interesting twist to their regular spirit.
We then moved on to their second regular whisky, the peated Chapter 11. This is the second regular release of peaty whisky, with the now discontinued Chapter 9 leading the way shortly after the release of the Chapter 6. Chapter 11 steps up the peat from the older whisky to an Ardbeg-beating 50ppm, although after distillation their spirit isn't as overtly smoky as the big Islay whiskies: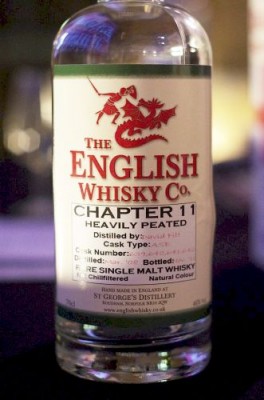 Nose: Muddy peat and coal smoke, gravel, sour apples, green fruit, gristy grain and lime skin.
Palate: Light, with lemon cream, light coal dust, sweet apple and no really obvious smoke.
Finish: A big burst of smoke as soon as you swallow the whisky and breathe out, followed by soft earth, gravel and a lingering light wood smoke.
Comment: A smoky nose and finish with a delicate body that's reminiscent of a sourer version of the Chapter 6.
The Chapter 9 is now almost sold out – they've run out at the distillery and we only have a few bottles left, so if you want some of their less peaty whisky now is the time to act.
When the guys at Vinopolis were sorting out the tasting line-up with Andrew they threw in their normal request – 'Can you bring us something interesting that no-one will have tasted before?'. Andrew had a chat with David Fitt and was told that something would be provided, although he wasn't told what it would be until the morning of the tasting. David had had a hunt around in the warehouse and had pulled out a cask sample of something slightly on the mad side – a Sauternes matured heavily peated whisky.
This looks like a nod towards the recent Octomore Comus, aged for a similar length but with barley peated to a slightly more sensible level and the whisky solely matured in a wine cask, and no-one had much of an idea of what it'd be like: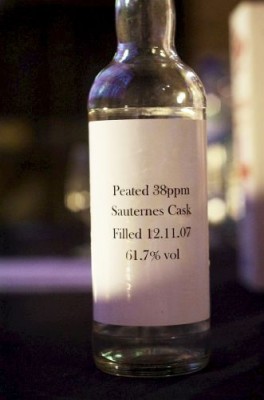 Nose: Butterscotch, US cinema popcorn (covered in squicky fake butter, pumped out of a big tub), a hint of white wine vinegar.
Palate: Stony smoke, more butter, a 'butyric' hint (parmesan/baby sick…), thick caramel and muddy earth.
Finish: Lingering coal smoke and lots of sweet butter.
Comment: In a word – buttery. In more than one word – caramel coated popcorn dripping with slightly high butter, eaten whilst sitting next to a beach fire. A very strange whisky which I'm still not sure of my opinion of, but if they were taking names for a bottle on the night there would be a decent sized waiting list…
As yet they've not released anything like this, but with EWC's love of small release experiments you can never tell what might appear next.
And on the theme of ' you can never tell' we came to our last drink of the evening – a fortified wine. When this arrived in the office we had a hard time working out how to classify it on the website – it's Pedro Ximenez wine, fortified with English Whisky and then matured in a bourbon cask solera in the company's warehouses. In the end we went with 'St George's Pedro Ximenez Fortified Wine', which feels a little boring.
Nose: Big and raisiny (but not as thick as regular PX sherry), sour white grapes, sour berries (unripe raspberries?), grass, hedgerows and an earthy undertone.
Palate: Very sweet but not as cloying as PX normally is, with grassy savouriness balancing the sweetness. Also some buttery notes and a hint of the earthiness from the nose.
Finish: Leafy, but with the predicted thick sweetness.
Comment: An interesting take on the idea of fortified wine. Rather than becoming richer and sweeter in the fortification process, the addition of the English whisky has thinned out the heavy wine, added in some more savoury notes (as while the whisky is fairly sweet it barely holds a candle to PX) and made it a lot more approachable than a ketchup-bottle-thick PX. Despite not being to my taste (I rather like scarily thick PX) it was rather popular, and seemed to be the take-home item of the night.
So, a varied and lively tasting. Many thanks to Andrew Nelstrop for coming down from Norfolk (English distilleries are a good idea – he caught the train home after the tasting) and to David Fitt for keeping an eye on things from Twitter. You can find more pictures over on our Facebook page and catch up with the online goings on from the night on Storify.