It's quite scary that other than our Burns Night extravaganza in mid-February we haven't run any whisky tastings yet this year. We've got a rather full schedule for the next few months to make up for our mild hibernation over the winter, and we decided to start the program with a bang.
Sold out in 20 minutes, increased in size due to demand and with issues sourcing one of the whiskies due to its rarity? A fitting start. The plan was to taste our way through a collection of whiskies from one of the most famed of Islay distilleries – Lagavulin.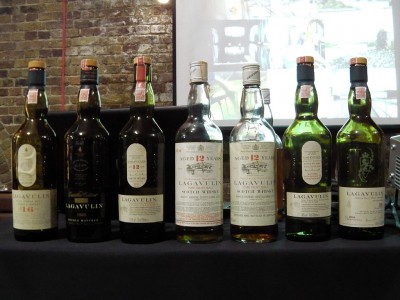 The indomitable Colin Dunn, veteran of both the whisky flinging industry and our tastings, was on hand to run the evening, with Grand Marnier Ambassador Julien Lafond on hand for some cocktail advice and bleggae king Tim Hain for musical accompaniment.
I found that my phone had incredibly reached through the stone of the railway arches that surround Vinopolis to give me some mobile internet, and I sat and tweeted my way through the evening – you can find my wittering about the event in realtime over on Storify, complete with pictures and corrections to the occasional mistake in naming a cheese.
The evening kicked with Colin leading us quickly through the world of whisky tasting and into the first dram – Lagavulin 16. One of the best selling whiskies that we carry and one of the most popular Islay malts in the world, it's been a gateway into the smokier end of the whisky market for many peat heads. Worryingly I've not had a chance to try it for a while so was pleased to dig in for a dram:
Nose: A fire in a flower garden – smoke and petals, woody spice, earth and wet leaves.
Palate: Sweet and spicy, oily in the mouth and stacked with damp earth, stewed lemons, salted caramel and elegantly floral wood.
Finish: Olive oil, tar and dark wood.
Comment: Nowhere near as much smoke on the palate as I remember from my younger days, which I ascribe to the regular overwhelming of my senses with peat bombs. I can see why it's popular – restrained in its smoke compared to many and with great old woody flavours complimenting its Islay character.
Both TWE and Colin love the idea of pairing food with whisky, which has led to the increasing amount of grub at our Whisky Show each year (keep an eye out as there will be news of this year's soon), and his tastings normally feature a few nibbles. This was no exception and the first bite of the night was some Beenleigh Blue from Devon. Colin had asked for some Roquefort and this was the closest that the folks at Neal's Yard could find, quite similar but without quite so much of a salty tang. I am a cheese wuss and turned it down, but the rest of the table seemed quite pleased with the pairing.
Next up was a step back by 16 years to new make spirit, straight from the still (with a brief stop in a bottle hidden in Colin's jacket):
Nose: Tequila-like, with pepper and red fruit. Along with that there was some mint and a spadeful of smoky coal dust.
Taste: Big spicy grain with lemons and more coal smoke – gritty and full of minerals.
Finish: More coal and a slab of lime skin.
A good new make, but one that I'd rather have after a few years in a cask.
Colin then moved on to the Lagavulin 1995 vintage Distillers Edition, matured for about 16 years, as with the regular release, and finished for a few months in Pedro Ximenez sherry casks. To illustrate what the influence of the casks might be Colin also brought along a bottle of PX. From 1927. Which was nice.
PX is a thick and sticky wine and the years that this one had spent maturing hadn't got in the way of that – it was still thick and sticky, cherries, stewed raisins, black liquorice and blackcurrants. I love PX and rather liked this one. The whisky definitely had a touch of the PX to it:
Nose: Spicy chocolate, rum and raisin fudge, treacle toffee and earthy smoke.
Palate: Oily with beeswax, ham, coal burning cast iron stoves (recently closed), gravel, mud and rich fruitcake.
Finish: Smoking wood, ham and wood polish
Comment: This doesn't quite live up to the legendary earlier vintages of the DE but it's still a pretty impressive whisky – smoky but cut through with sweetness that it's soaked up from the PX cask.
Colin also had a food pairing for this, a Paul A Young 85% cocoa solid Venezuelen dark chocolate truffle. It was bittersweet and spicy, with dark fruit and just enough creaminess that it enhanced the spice and smoke of the whisky while matching together all the dark fruity flavours. Good work.
Next up was last year's Lagavulin entry in the Diageo Special Releases range, the whole of which we sampled last year. Lagavulin's Cask Strength 12 year old has been a mainstay of the range, as well as one of the more reasonably priced bottles on the list. Twelve years used to be a standard maturation time for Lagavulin, of which more later, but what's it like with a more modern spirit?
Nose: Burning citrus peel, spiced lemon barley water, smoked meat and flambéed orange segments.
Taste: Loads of citrus and vanilla, hot and spicy. Water calms things down a little bit, bringing out lime, meaty smoke, a metallic edge, boiled sweets and gravelly minerality.
Finish: More lime, more gravel and smoky coal dust.
Comment: I wasn't so much of a fan of it this time as I was at the release, but it's a different take on the spirit to the regular 16 year old – sharper edged and fresher, with lots of crisp smoke.
This was paired with a smoked venison sausage, picked up from The Exquisite Deli in nearby Borough Market – a dry, lightly smoky sausage that emphasised the whisky's peat and added some meaty richness to balance out the crisp citrus.
Colin had also arranged for us to have a cocktail chaser, courtesy of mix-meister and Grand Marnier Brand Ambassador Julien Lafond. The brief was simple – create a cocktail that shows off Lagavulin and also proves that it can play well with others. Julien, in true mixologist fashion, ran off into The Woods of Madness(tm) and returned with Smoke on the Water #2. Number 1 was never mentioned, I assume it was a casualty of the creative process.
The recipe: Stir 40ml Lagavulin 16, 20 ml Grand Marnier Cordon Rouge, 20ml Byrrh Grand Quinquina and a dash of Mozart chocolate bitters with ice, and strain into a coupette glass. That on it's own would be pretty good, but The Woods(tm) demand more and Julien complied by topping the drink with the titular smoke, made by combining some smoky Lapsang Souchong and Lady Grey tea with dry ice for a slow moving fog that was poured into each glass.
The cocktail itself was like a smoky chocolate orange, with the Lagavulin providing a supporting role to the Grand Marnier and bitters, and the dry ice mist adding more drama than a strong tea flavour.
Tim Hain stepped in at this point to give us a break before the home straight, with a new song written about himself, his estranged father and their shared love of Lagavulin. A much needed and calming interlude.
The next whisky was the dram that inspired me to fight my way to the top of the pile of staff asking for a spot at the tasting, and it was also the one that caused most difficulty. Getting 30 drams out of a bottle isn't much of a problem, but getting 60 starts presenting a few more issues. The original plan was to go for a smaller group and open a bottle of 1980s Lagavulin 12 year old, however when the tasting doubled in size we looked around to find another one only to find that the cupboard was bare. With a bit of digging through the archives we found another, although it was bottled for the Italian market and tasted quite different. The whiskies were poured in an alternating fashion, such that each person had the one that their neighbours didn't.
I had the Italian bottling poured for me, so started out with that one:
Nose: Fruit and spice shot through with a metallic edge – empty brined pilchard tins. Once you get beyond that it has some menthol, sweet anis, cake spices and a hint of pine floor cleaner.
Taste: Oily with chilli spiciness and beautiful perfumed wood, although overshadowed by the metallic note from the nose.
Finish: Gravel, coal burning stoves, pine and sweet wood
Comment: The metallic flavour is the problem with this one. I didn't mind it as much as others did, other than that it made things a bit unbalanced. The whisky has the restrained smoke that sitting in a bottle for 30 years can inspire, mainly coming out in the finish, and the woodiness had become perfumed and elegant. So close to be excellent…
I also begged a sip of the UK 'Horse' bottling (so called due to the raised glass horse on the neck):
Nose: This is what I was hoping for – delicate, with butter, mango, vanilla, lychee and a hint of the metallic note that took over the Italian bottle.
Palate: Sweet and fruity, woody spices, anis, sharp smoke through the middle and the beginnings of old wood rancio.
Finish: Short, woody and spicy.
Comment: A great whisky, although not as interesting as I feel the Italian one would have been if the metallic edge hadn't taken over. This had all the fruitiness that I've heard about in older Islay whiskies, as well as the tamed smoke and elegant wood.
The home straight was a pair of great modern Lagavulins, kicking off with the Friends of the Classic Malts Lagavulin 1995 12 year old. Originally bottled in 1998 exclusively for the Diageo malt appreciation society, the FOCM, this is made up solely of sherry cask matured whisky, something that you don't usually find with Lagavulin.
Nose: Chocolate and bitter orange, backed up with astringent smoke and a salty edge.
Palate: Coal smoke and more orange up front, with an oily mouthfeel, citrus fruit and a sharp smoky edge.
Finish: Gravel, stoves, pine and lingering sweet wood
Comment: The sherry adds a richness to the crispness of the special release 12 as well as amplifying the orangey note that Julien latched onto in the 16 year old for the Smoke on the Water #2. This was the hit of the night – not what I expected and pleasantly surprising.
We finished up with a bottle that is gained a reputation for excellence – the 2008 (currently the only) release of Lagavulin 21 year old. One of the oldest, and most expensive, distillery bottlings that you will find the Lagavulin on the label:
Nose: Starting out with struck match sulphur, but integrated in such a manner that even the sulphur haters let it slide. Fresh but concentrated raisins, touches of smoked fish, stewed pears, leather armchairs and a bit of sweet marzipan.
Palate: Sharp coal smoke, sweet polished wood, lime zest, old floors and fruity dark chocolate.
Finish: Even more coal smoke, a return of the smoky fish and lingering fruit wood.
Comment: A great evening ender – big and smoky but with the elegance and fruitiness of older Islay whisky. Fortunately there's still a few bottles of this release hanging around in our shop, although not as many as before the tasting.
To properly finish the night Sukhinder produced another bottle to hand around, a 12 year old Lagavulin that was bottled in the late 1970s. Our only hint towards pinpointing a more exact date was the label on the back which proclaimed its presence in the "Churchill Bar" on 9th March 1978, 34 years ago. We think it was probably opened back then, as despite the bottle being fairly full it had clearly lost a lot of its alcohol over the years and oxidised quite a bit. It was an interesting dram – the wood had become dusty and the smoke had almost disappeared  but the palate still had some beautiful fruit, even though it was quite watery without the alcoholic backing you'd usually expect. I really liked it, but my love for sub-40% whisky is a bit of an aberration in comparison to most whisky nerds.
Anyways, another tasting to chalk up on the 'Excellent' list . I look forward to the next time we welcome Mr Dunn and friends into the halls of Vinopolis.