Time for another guest post – this time a tasting report from TWE Vinopolis's resident debonair young charmer, Toby – reporting on the recent Vodka Masterclass hosted at the venue by Pleurat Shabani:
We started with a brief history of the spirit, its origins in 14th century Russia and a discussion of how there are ongoing arguments to this day between Russia and Poland regarding Vodka's origins, similar to those between Scotland and Ireland as to the origins of Whisky.
Pleurat generalised the two country's styles as:
Russia = Quantity
Poland = Quality  [Ed's note: Yes, we're aware this is controversial.  Please don't write in.]
We then discovered how the Polish government carried out a monopoly of all vodka production in 1917.  During the wars people from Russia and Poland fled their countries, carrying the recipes with them and these events, together with the Russian Prohibition around 1914-1925 (during which people could only buy spirits in restaurants), gave a lot of other countries a way into the vodka production market.
Vodka really took off in the UK and USA in the 60's with a massive cocktail craze of people drinking Mules and Martinis (aka Kangaroos, [TWE Shop Manager and well known cocktail snob] Alex will kill us for calling a vodka and vermouth a Martini).
We then moved onto brainwashing by big brands through marketing e.g. because a certain product is from France we are led to associate it with high-end products from other drinks categories such as Cognac and Champagne.
However, with regards to quality/taste, Pleurat's central theme was that Vodka is all to do with Filtration rather than Distillation:
Less Filtration = More Flavour
More Filtration = Less Character / More Purity
Today, an incredible 32% of the US spirits market is made up of Vodka.  We thought that we'd crack in and see what all the fuss is about.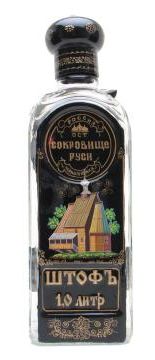 Jewel of Russia Ultra: Slow thick legs, soapy sweet nose with a hint of almost fresh white pepper. Small mouth burn, hardly any finish: a very neutral spirit with a hint of pepper.
Chase English Potato Vodka: This vodka is made by single distillation in a custom-built 28 plate high column still, and seems to turn buttery if frozen. Fantastic nose compared to the Jewel above.  A really sweet, grassy, creamy English countryside nose, almost like a dairy farm or penny sweets.  A flat start on the palate, turning to a fizzy explosion of potato and vanilla again.  Relatively short finish.
For the next sample, we discovered that we would be matching cheese with vodka…
Adnam's Copper House Longshore Vodka paired with Neil's Yard's Montgomery Cheddar on shortbread: A thicker, earthy nose – almost like truffles. A masterful pairing showcasing the beautiful thick creamy texture of the cheese and releasing a really herbaceous spice from the vodka, although there is still sweetness.  The vodka itself is quite full bodied, with a nice balance.
This was a phenomenal match of two great products that together become truly brilliant.
Next up was a quick cocktail break to let our palates recover – Kangaroos all round!  As mentioned above, this is the name given to Vodka and Vermouth by the Martini purists. Most people would know it as a vodka martini.  However we were served a Churchill-styled Kangaroo, which was just vodka stirred with ice and a twist of lemon, vermouth in the same room as us. This comes from the famous story of WC just looking at the vermouth as he stirred his ice soaked vodka. Another anecdote is that you hold the vermouth up and let the light shine through the bottle into the glass.
Moving swiftly on, it was time to try Wyborowa Blue: Soft creamy aroma, almost semi skimmed; quite delicate.  Soft taste with no palate burn; longer lasting spice. Verdict: A clean spirit but not that neutral.
Next up, Belvedere Unfiltered: This one is made with Diamond Rye (not the usual gold strain), and is distilled four times, but not filtered. This vodka has a salty sea bread nose, followed by a fairly neutral salty palate.  This didn't impress the group, with many wondering how they get the impurities out when they claim it's unfiltered – and yet still end with a neutral taste.

Time for another food pairing, this time featuring Parma ham, crème fraiche and a shaving of lemon with Pleurat's own brand, Konik's Tail.  Wow – a beautiful taste of Parma ham enhanced by creamy Crème Fraiche and both working brilliantly with the vodka.  When creating Konik's Tail, Pleurat tasted grains at every part of the day to see what effect sun had on grain at different times.
The vodka is made with a combination of spelt grain, rye and winter wheat and seems to balance spice, grass, cream and pepper very well indeed with a lovely lasting finish.  But I might be biased towards our very charming, entertaining and knowledgeable host…after I left to tend the shop he actually produced batch #2 of Konik's Tail which our audience obviously scrambled for and was in huge demand at the shop afterwards.  Many thanks to Pleurat for hosting such a fascinating event – a lot of the crowd went home with their vodka preconceptions turned upside-down.
[And many thanks to Toby for writing the event up for TWE Blog – Ed.]