[This week we are joined by the TWE Vinopolis shop assistant manager and tastings organiser Chris Bolton, to talk us through our recent event at the hands of Balvenie's whisky doctors – Forrester and Whisky]
Throughout the years that TWE has been running its humble sanctuary for mind and body inside the vaulted Vinopolis arches, many young men and women (or woman, I suppose) have found themselves fulfilling the enriching, if daunting, role of 'spiritual advisor' to the host of customers that visit the store. Most go on to lead far more mundane lives as chimney sweeps and street urchins. Once in a while, however, graduates of TWE Vinopolis go on to do far greater things in life. One example is young Sam Simmons, aka Dr Whisky, who, finding his skills completely wasted on any of the trite challenges we could muster for him, was quickly snapped up by the industry, namely the Grants Family, to wander about the world flinging whisky from Balvenie at people as their Global Ambassador.
For this tasting, Sam teamed up with Balvenie's UK Ambassador Dr. Andrew Forrester, a man with a true wealth of knowledge when it comes to arcanum whiskeria (in case you're wondering his doctorate is in microbiology, not medicine – if only!).  Together, they had decided for the first time to turn their incredible Whisky Academy – a virtual library of information normally only accessible to members of Warehouse 24 on The Balvenie website – into a real-life whisky school for the evening. If you haven't checked it out already, we'd highly recommend joining Warehouse 24 (it's free after all) and having a butchers at some of the great videos they have created. They're surprisingly impartial, with very little preaching about the brand or the company, and all reinforced by a variety of interviews and comments from top-drawer industry experts.
[Here's the opening video in the series – to see the rest you'll need to sign up to Warehouse 24 and then visit the Whisky Academy website]
The tasting focused on a deconstruction of the 12yo Signature, using samples of new-make spirit, 1st fill bourbon, refill bourbon and 1st fill sherry casks. It's an interesting exercise, as the samples by themselves (certainly the 1st fills) can be too overwhelming, but together them form a beautiful balance of Balvenie.
Balvenie 12yo Signature Batch #3 / 40%
Nose: Buttery vanilla, beeswax, figs, with hints of creamy cocoa and millionaire shortbread.
Palate: Cooking spices (nutmeg, cinnamon), dried apricot, caramel, red berries, kirsch.
Overall: A good session whisky, which is clearly what it's designed to be. Very moreish.
Unfortunately I'd found myself sat within sniffing distance of a member of our fairer gender wearing extraordinarily pungent perfume, which in whisky tasting etiquette is a rather grotesque faux pas. I did my best to leer, but as she was facing away from me, it probably came across as pensiveness more than anything else. One useful tip if you find yourself in a similar position (which also works when comparing whiskies too) is to smell the back of your hand; that is, assuming you're not wearing any perfume of course. This should help reset your nasal senses. Coffee beans work well too, but they don't keep well in your trouser pockets and make an awful mess of your phone's keypad.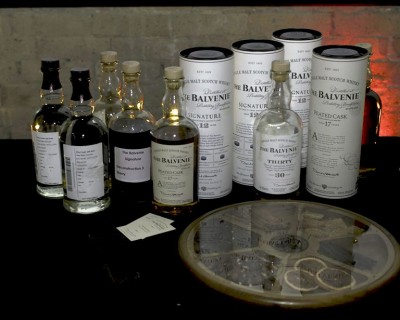 Nevertheless, we moved onto the 30yo. As a bottling, this has been around for a fair while, and since stock of aged (e.g. 1960's/70's) Balvenie seems to have run dry now, this is one of the oldest expressions regularly available for mere mortals to purchase.
Balvenie 30yo / 47.3%
Nose: Baked confectionary, Chelsea buns, some marzipan and red cherries, though seems relatively dry. Wood spice, cloves and hints of acacia honey.
Palate: Much drier, old church pews, with a little bitterness, quinine. Candied strawberries, pear drops, aged grappa.
Overall: On the dry side with a slightly bitter finish, but has a glorious complexity to it and it's easy to see why this is so popular – great depth of flavour.
We finished off with a relatively new release from Balvenie, the 17yo Peated Cask. Tim reviewed it here already, so I won't go into much detail, but will offer my own notes, for contrast if nothing else:
Balvenie 17yo Peated Cask / 43%
Nose: Kippers and wood smoke at first, but very subtle. Old hessian sacks and mahogany wardrobes. Some floral and buttery, brioche-esque notes in the background.
Palate: Gamey, roast mallard, cocoa butter. Dried figs. Vanilla essence. Dark roasted barley, vaguely reminiscent of blonde rauchbier.
Overall: Interesting and I like the game characters to it, but not particularly balanced.
[Just to show that Sam is a consummate film-making professional, we present below a selection of his finest moments committed to celluloid/tape/memory card during the recording of The Balvenie Whisky Academy]
Many thanks to Phil Storry for the photos.