It is the first day of December, so, as promised, we would like to announce The Whisky Exchange Whisky of the Year. Drumroll please…
Port Charlotte 10 – The Whisky Exchange Whisky of the Year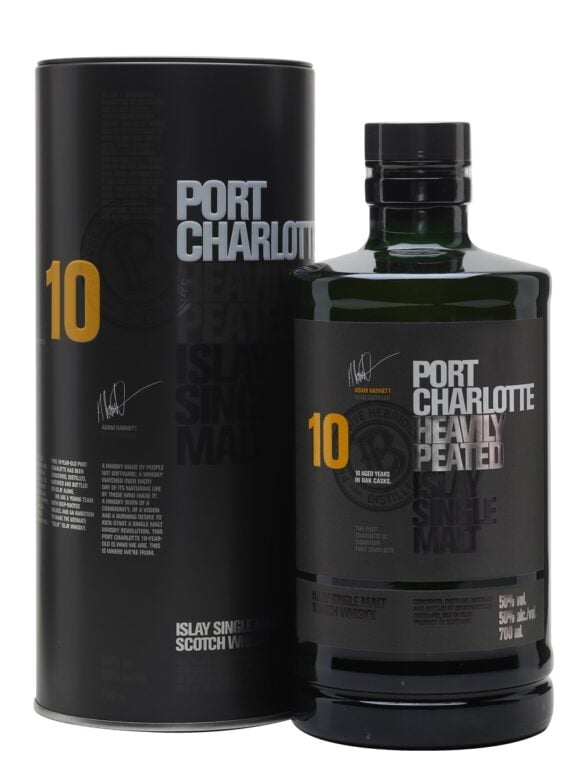 It's a well-deserved win for the team at Bruichladdich. We've been big fans of Port Charlotte 10 since it came out back in 2018, and we're very pleased to see that you are fans as well. Here are my tasting notes:
Nose: Toffee and vanilla fudge jump out before we dive  into a bucket of singed raisins and smouldering peat bricks. Green grass and leafy notes poke out around the edges along with candied lemons and flamed orange peel.
Palate: A sweet creamy hit up front leads into lemon boiled sweets. black-pepper spice and a thick layer of peaty smoke. The green edges from the nose are back, with richer notes of stewed apples and sultanas, and a touch of vanilla toffee.
Finish: Menthol throat sweets and sweet smoke slowly fade to leave grilled apples and buttery pastry.
Comment: Sweet, smoky, fruity, complex? A whisky that rewards you more each time you go back to it? This is what we want from our Whisky of the Year – excellent work by the judges.
You can find out more on our Whisky of the Year page.
The ShortList Blind Tasting Pack
Now for the thing which everyone's been asking me – what were the whiskies in the blind tasting pack?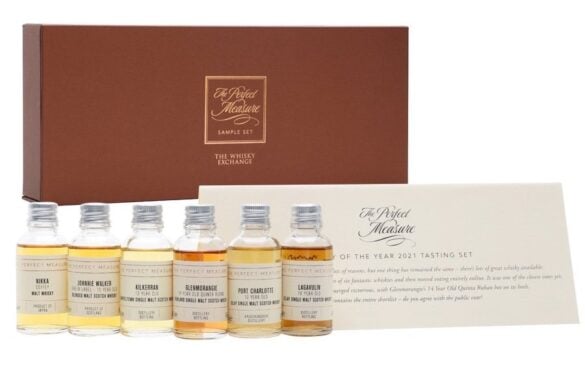 This year's competition went entirely online, and started with nominations. We asked you to choose your favourite whiskies of the year, and added the top three to a list of three put together by The Whisky Exchange's co-founder Sukhinder Singh and head buyer Dawn Davies. We then made up tasting packs listing the drams only by letter and asked you to tell us your top two in order of preference. We use a two-round instant run-off methodology to count up the votes, and came up with a first place and a runner up.
It was a very close race, especially between second and third place, but in the end Port Charlotte 10 came top, with whisky D coming second. Here's the complete line-up for the tasting pack:
Whisky A – Nikka Coffey Malt
Whisky B – Johnnie Walker Green Label 15 Year Old
Whisky C – Kilkerran 12 Year Old
Whisky D – Glenmorangie Quinta Ruban 14 Year Old
Whisky E – Port Charlotte 10
Whisky F – Lagavulin 16 Year Old
Congratulations to Glenmorangie Quinta Ruban 14 Year Old. If you want to have a try of the whole shortlist yourself, then you can – we have tasting packs of all six now available: The Whisky of the Year 2021 tasting set.
More things of the year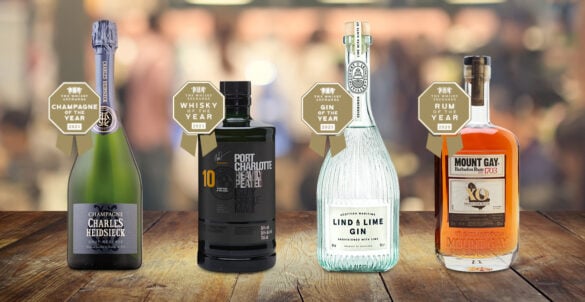 As usual, we don't stop with just whisky. However, this year's line-up of awards has changed a bit, and joining Whisky of the Year and Champagne of the Year we also have Rum of the Year and Gin of the Year:
Champagne of the Year – Charles Heidsieck Brut Reserve
Rum of the Year – Mount Gay XO
Gin of the Year – Lind & Lime
If you want to learn a bit more about them, head to the pages linked above, or have a watch of me and Sukhinder having a chat about them below.
Many thanks to all of our judges, both our industry friends who helped choose the spirit, Champagne, gin and rum, and also you, the whisky fans who chose the Whisky of the Year. If you missed out, don't worry – keep an eye out again next Autumn for Whisky of the Year 2022.