This year has been 'special' for many reasons, but one that we have especially enjoyed marking here at The Whisky Exchange has been the 50th anniversary of Black Tot Day – it's been 50 years since the Royal Navy last issued sailors with a daily ration of rum. And now, in celebration of that, comes a new rum from our friends at Black Tot – Black Tot 50th Anniversary.
The Tot
You can read more about the infamous 'tot' itself over in our explanatory blog post, but in short the Royal Navy used to give sailors a daily booze allowance. This had been going on since the very earliest days of the navy – officially founded in 1546 by Henry VIII as it was – but from the mid-1600s the drink of choice was rum. The Caribbean was flooded with Europeans, and the navy spent a lot of time there, so needed a local drink to keep the sailors happy: rum kept better than beer, so rum it was.
Things continued without much change for centuries, other than a gradual lowering of the allowance from half a pint a day down to an eighth – about 70ml, the same size as a double in a Scottish pub. However, in 1970 it was decided that the rum ration wasn't entirely compatible with modern 'press a button and things go boom' warships, and on 31 July the final ration was issued – a day known as Black Tot Day.
The Finest Caribbean
Black Tot Rum started out as a project by The Whisky Exchange's co-founder Sukhinder Singh, who blended together some of the last stocks of naval rum to create Black Tot Last Consignment, which launched in 2010 on the 40th anniversary of Black Tot Day. Last year saw the launch of Black Tot Finest Caribbean, a new ongoing tribute to the art of naval rum blending, put together by Sukhinder and Elixir Distillers' Ollie Chilton.
With Finest Caribbean finally out and about, all eyes turned to 2020 – what could the Elixir Distillers team do for the 50th anniversary of Black Tot Day? Well, release a special rum, of course.
This is just a tribute
The idea was not to make a replica of the original naval rum or copy the new Finest Caribbean, but create something that sat in between – looking at what would have been in the Royal Navy blend back then and then making something that tasted a bit more modern.
Also, Sukhinder prefers older and richer old-school navy style rums while Ollie likes fresher and funkier modern rum – it needed to keep both of them happy as well.
They started with the four pillars of Royal Naval rum – the islands of Jamaica, Barbados, Guyana and Trinidad. Samples were then pulled from casks and rums were blended.
Blending is Hard…
The initial blends had a couple of issues. Firstly they didn't have the punch of age that Sukhinder was looking for – the original naval rum of Last Consignment had been sat in flagons for years and continued to age: not only did it have the woody ageing that we most associate with dark spirits, but also the slow oxidative ageing that you get from sitting in glass or stone for decades. So, they added some very old Guyanese rum for oaky oldness and, for a kick of real age, some flagons that had been kept back from Final Consignment.
Secondly, Trinidad rum is very different now to how it would have been back in the days of the naval blend. These days, the island is known for lighter rums, but back then they would also have been making big, rich and weighty rums, like those from the closed Caroni distillery. So, to replicate this, they 'just' added a cask of Caroni – one of the world's most sought-after rums.
From bench to vat to bottle…to cask?
With the recipe completed, instructions were sent to vat together all the components. Two thirds of the resulting blend went into glass – the 5000 bottles that are being released around the world – the rest went back into casks…
While creating the final blend, the team realised that they were going to have more rum than they needed for the Black Tot 50th Anniversary bottling. so decided to start an ongoing project – a new rum each year, each starting from the previous year's blend.
The remaining third of the vat has been racked into refill sherry butts. It will now sit there until next year, when it will become the base for a 51st-anniversary release. Watch this space.
Black Tot 50th Anniversary – the tasting
But what does the rum actually taste like?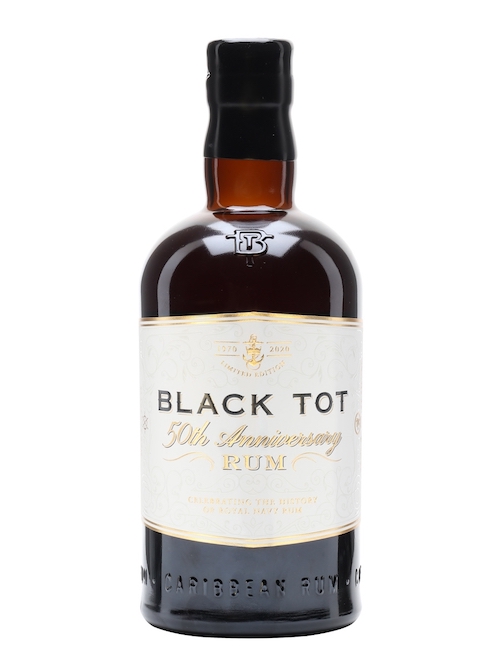 Nose: Treacle toffee, vanilla fudge, liquorice sticks and pine needles. The fudgey notes build, followed by roasted bananas. To replicate it without a bottle, slice a banana almost in half, insert slices of frozen Mars bar, wrap it in foil and place it in the embers of a barbecue – open the foil 10 minutes later and inhale deeply. Past the bananas there's a layer of sweet orchard fruit, with white-wine-poached pears drizzled with a fruity dark-chocolate sauce.
Palate: Toffee leads, with liquorice, menthol and leafy mint hiding underneath. Darker notes rise: tar, barrel char and old oak. The initial sweetness rallies, with salted-caramel chocolate balls, candied orange (singed with a blowtorch) and overripe bananas joined by the treacle toffee of the nose.
Finish: Fruit cake, dark chocolate and long-stewed pears fade away to leave tar, squishy bananas and a touch of leafy, anise-y tarragon.
Comment: This fulfils the brief in every way. It has the dark, old and rich character, and touch of dustiness of the naval blend, with a funky stack of fruit on top. A fitting celebration of Black Tot Day.
Available to buy from The Whisky Exchange now – Black Tot 50th Anniversary rum.