At this time of year, there's one spirit on our minds here at TWE – rum. With Independence Day of Jamaica next Thursday, it gives us a chance to highlight our comprehensive range, starting with today – Black Tot Day. At 11am on this day in 1970, sailors in the British Royal Navy were given the daily rum ration (aka the daily tot) for the last time after a tradition that had lasted since 1655. The occasion was marked with a sombre ceremony, recreated by Gosling's in 2011:
To celebrate, we're running a terrific prize draw; simply buy any two different full-size bottles of rum before 20 August from our selection – there's more than 400 to choose from – and you'll automatically be entered into a prize draw to win a bottle of Black Tot, made by blending the last consignment of Royal Naval rum, a bottle worth more than £600. To find out more about the prize, read our post here.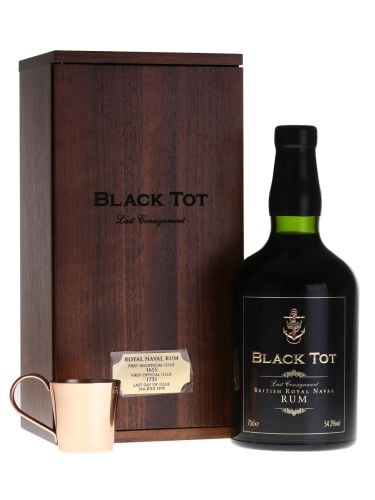 Official tasting notes by spirits writer Dave Broom:
Colour: Bright, yet deep mahogany cut with flashes of ruby.
Nose: Initial treacle notes precede dark chocolate with super-ripe black fruits, muscovado sugar and walnuts. A drop of water releases notes of black banana, liquorice root, tamarind paste with an exotic edge of balsamic.
Palate: Starts off thick and sweet, becoming light and oaky before a burst of cassis/crème de mûre then espresso and cacao.
Finish: Very long with light scented wood, black fruits and cigar tobacco.
Strength: Remarkably, after 40 years, Black Tot is 54.3% (94.2° proof), almost exactly original issuing strength.
You can find full competition details, including all of the rules, terms and conditions, on our Black Tot prize draw page – good luck, and if you're not the lucky winner, you'll still have two bottles of tasty rum to enjoy!