The start of August means it's time for our new Malt of the Month. This time, we've chosen a lighter and summery whisky: Aberfeldy 12 Year Old, and have knocked £4.50 off the usual price – it's now just £29.95.
Historically, Aberfeldy flew under the radar. Known to whisky connoisseurs and blenders, it wasn't easy to find. That changed when Bacardi purchased John Dewar & Sons from Diageo in 1998, with the 12 Year Old released the following year. Much of the distillery's production is used for Dewar's White Label, just as it was when it opened in 1898. So important is Aberfeldy in the blend, that a new visitors centre opened at the start of the millennium, named Dewar's World of Whisky.
Relaunched and repackaged as part of the Last Great Malts of Scotland range in late 2014, Aberfeldy 12 Year Old is a superb easy-drinking whisky. Predominantly aged in ex-bourbon casks, this is known for being one of the sweetest single malts, with a characteristic honeyed note and a rich, mouthfilling texture.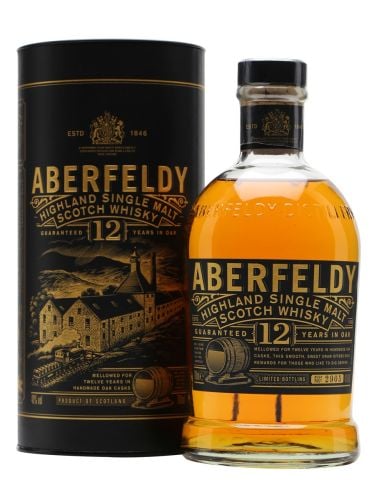 Nose: Rich and intense with aromas of honey, pineapple, red apple and a hint of toffee and sweet cinnamon spice.
Palate: Unctuous texture; cinnamon and nutmeg intermingle with dry honey, apple, orange, vanilla and a hint of smoke.
Finish: Dry and medium-long with lingering nutmeg.
Comment: A whisky that gets it just right; light enough for an everyday drinker, but with enough complexity for sippers and those who like to think about their whiskies, too.
A perfect whisky for the warmer weather, it's only £29.95 for the whole month of August – £4.50 off the usual price. It's hard to find a malt of this quality for under £30 nowadays, so this is a great time to stock up.