As well as showing off his impressive rum range, Foursquare master distiller Richard Seale was a man on a mission at the latest tasting at The Whisky Exchange's Covent Garden shop this week. The big issue for Seale is the way rums are classified by colour, as opposed to the way they're made.
Seale has devised a new structure for the way rums are labelled, named after his business partner Luca Gargano of rum importer Velier. Seale said: 'We are proposing a new rum classification. We have to get away from talking about rum in terms of colour and country styles, which are meaningless.'
This is how their 'Gargano Classification' would work:
• Pure Single Rum – this would apply to all pure pot-still rums and would be the equivalent of single malt whisky
• Single Blended Rum – blends of pot-still and column-still rums from a single distillery (similar to, but not the same as blended whisky)
• Traditional Rum – traditional column-still rum, similar to grain whisky
• Rum – all other rums.
'People say you will never get this approved,' said Seale. 'But we have just one aim: that it exists. It's not perfection and it's not a panacea; it's a tool to help appreciate rum and a framework for people to understand.'
Seale is a master of his craft, and one can understand his frustration with the current set-up. But here at The Whisky Exchange, you'll find our rums listed under the usual white/golden/dark/spiced/flavoured camps, because that is how the majority of consumers think about rum – and it would be a major step to expect them to get to grips with the intricacies of pot- and column-still distillation overnight. The tasting itself was a brilliant showcase of the top-notch rums made by Seale in Barbados:
We Tasted
RL Seale's 10 Year Old: rich, big-hearted rum with notes of pineapple, honey and cinnamon
Foursquare 9 Year Old Rum Port Cask Finish: sweet spice, bread pudding, grilled banana and egg custard
Foursquare 11 Year Old Zinfandel Cask: cherries, stewed fruit, fresh strawberries and a hit of cinnamon
Foursquare 2004 Cask Strength 11 Year Old: clean and characterful, with dry spices, black pepper and tropical fruit
MY FAVOURITE Rum of the Night
There wasn't a single weak link in this top-quality line-up, but I would go for the 11 Year Old Zinfandel Cask. I'm not normally a fan of wine-cask-finished spirits, but the balance here was perfect.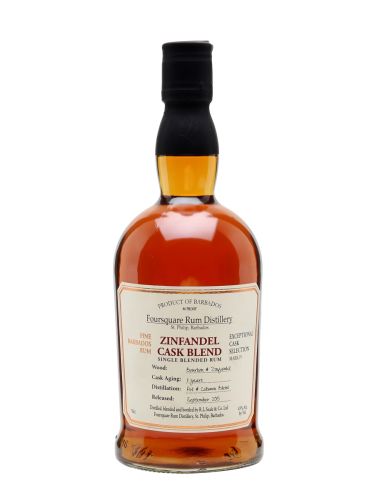 Nose: Tempting, warm aromas of ripe cherries, stewed fruit and fresh strawberries, then a wave of sweet spice and pink peppercorn arrives. Fresh and fruity.
Palate: Well-balanced combo of cinnamon and nutmeg joined by toasty oak, strawberries and raspberries, boozy raisins and sultanas. Big and rich, but kept fresh with the red-fruit notes.
Finish: Delicious rich spiciness along with dried-fruit sweetness.
Comment: One of the fruitiest rums I've tried, the extra maturation in the Zinfandel cask adds a layer of soft fruitiness that really works.
Thanks to Richard Seale for a fascinating tasting. It was clear from his desire to push the category forward that he cares deeply about rum and how it is perceived around the world – we'll have to wait and see if the world is ready for a new way of thinking about it. You can find our selection of Foursquare rums to buy here.